Blue Cotton Candy Carnival Juice Roll-Upz Review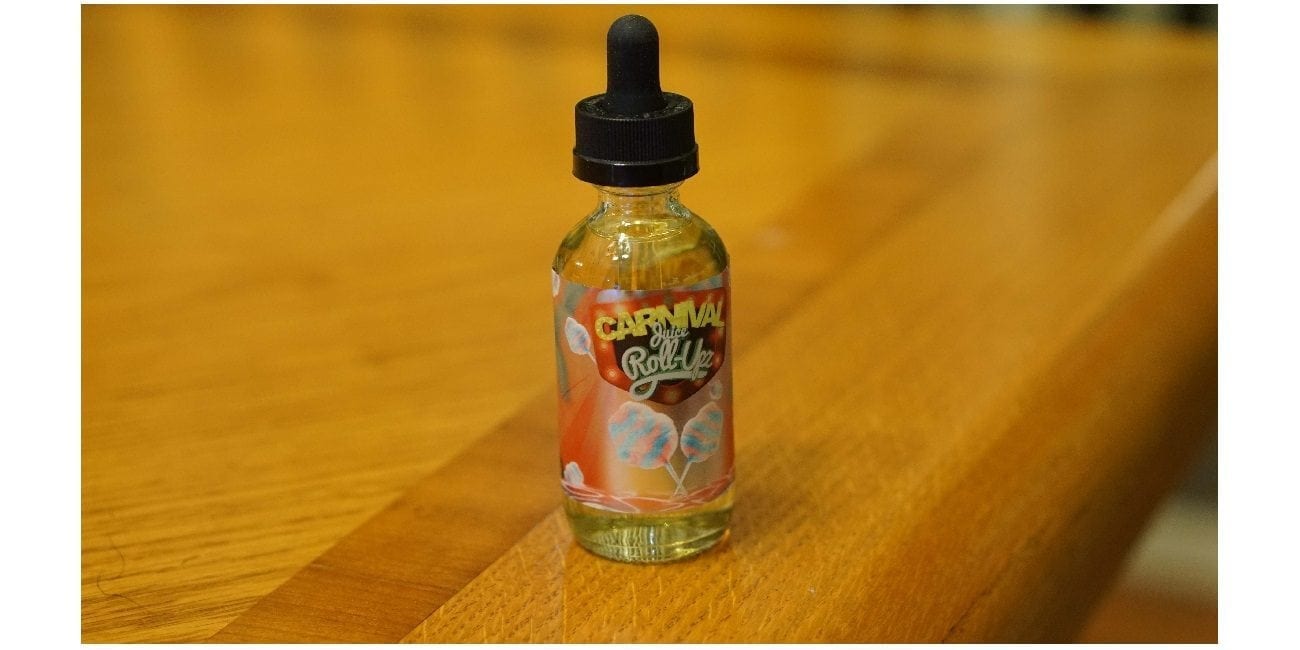 E-Juice Review
In this review, I will be reviewing Blue Cotton Candy By Carnival Juice Roll Upz! This e-juice comes in a 60ml bottle, and is priced quite fairly among other premium e-juices. Firstly, I would like to thank Fuggin Vapor for sending me this e-liquid for review! I will let you know my thoughts on this e-liquid, and tell you whether or not I recommend this product! First I will go over the different vape mods and/or tanks used to test this e-liquid!
Mods & Atomizers:
First Setup:
Avid Lyfe Able Mod with Recoil RDA
Build: Dual Fused Clapton (26GA Ni80/36GA Kanthal)
Resistance: 0.15 ohm
Second Setup:
Sigelei 213 TC Box Mod with Geekvape Griffin 25 RTA
Build: Dual Clapton (26GA Kanthal/36GA Kanthal)
Resistance: 0.35 ohm
Review:
Flavor Description: A fluffy Cotton Candy flavoring infused with a refreshing Blue Raspberry finish.
Nicotine Strength: 3mg
VG/PG Ratio: 70VG/30PG
Bottle Size: 60ml
Inhale: Blue Raspberry Candy Flavor
Exhale: Blue Raspberry Cotton Candy Flavor
Throat Hit: Smooth
Overall Thoughts:
This is really good candy flavored e-liquid, and honestly I've never tried an e-liquid that's so close to actually tasting like cotton candy. On the inhale you get the blue raspberry flavor, and it's definitely on the candy side just like it should. However, on the exhale, is where this e-juice really shines. You get a very nice blue raspberry flavor, and the cotton candy essence is present throughout the entire exhale. It's actually surprising how close this is to its description, and this is now my favorite candy vape.
I do want to mention though that at first the flavor was light, but after letting it steep for about a week or so, the flavor really settled in and became more noticeable. Not to mention, this e-liquid really destroys your coils after only a couple days of vaping. If this is something that bothers you, then you'd probably won't be able to deal with this e-juice. However, I personally don't mind as much since I do change cotton quite often. Also, this e-juice is definitely on the sweeter side, so if you don't like sweet flavors, then this might not be for you.
Overall, I was pretty impressed by Blue Raspberry Cotton Candy, and wasn't really expecting much aside from a normal blue raspberry flavor. I usually don't vape candy flavors often, especially during this time of the year, but I find myself vaping this e-liquid more and more. I do want to mention that I prefer to drip this e-liquid in an RDA rather than vape it in an RTA or Sub Ohm Tank. I'm honestly not sure how they did it, but I do get a cotton candy flavor, and it's absolutely delicious. If you're a fan of blue raspberry flavors or just looking for a solid candy vape, Blue Raspberry Cotton Candy By Carnival Juice Roll-Upz is an e-liquid I highly recommend checking out!
Blue Cotton Candy Carnival Juice Roll-Upz