Phix VS JUUL – Everything you need to know before you buy!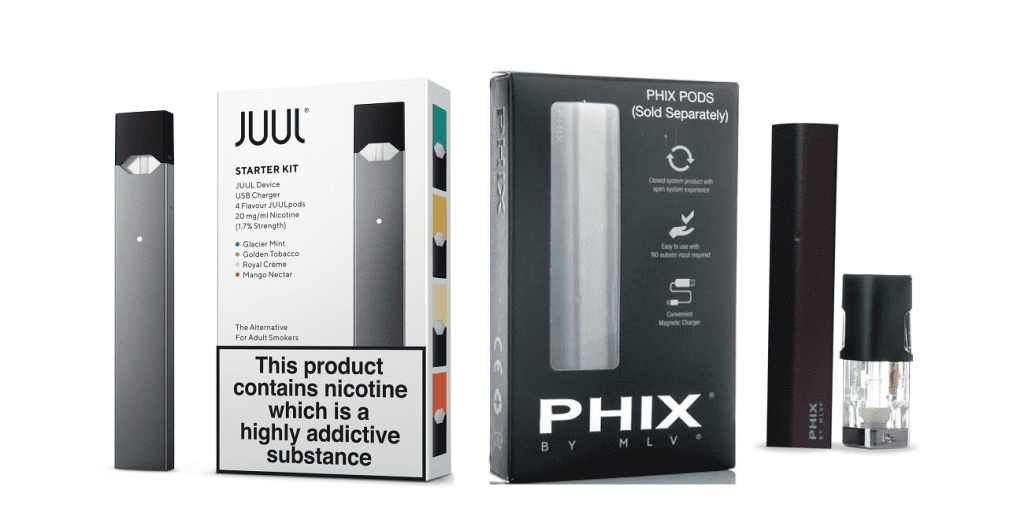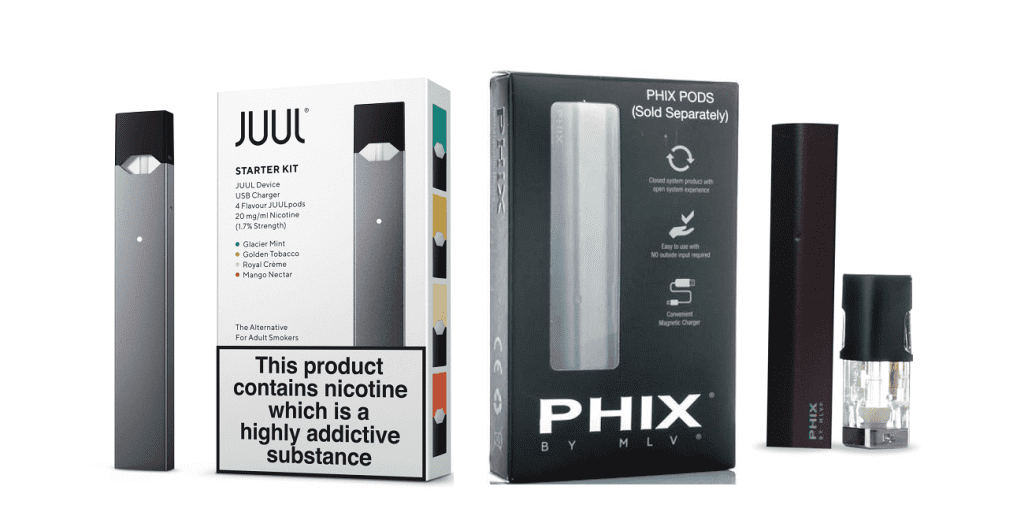 At first glance, the Phix and Juul may be similar and share a lot of features, such as their ultra slim design, pre-filled pods and internal battery, but in reality they have several key differences that separate them from one another.
In this comprehensive guide, we'll compare and contrast two of the most popular vape pods on the market today and let you know which one is deserving of your hard earned cash!
JUUL vs Phix - The Breakdown
| | | |
| --- | --- | --- |
| | | |
| | | |
| | | |
| | | |
| | | |
| | | |
| Nicotine Strength Available | | |
| | | |
| | | |
Why is Juul Considered the Best?
There are many reasons as to why the Juul is so popular, and it's mainly because of its ultra portable design, ease of use and actual satisfaction from the pods available today. As shown above, the nicotine strength available is 50mg (nicotine salt), which is perfect for the pack a day smoker or vaper looking for a quick vape to satisfy their needs.
What's even better is the wide variety of flavors available will suit most vapers today, whether if you're a new vaper looking for a traditional tobacco flavor or an experienced vaper looking for a dessert or fruit type flavor. No matter what kind of flavor you enjoy the most, you'll find them available for the Juul.
Going back to the ease of use, the disposable pods make it a great choice for both beginners and experts. The pods come pre-filled and packaged in a small box, so you can easily carry a spare pod with you when you're on the go. A simple two taps will show you the battery life, so you'll know exactly when to charge your Juul.
The Key Features of the Juul
Phix - Worthy Competitor?
The Phix is another pod vape system, but offers some key differences when comparing it to its competitor, the Juul. First, let's cover some similarities between the two. The Phix, like the Juul, also features a draw activated firing system, pre-filled pods, a rather slim design and is just as easy to use.
Moving onto some differences, the Phix does offer a larger battery which in turn will provide you with a longer lasting vape experience. Depending on how much you want and if you have a charger nearby during the day will determine how important this difference is. Charging this device is also similar to the Juul, and they both have a proprietary charging system.
Although they both have a slim form factor, the Phix is definitely the larger pod system of the two. This is, of course necessary to house the slightly larger battery. The overall design is different as well, the Phix has a curved design whereas its competitor has a flat design.
Another major different is the actual e-liquid within each of the pods available. The flavors available for the Phix are crafted by Brewell MFG, who are well known for many of their vape juices used in more advanced vaporizers and atomizers such as sub ohm tanks, RDAs, RTAs and more. With that being said, there's various flavors to choose from.
The Key Features of the Phix
Is the Juul better than the Phix?
So the main question is, which pod system is best? Now, it's not a straightforward answer as to which vape device is best for you. There are many features to both of them and determining which one is for you will be based on which exactly better suits your vaping needs. There are a few things you should consider which we'll cover below.
The Juul does have a much better feel in the hands and offers a more premium design, but that's not saying the design of the Phix is not comparable. Although the Phix is compact, it does feel quite a bit larger side by side.
Another factor to consider is the actual flavors in the pods since that's what you'll be vaping on. Both of these closed pod systems have various flavor options available, but there are certain flavors only available to the Juul and Phix. Another deciding factor is the capacity, as the Phix does have over double the amount in each pre-filled pod.
Something else to consider before making your final decision is the battery size and how much battery life you'll need to get through the day. If you're a chain vaper who vapes a lot throughout the day, the Phix might serve you better due to its larger internal battery. If you're not vaping as much, the Juul is rated to last about the entire length of 1 JUULpod.
With all of that being said, our personal choice between the two is the Juul. We're impressed by its ultra compact design and ease of use. The double tap to check the battery life is a nice touch and the build quality is fantastic. Each flavor we've tried simply tastes great and every vape we took was satisfying.
Thanks for reading! As always, feel free to leave us any comments or questions below!