Best CBD Vape Juice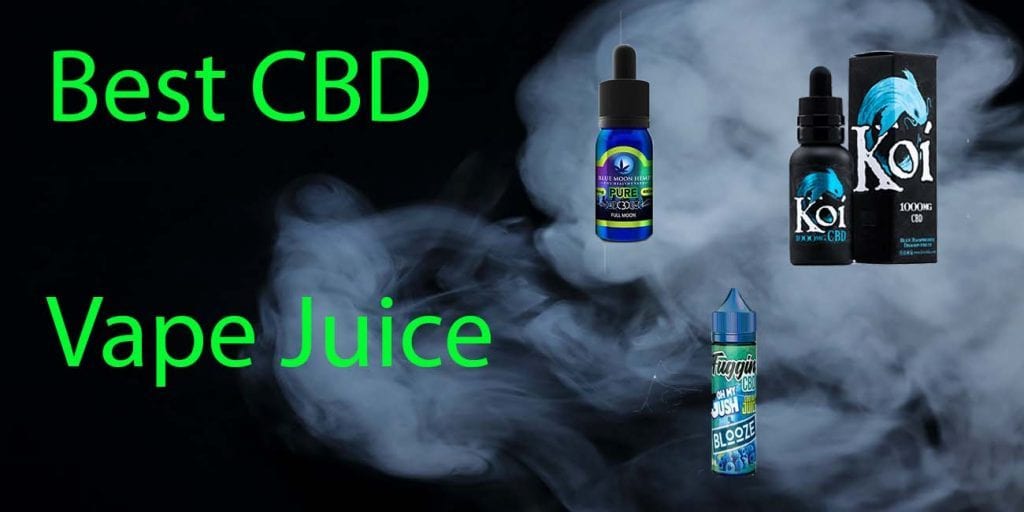 If you're looking for the best CBD vape juice money can buy, then you've come to the right place! We know that purchasing and trying out different CBD oil vape juice can be quite costly, and time consuming. So, we've gone through all of the testing needed, so you know exactly which CBD infused vape juice is worth your hard earned cash. Our full in depth list of the best CBD oil is based on taste, strength options, flavor, and affordability, so you never have to waste another dollar again on sub-par quality CBD ejuice.
When looking at the wide variety of CBD vape juice for sale, you want to know that what you're getting is not only of top quality, but tested with reports to prove it. This testing lets you know exactly what's in the CBD oil. Testing is crucial for any CBD product, since it not only shows the brand backs their product, but offers only the highest quality ingredients. Our list will provide you with who makes the absolute best CBD vape oil, so let's get started.
CBD Vape Oil Reviews - Our Top Picks
Fuggin Hemp CBD Vape Juice Review
Fuggin Vapor has entered into the CBD game with their newly released Fuggin CBD E-Liquids. Designed with the best sourced CBD and flavoring extracts, Fuggin Hemp provides not only great quality CBD e-juices, but tasty as well. It's hard to come across a brand that delivers both effective, and great tasting liquids.

These guys are also known to offer some of the best cheap e-juices too, and created some flavors in their CBD line that match with some of their regular e-liquids. We can say that's definitely a good thing. As far as sizing options, they offer 60ml bottles, giving you value for each dollar spent. With options up to 1,000mg, Fuggin's new line is sure to satisfy.

There's quite a few flavor options as well in their CBD e-liquid line. Whether you enjoy different types of fruits or candy flavors, FugginHemp has got you covered. Their candy and fruit flavored CBD vape juices are just mouthwatering, leaving you with a taste that's enjoyable, and a dose of CBD desired.

Regardless as to why you might want to try out some CBD vape juices, Fuggin has made sure that their quality products offer the same great taste as you'd expect if you vaped on their standard nicotine and non-nicotine e-juices. They set the bar high, and boy did they deliver.
Koi CBD Vape Juice Review
Koi CBD is a brand that honestly needs no introduction. These guys have been in the CBD market for quite some time, and easily offers some of the best CBD vape juice. There's a variety of delicious flavors available too including some of our personal favorites, Strawberry Milkshake, Pink Lemonade, Tropical Popsicle and more. However, if you prefer no flavor whatsoever, there's a flavorless additive available, which you can mix with some of your regular e-liquids.

Aside from their amazing flavor line, and quality products, Koi CBD offers multiple strength options as well. This is great, especially for people just getting into CBD and not sure which strength is right for them. We'd always recommend starting off with a lower strength first, and see how that works for you and go from there. As you expect with Koi CBD, they've got CBD strengths ranging from 100mg all the way up to 1,000mg. In addition, all of Koi CBD vape juices come in convenient 30ml dropper bottles, making it easy to fill your vape atomizers or tanks.

If you've been on the fence with CBD products or simply don't know where to start, Koi CBD is a great option. They've got all the testings done to back their products, offer tasty flavor options, and have strengths available for pretty much everyone. You really can't go wrong with CBD oil vape juice from Koi.
Naked 100 CBD Review
Naked 100 is another brand you'll want to check out if you're looking for some of the best quality CBD oil vape juice. This brand is known for some of the best e-juices as well, and ventured into the Cannabidiol market offering the same awesome quality vape juice. With their years of experience under their belt in the vaping industry, it's easy to see as to why they'd make it on a list like this for best CBD oil vape juice.

Naked 100 took some of their best selling flavors, and crafted them with CBD. This does include fan favorites such as Lava Flow, Hawiian Pog, Amazing Mango and more. However, these flavor options have been completely refined in order to bring that same great taste as before, even with CBD in the mix.

Their CBD vape juice flavors are offered in two different strengths which include 600mg and 1,200mg. In addition, they're bottled in convenient Chubby Gorilla unicorn bottles, making it incredibly easy to fill up tanks, and carry with you when on the go.

If you're a fan of their regular e-liquids and looking to test the waters when it comes to CBD e-juice vapes, then look no further. You won't be disappointed either if you're just looking for some tasty and top quality CBD e-liquid either as we can certainly say these guys offer some of the best tasting Cannabidiol vape juice. They've proven themselves with regular nicotine and non-nicotine e-liquids, and doing it again in the CBD market.
CBDfx Review
Another excellent CBD vape juice brand that's available is CBDfx. Like Koi, they've been in the Cannabidiol game for quite some time, since 2014 to be exact.

CBDfx offers 100% organically grown CBD vape juice in multiple different flavors including Blue Raspberry, Fruity Cereal, Strawberry Milk, Wild Watermelon and more. Unlike some other brands, these guys aren't scared to venture into unique flavor options, catering to the vast majority of CBD vapers. No matter what kind of CBD vape e-liquid flavor you're after, we're sure you'll find their selection appealing.

What's great about CBDfx vape juice is that they're offered in strengths from 250mg to 1,000mg. So, if you're just now starting off, or looking for a high strength Cannabidiol vape juice, they've got all the options covered. In addition, they test their CBD ejuices thoroughly in order to deliver unmatched quality and flavor alongside an effective CBD oil to leave you satisfied.

There's many reasons as to why CBDfx has some of the best CBD vape juice. With their high standards, and awesome flavor selection, they've become one of the go-to brands to get CBD vape juice for sale. When it comes to quality, flavor, and effectiveness, you won't be let down with CBDfx, that's for sure.
Dinner Lady CBD Juice Review
If you vape regular e-liquids with or without nicotine, then you know the brand Dinner Lady. They've even got award winning flavors that took the vaping world by storm, and now they're bringing those same delicious flavors to CBD users. Their pure CBD oil is offered in 30ml bottle sizes, and offered in four different strengths. This includes 250mg, 500mg, 1,000mg and 1,500mg.

In addition, Dinner Lady is guaranteed without THC and blended with no nicotine. Also, their Cannabidiol oils are 50VG/50PG ratio, so they'll vape perfectly in pretty much any device you want to use it with. Another great feature to Dinner Lady CBD vape juice is that they're diacetyl free, which we know a lot of vapers simply prefer. You'll also find no alcohol or animal extracts in their CBD oil vape juice.

In our experience, Dinner Lady CBD delivers some of the best tasting CBD vape oils on the market today. If you were just to try one of their flavors, we'd highly recommend checking out Lemon Tart. It's simply amazing, and even if you didn't like lemon flavored CBD vapes, we still suggest giving it a shot. You'd be surprised by how good it tastes, trust us.
Best CBD Vape Juice For Pain
Hot Juice CBD
Hot Juice is a newcomer in the CBD world, but surprised us by their quality and affordably priced CBD vape juice. Although they're relatively new in the CBD market, they've still got testing done for all of their products, which is always a good thing. There's also a bunch of unique flavor options that's available for you to choose from including fruit, dessert, breakfast, tobacco and more.

Now, there's a few reasons as to why Hot Juice offers the best CBD vape juice for pain. Firstly, they offer strengths for their Cannabidiol vape oil up to 5,000mg, which is something you won't really find with other brands. Secondly, their CBD juice vape come in large 100ml bottle sizes, which is again, not very common for CBD vape oils. Thirdly, is the actual pricing, Hot Juice is definitely one of the more affordable options, and we know Cannabidiol users can go through vape juice quite fast depending on their needs. Hot Juice prices, and large 100ml bottles will surely last you quite some time, and giving you the best bang for your buck.

Similar to Dinner Lady CBD, Hot Juice CBD vape oil contains zero THC and does not contain any nicotine whatsoever. All you're getting from this e-liquid is pure CBD goodness. In addition, their vape juices go through a winterization process, which ensures a safe CBD product. With that being said, Hot Juice takes an extra step to make sure their product is of the best quality possible.

Like mentioned earlier, if you're looking for the absolute best CBD vape juice for pain, you won't go wrong with Hot Juice. With their 99% pure CBD vape oil, you'll get the pain relief you desire, and more. Best of all, their prices won't break the bank, and on top of that, they have free shipping within the USA.
Best Full Spectrum CBD Vape Juice
SavageCBD
For you CBD lovers wanting the best full spectrum CBD Vape Juice, we've got you covered. SavageCBD is the brand you'll want to check out. You've probably heard of them before, and that's because they're well known in the vaping industry, and provide irresistible flavors.

The same can be said for their full spectrum CBD vape juice. One thing we've said before is that not all CBD vape juice is tasty, and SavageCBD knew this. Bringing together their expert mixologists and chemists, they went on to create not only effective CBD vape juices, but CBD vape oil that actually tastes good. Their goal was to perfect the mixing process, and deliver a quality product, and they absolutely succeeded.

There are 9 unique CBD flavors that you'll be able to choose from with their full spectrum CBD vape juices. In addition, Savage CBD offers three strengths which range up to 1,000mg, perfect for both newcomers and long time users. Like pretty much all of the other CBD brands, their CBD e-liquids come in 30ml dropper bottles.

When it comes to the best full spectrum CBD vape juice, Savage CBD is a must try. There's flavors to cater to pretty much everyone, and each unique flavor is masterfully done so you'll not only get your quality dose of CBD, but enjoy each and every puff you take.
CBD Vape Juice FAQs
What Is CBD Vape Juice Or Oil?
CBD Vape Juice, and CBD Vape Oil is essentially the same. These two terms are often used as describing the same type of CBD product, which is CBD vape juice meant for vaporizing. Do keep in mind that CBD vape juice or oil is not the same as a CBD tincture. CBD Tinctures are not meant to be used with any vaporizer, and are primarily consumed orally. The same can be done with CBD vape oil, but it is primarily used when using it with a vaporizer such as a sub ohm tank. It's important to understand the difference between the two as Tinctures should not be vaporized.

These types of products (CBD Vape Juice) are similar to that of regular nicotine and non-nicotine e-liquids since they are crafted with similar ingredients including VG, PG and flavoring. However, the major difference between the two is that one consists of CBD while the other may or may not have nicotine.Just like how you would vape a regular e-juice, you can do the same with any CBD vape juice oil. Simply fill up your preferred atomizer, wait a few minutes to allow the coil, and cotton to be saturated, and you're ready to vape CBD e-liquids.
Why Vape CBD Oil?
There's many reasons as to why someone would want to use CBD products, specifically CBD Vape Oil. Here are some of the most common reasons as to why someone may want to vape CBD vape juices.

Pain Relief

One of the primary reasons as to why someone may want to vape CBD oil or e-juice is for pain relief. Many CBD users have experienced pain relief or reduction from various pains they may have suffered from. While the experience or benefit may not be the same for every single CBD vaper, it still has been widely used for this reason. If you're in need of pain reduction, and want to try out an alternative that has worked for many people across the globe, trying CBD vape oil may just be what you need.

Sleeping Aid

While there are many different options available for people that are in need of a sleep aid, CBD has in fact been one of those options. This is an issue many people across the globe suffers from, and CBD can certainly be an option to help you sleep better at night. As mentioned previously, the benefits from CBD can range for each user. However, CBD can possibly provide you with a way to fall asleep easier, and have a much better sleeping experience overall.

Anxiety Relief

Another reason as to why someone may want to vape CBD vape juice is for anxiety relief. CBD Vape Oil has been commonly used in order to provide relief from anxiety, and provide the user with ease. CBD Vape Juice may even help with other mental health issues people suffer from, and this is just one out of the many that users can yield a benefit from when vaping CBD.
Best Temperature To Vape CBD Vape Oil
A common question that's often asked is what is the best temperature to vape CBD vape oil. We can say there's no right or wrong temperature to vape CBD, but you do not want to have too high of a temperature. Many CBD users often use devices that regulate temperature on its own, or even provide a constant vape experience so the heat is replicated with each vape you take.

However, when vaping CBD with atomizers such as a tank, and box mod where you're able to fully control the output, we recommend starting off at a lower wattage or temperature, then work your way up to find what temperature satisfies your needs. This will certainly vary from each user, similar to that of when vaping regular e-liquids. Some users may prefer a warmer temperature, while others would enjoy a cooler CBD vape.

Regardless, we suggest you trying out different devices or temperatures to find out what you personally enjoy. Just remember, there's no necessarily right or wrong way to go about vaping CBD oil. Once you find that temperature, rather cooler or warmer, you'll get the most enjoyment out of your pure CBD oil.
What milligram of CBD from vape juice is best?
Similar to that of what temperature to vape CBD vape oil, the same can be said as to why milligram of CBD from vape juice is best for you. It all boils down to what exactly is your needs from CBD. For example, someone with severe pain may want a higher dosage of CBD in order to get more relief, and faster effects. However, someone who may need a sleep aid may want to try out a lower milligram to assist them with this specifically.

Regardless, we do suggest trying out different strengths to see how they affect you. As mentioned before, CBD may not work the same for everyone who uses it, so you'll want to try out different strengths to see which provides the best benefit for you. Either way, there's no right or wrong miligram, and it's a good thing that there's various strengths available. We'd recommend starting at a lower strength first then working your way up to see which milligram of CBD of vape juice is ideal for you.
What is the Best Pod System for CBD vape juice?
If you're often wondering what is the best pod system for CBD vape juice, we've got a couple we think you should check out. However, we will say there's not just one absolute best pod system available for CBD vape juice, and you can use pretty much any refillable pod cartridge to vape CBD oil.

With that being said, one of the pod systems we think is great for CBD vape oil juice is the Smok Nord. It's absolutely one of the best options for multiple reasons. For one, it has a huge battery life that'll last you all day. Next, is available coils and pod cartridge, they simply work great for CBD vape juice. In addition, with different coils available, you can utilize them to reach different temperatures, and each can provide a different vape experience such as mouth to lung and direct lung vaping. Lastly, it's super cheap, so you won't be breaking the bank with this one.

The Lost Vape Orion Plus DNA Pod Kit is another excellent pod system for CBD vape juice. It is more expensive than the previous option, but it offers full customization. You can connect it to your PC, and customize different wattage settings, set up different vaping profiles and much more. By far, this is one of the more advanced pod systems for CBD vape oil, but we'd say it's worth the extra cash.

These are only two of the wide variety of great pod systems that you can use for CBD ejuice. If you want to see even more options, then check out our full in depth list of the best pod vapes you can buy today.
Can CBD Vape Juice Get You High?
Another common question that's frequently asked about CBD vape oil is, "Can CBD Vape Juice Get You High". The answer to that question is no. CBD is not the same as regular THC that does indeed get you high.

Many CBD Vape Juices are crafted with CBD isolate, and contain zero THC. However, there are some CBD vape oils that are from hemp, but only contain trace amounts of actual THC. With that being said, even with the smaller trace amounts, typically less than 0.3%, CBD vape juice will certainly not get you high.
Where To Find The Best CBD Oil Near Me
Thinking about where to find the best CBD oil near me, then you'll want to check out only trusted shops. The last thing you want is to buy CBD vape juice from a vendor that may not have the best quality products, or even worse, sell fake CBD vapes. We suggest you always doing research beforehand to ensure that the place you purchase CBD from is trusted, and a reliable source of CBD products.

The brands we list here are trusted, and each have lab results to ensure you are getting quality products that are safe for consumption. This is why we suggest, and even insist on checking these lab results, so you know exactly what is inside of each CBD vape juice. In addition, since CBD can be crafted slightly differently, some may contain traces of THC while others contain absolutely no THC.

Regardless of where you buy CBD, definitely make sure you're getting authentic and trusted CBD brands, and vape juices. These will not only provide you with the absolute best CBD vape experience, but a safe one as well. You can also check out our list of best online vape stores to see a list of our most trusted vendors.