Vape Cige VTBox 200 Review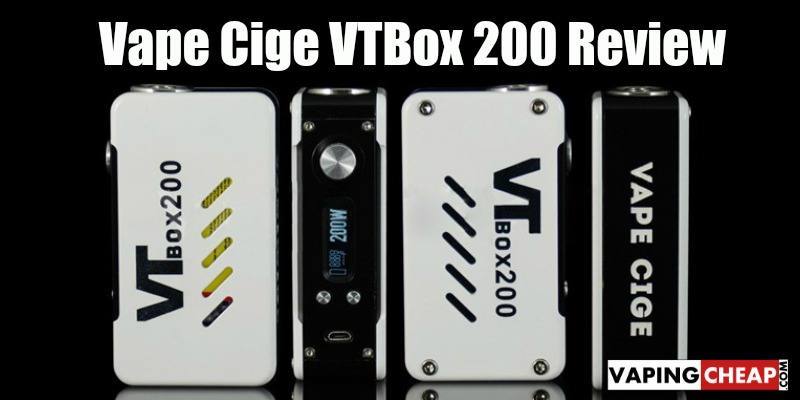 For my inaugural review here on Vaping Cheap, I will be taking a look at the Vape Cige, VTBox 200, provided by the folks over at Gearbest.
Where to buy the VTBox200 Mod:
Packaging
I don't normally talk much about the packaging or the instructions, however, in this case I think it is warranted. The VTBox 200 came very well packaged in a fairly standard, hinged lid, professionally designed cardboard box. Inside the box is the expected form fitting foam to protect the mod, as well as a brief, very minimalist, set of instructions (that I will talk about in a moment) and a relatively cheap, but effective, USB cord for both charging the mod and uploading new settings to it using the downloadable Escribe software. The foam in the box was cut so close to size that I had some minor difficulty even just getting it out of the box, arguably this helps to ensure it is protected in transit.

Instructions
The instruction sheet is very simple, it is a single sheet, printed front and back, then folded accordion style into 4 panels. This is the most sub-standard set of instructions I have ever seen for such an advanced device as the VTBox 200. It is very basic set of instructions that talks about the different functions of the Evolv chip, and how to select and manipulate them, but that is it. There isn't even any mention of the Escribe software, despite the fact that it is the ONLY way to access or change many of the device's settings and modes. Somewhat disconcerting is that there is a discrepancy between the user's manual and the mod I received, the manual states "Detachable magnets back cover, convenient to replace battery", however, the actual mod has all the panels bolted to the housing, no magnets, making it difficult to easily change the battery. The part of the provided instructions that troubles me is where they state that the buttons are waterproof (per Evolv, they are), it might lead you to believe that the mod itself is waterproof (it isn't). In fact, with the huge battery venting slots on both sides, I suspect that this mod would short out in seconds flat if it was ever submerged in water.
Initial Impressions
This is one BIG mod. It is easily bigger than any other mod I have owned or used, with the possible exception of the Cloupor T5 (remember that one?). Out of the box, there are a couple of glaring observations to be made, the first obvious issue is that the ring around the firing button was loose, as if it weren't secured in production. This speaks volumes about the quality control processes at Vape Cige. The second, also obvious item were the huge logos on the mod itself that, in my humble opinion, detract from its overall appearance. The button ring was a relatively easy fix to tighten it back down, it was a simple matter of finger tightening it, then using a piece of rubber cut from a balloon to grip and tighten it just a little further. The VTBox 200 I received for review came in a Black and White color scheme, with a soft touch, rubberized feel to it. It may be very large and heavy in comparison to my other mods, but it seems to be very solid and feels fairly well built, despite the lack of magnets and the loose firing button ring. The buttons, along with the standard, spring loaded, 510 connector all appear to be made of stainless steel.

Fit and Finish
Out of the box, other than th
e loose fire button ring, this mod seems very well put together. The side panels have nice rounded edges to them, which is almost critical on a box this big and heavy, sharp edges would all but make the mod unbearable to hold for any length of time. With the exception of the loose firing button ring, all of the different pieces fit together cleanly, with no hint of glue anywhere. Both of the side panels are held to the frame with four allen head set screws, one in each of the corners. The 510 connector is spring loaded and has a brass (or possibly copper) center pin. It is a full 22mm and feels like it is press fit into the top of the mod, rather than glued in place like other devices on the market. Unlike many of the budget mods, nothing rattles or moves that isn't supposed to, not even the buttons. There are huge battery venting slots cut diagonally into both sides of the mod. One would expect that with the big slots cut into them, the structural integrity would be compromised, but the side panels don't flex at all. The only concern with these venting slots is that they will easily allow liquids and dirt into the mod, I would be cautious of using this mod in dusty conditions, rainy weather or damp locales.
Usage
If you have ever used a regulated mod, then this will not be too much different. I won't go into all the combinations of button presses to change modes or settings, it's pretty straight forward, other than the addition of being able to upload 8 custom profiles. I'll cover these a bit more in depth when I talk about the Escribe software. I have been using this mod almost exclusively for over a week now, and it feels pretty good in my hands for such a big mod. The buttons are nice and fluid feeling, with good positive "clicky" feedback, not soft and mushy or hard and difficult to press. The fire button is in the perfect place to fall right under my fingertip without having to hunt for it. The up and down buttons are also in a good spot, they fall between my fingers when I hold the mod, allowing me to keep a tight grip on it while reducing the chance of accidental button presses just from holding the mod too tightly.
The Evolv DNA 200 default display is very nice, with a battery indicator, 3 lines to show your coil ohms, operating voltage (when the firing button is pressed), and temperature setting, as well as your set wattage. Of course, using the Escribe software you can customize your screens, but most people will probably never need to do this. Thankfully, the display is inset to the frame of the mod, and not flush with the face of it. This will help to prevent it from getting easily scratched, although it will collect dust and debris easier.
In the time that I have been using it, the finish seems to be holding up okay, but not great. I managed to put two dings in the finish of the button ring just by tightening it down, one ding in an edge when I put the mod in a pocket with some loose change and another ding in the finish around the USB port when I plugged it in to charge it the first time. I love the "soft" feel of it, but I'm not a huge fan of the white finish on the side panels as it seems to be discoloring fairly easily from the oils in my skin, and the rubber like finish holds the dirt and doesn't clean easily, leaving the mod looking dingy. I do wish they had chosen different colors that would hide dirt and keep it looking fresh, or even a different finish altogether that would stand up to daily usage better.
Temperature Control
Out of the box, the default profile for the VTBox 200 only supports NI 200. If you are using Titanium or Stainless Steel for temp control, then you will have to break out your computer to build a profile for it in the Escribe software. Once you've done that, and upload it to the mod, you will be able to use the new settings. As already mentioned, the instructions don't mention Escribe at all, let alone cover how to use the software. How hard would it be to include a different profile for TI or SS coils? Vape Cige also fails to even mention the advanced features of the Evolv DNA 200 at all, so the unaware vaper would assume it is not capable of anything other than a standard Kanthal or NI 200 coil.
Performance
I will definitively state up front that I prefer replaceable batteries in my mods. That said, this is my first DNA 200 mod with a Lipo battery, and overall I am very impressed with how it performs. It seems to be much more consistent than any other chipset I have used, to include the DNA 30, Yihi SX series (minus their flagship chip), and various DNA clones from 30-160 watts. A full charge takes about 6 hours, using a 5 amp wall wart. Other than some testing with my Smok TFV4 and a traditional coil, my standard setup is a 8/9 wrap, 30g, .20 ohm nickel coil (on the TFV4 build deck), with the mod set to nickel temperature control between 28 and 32 watts at 450 to 470 degrees Fahrenheit. In my usage a full charge lasts about 18 hours, much longer than I would have expected for an 1800 mah lipo battery. Given the long charge time, I do wish that there were an easy way to swap batteries and keep one charged all the time, mostly because I am not comfortable leaving a lipo battery charging overnight while I sleep. The good news is that if you aren't pushing it with a sub-ohm, cloud chasing setup, it will act as a pass through, allowing you to vape while it charges. For me, that is a fair trade off, although for cloud chasers, this is not recommended due to the risk of over draining the battery while it's charging.
Escribe Software
As there are forums, web pages, tutorials, and documentation all over the web, I won't cover the Escribe software in any great detail, I will however strive to give you enough useful information to get started. The first important point is that it is ONLY for computers running Microsoft Windows right now, there is no Mac or Android version yet, and I'm not sure there ever will be. To begin, go to Escribe Resources and get the software, then install it on your computer. Once installed, start the program, then connect your VTBox 200 to your computer with the supplied USB cable.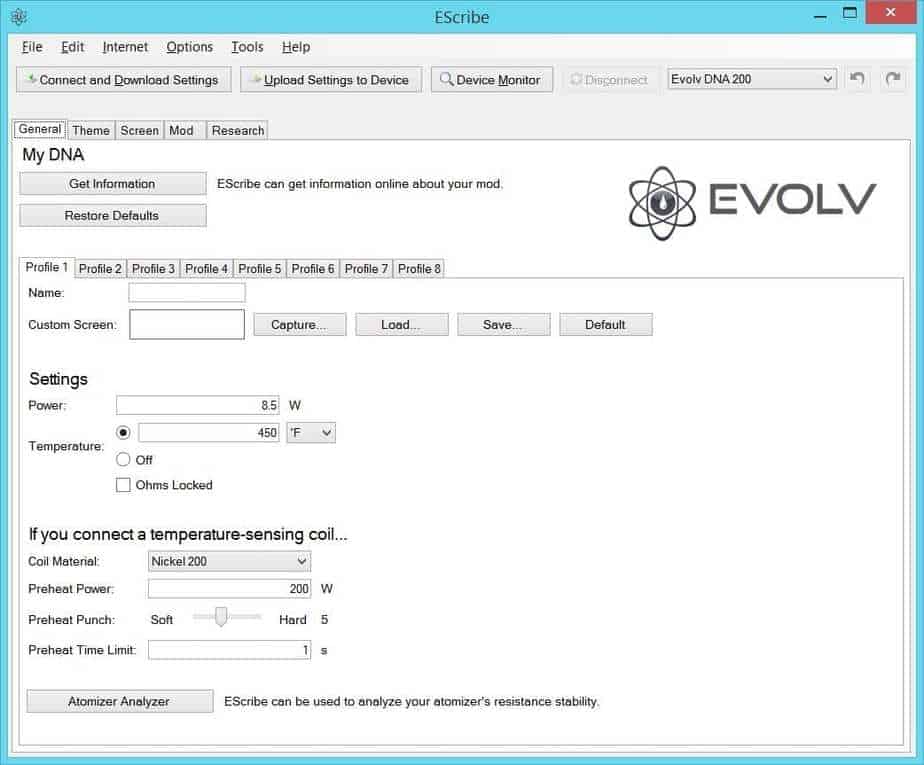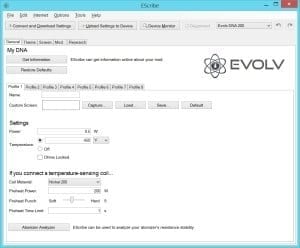 Once it's connected you should see a box pop up asking you to connect to the mod. This pop up box is also where you can rename the mod to whatever you want, but for now, simply click the "okay" button to get started.
Once connected to the Escribe software, the computer will automatically download the current settings from the VTBox 200 and you will see them in the tab marked "Profile 1". From here you can edit the settings to your liking. You can also setup other profiles in the remaining tabs, for a grand total of 8 custom sets. Once finished, simply click the button at the top that says "Disconnect". These profiles all come in handy if you often switch between tanks, drippers, and coil types as it is easier to switch profiles than to adjust the settings every time. Speaking of which, switching profiles is as simple as holding the up and down buttons to lock the power, then double tapping the up button to put the device into profile selection mode, where the up and down buttons move between the different profiles. Once you select the profile you want, hit the fire button to lock it in. Hopefully this quick primer on the Escribe software will be enough to get you started. There is a LOT more that can be done with it, such as uploading custom display screens, building profiles for TI and SS wires, customizing the battery profiles, etc. If you want more info, start with the resources available on the Evolv website here Escribe Resources, it should give you plenty of information to start with, including an interactive training course (which I have not yet had time to go through). If you want to customize the power on screens, it is pretty simple and only took me about ten minutes to create one, using only Microsoft Paint, and upload it to the mod using Escribe.
Conclusion
In a world where mods are getting smaller the Vape Cige VTBox 200 is a beast. Vape Cige should pay closer attention to the details, the inaccurate instructions and loose button ring on the one I received should never happen with a new mod right out of the box. There should at least be some mention of the Escribe software, as it is a critical element to the DNA 200 internals. The finish, while very nice, could be a little more durable. The battery venting slots on the sides of the mod are overkill and could actually introduce problems in dusty, damp, or wet conditions.
If you can use a temperature controlled mod, this is simple to use fresh out of the box. I do wish it came preset with a basic profile for TI and SS, so that there was a place to start with something other than Kanthal or NI 200. If you use anything other than Kanthal or NI 200, you will have to build or download a profile from the internet and upload it to the VTBox 200 using Escribe. The software is simple enough for the basics, but can get extremely complex, and if you choose to go down that road, the vape can be fully customized to your liking.
Personally, I think the logos are way too big and in your face, I would prefer no logos at all, but if they have to be there, I'd like to see one or two smaller logos. Ultimately though, the logos have no impact on the functionality or performance of the mod itself. Despite my observations, and the relatively minor issues, this is the most consistent mod I've ever used and has joined my daily carry rotation, at least as long as I am not going to the beach.
Where to buy the VTBox200 Mod