Lost Vape Orion Plus DNA Pod Kit $19.99 (USA)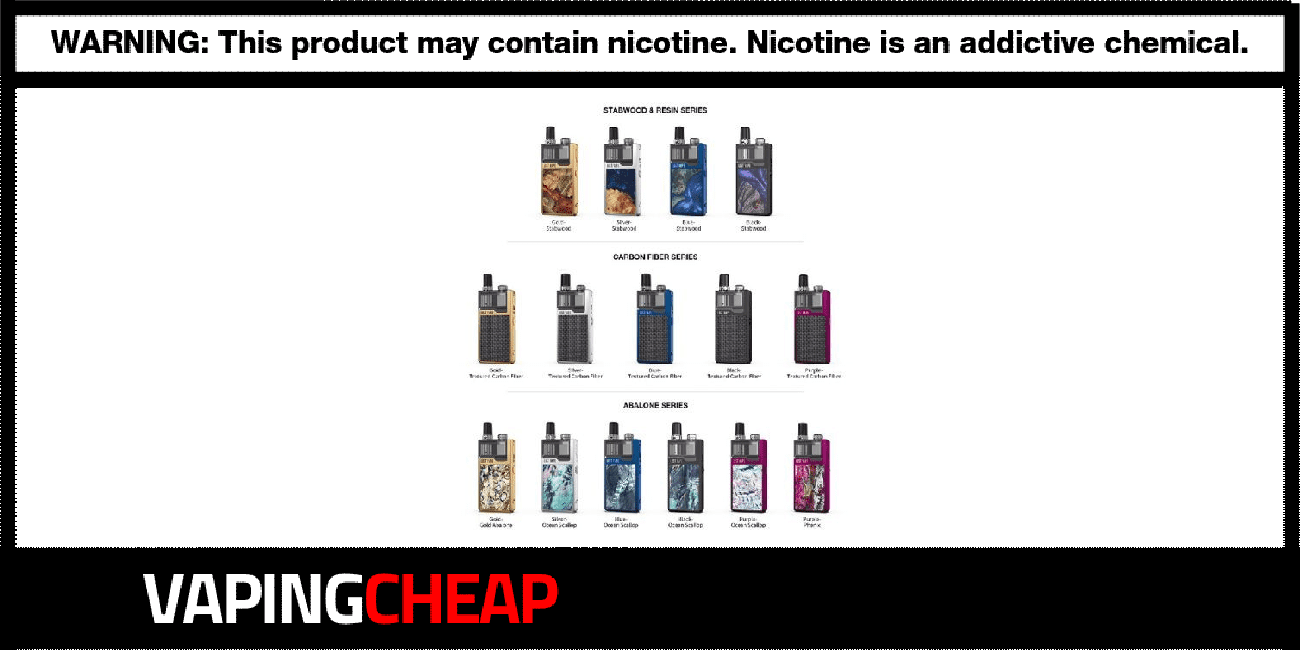 Here's an insane deal on the new Lost Vape Orion Plus DNA Pod Kit. Buy one for only $19.99! Simply use code "SPECIALDEAL" to get this sale price. It's also in stock at a China based shipper for only $44.20 with code "OPD". There's a ton of different color options available in three different series including Carbon Fiber, Abalone, and Stabwood/Resin.
Buy Cheap Lost Vape Orion Plus
The Orion DNA Plus Pod System Kit is an upgraded version of the original Lost Vape Orion DNA Go. It still features the same amazing board, the DNA Go chipset, and can be customized using the Escribe Software,. This allows you to fully personalize your vaping experience, and cater to your needs. However, this time around, it can output a peak of 40w, and can maintain a constant 22w depending on which coil is being used.
On top of that, there's now 5 adjustable power levels you can set, and there's the Replay mode as well, providing a consistent vape experience. With its upgraded DNA Go chip, it provides you with even more custom features, and flexibility in your vape.
The Lost Vape Orion Plus DNA Go Pod Kit does pack an internal battery which has a capacity of 950mAh, and charges via a standard micro USB cable. It also keeps a compact form factor, and is ergonomic as well, making it not only comfortable to hold and use, but pocket friendly. There's a single firing button, and a power level button on the side. An LED light indicator is located right above the adjustment button, and it keeps the same easy to use lock and unlock pod button.
Now, the best part of the Lost Vape Orion Plus DNA Kit is the new and improved refillable cartridges. It has a 2ml e-liquid capacity, and has the same adjustable top airflow system. The primary change is the actual coil system, which can be now replaced.
This means that you no longer have to replace the entire pod, and only the coil when it burns out on you. There's 2 new Orion Plus DNA Coils available as well, a 0.5 ohm regular and a 0.25 ohm mesh coil. As expected, the Orion Plus will automatically detect which coil is installed in the pod device, and adjust to the correct settings. You can use both regular freebase e-liquids, and nicotine salt vape juices with these replacement pod cartridges.
If you were a fan of the original or looking for a new DNA powered Pod System, then this is a must have. The Lost Vape Orion Plus DNA Pod Kit is definitely going to be one of the best pod vapes, as the original is still a favorite among many vapers.
Lost Vape Orion Plus DNA Pod System Features:
Built-In 950mAh Li-Po Battery
Powered By Upgraded DNA Go Board by Evolv
Maximum Wattage Output: 40w (Peak)
5 Adjustable Power Settings
Replay & Boost Functions
Compact & Ergonomic Design
Auto Detection of Pods
Provides MTL & DL Vaping
Top Adjustable Airflow System
Refillable Pod Cartridge

2ml E-Juice Capacity
Top Fill Design

Replaceable Coils

0.5 ohm Regular
0.25 ohm Mesh

Wide Selection of Color Options
What's Included
Lost Vape Orion Plus DNA 22w Pod Mod
0.25 ohm Coil Pre-Installed
Extra 0.5 ohm Coil
Orion Plus Lanyard
Micro USB Charging Cable
Warranty Card
User Manual
Lost Vape Orion Plus DNA Review