Let's Review the Eleaf iStick Pico!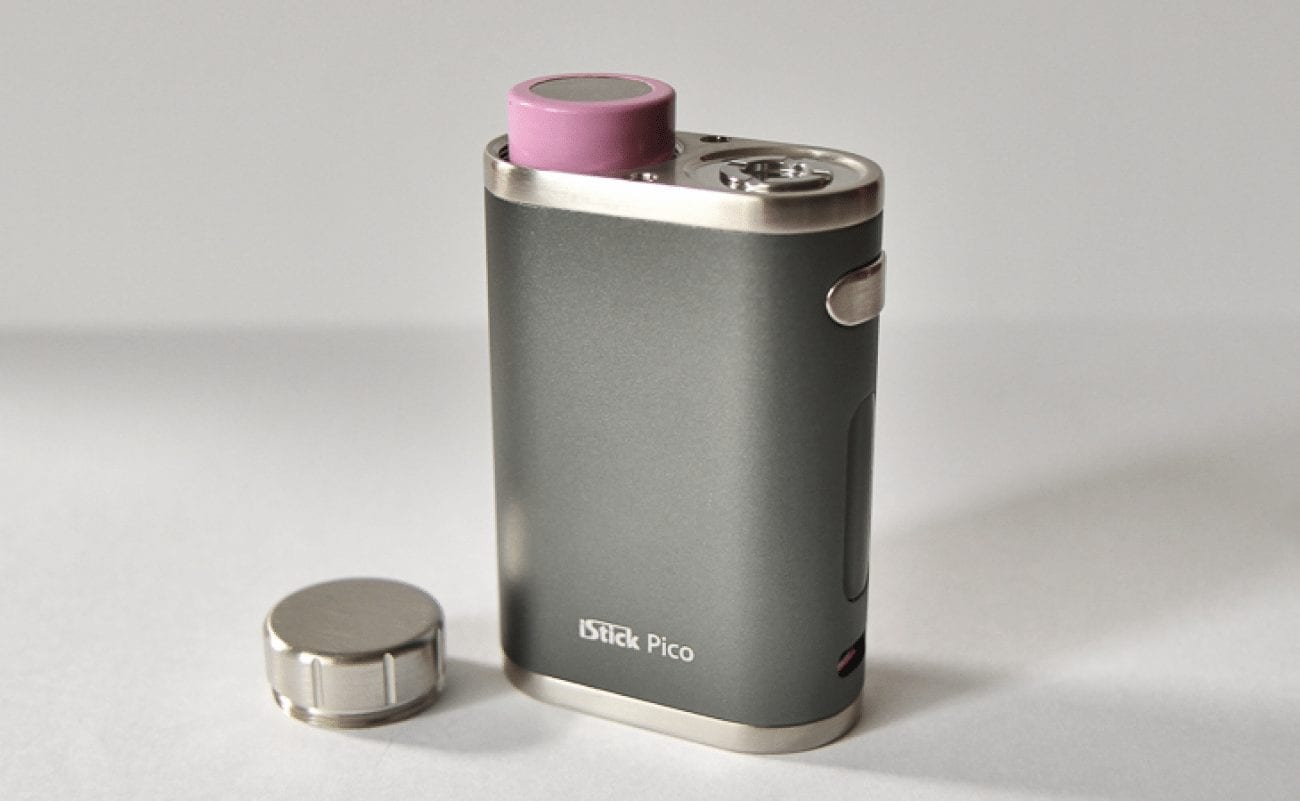 The fog horns are a-blowing guys!!!
This week has been a veritable vapathon on my side, with me reviewing the newest love of my life: the Eleaf iStick Pico
That's right...Check out the rest of this review to learn why the Eleaf Pico has me feeling like I've got the butterflies.
To start off this review, here's the low down:
"Pico" means small, and as my Eleaf iStick Pico review will show you, the line boasts an unapologetic range of power features packed into sexy, pint-sized mod boxes for the discerning vape enthusiast who wants to get the most bang for his buck and for his box dimensions.
I also got a hold of the Pico Mega and the Pico RTA so I can give you a reviews of those, too.
Kudos to Eleaf, I love you as a brand and I'm pumped to get this review started.
The ELeaf iStick Pico
The difference between the Mega and regular-sized Pico is simply that the Mega uses a 26650 battery, with an adapter for the 18650, and it fires up to 100W.
I found both the Eleaf Pico and Pico Mega of equal quality, firing up to their respective maxes.
Features:
2ml Melo III Mini (4ml Melo III on the Mega), iStick Pico mod, 0.5 Ohm EC head (0.3 and 0.25 included with Mega), USB cable, 4 spare silicone O-rings, user manuals for both the mod and the tank. The Mega kit also includes an 18650 adapter.
Runs on an 18650 battery (The iStick Pico Mega also uses a 26650)
Various firing modes
Wattage range of 1-75W
Temp range off 200-600 degrees Fahrenheit
Resistance range or 0.1-3.5 or o.5-1.5, depending on firing mode
Micro USB port for charging and iStick firmware upgrades
OLED screen
Pico Means Small
70.6 x 45.2 x 23.2 mm, that is what I call a micro mod! The Eleaf iStick Pico incredibly portable and compact but with a nice weight that gives it a quality feel.
The reason for the protruding battery cap on top is because you have a mod here that's actually smaller than the battery it holds!
Aesthetics
The Pico is ultra sexy, and available in colors from Silver to Hot Pink…white is definitely my favorite, with its brushed metal top and bottom. My kit came with tank components matching the color of my mod, it's just super neat. Nice rounded sides and a sweet little LCD with discreet buttons.
Eleaf can' be faulted on superficial features. Hands down one of the sleekest looking mods out there.
Conveniently Positioned Micro USB Port
​Both for charging and firmware upgrades and in a nice position at the side and bottom so that your mod can easily stand whilst plugged in.
Menu System
A bright OLED screen will display your menu, which is as simple as it could possibly be, considering the massive range of features and functions on this baby. Functions are too many to cover here but google and read your leaflet to familiarize yourself with your Pico, or check out this video!
Temp Control
I'm a sucker for this function as I seriously don't fancy a hot vape or having to replace anything. The temp control on this system is outstanding and highly versatile, supporting nickel, titanium and stainless steel wires.
Stealth Mode
​This allows you to vape in the dark without waking the cat…no lights Amigo!
Performance
​Superb, consistent, powerful, I feel like swearing it's so good!
The Melo III Range
​Slowly increasing your wattage, this tank range provides the fullest flavor, medium airflow and rich, consistent, out of this world vape quality with no leakage. I'm loving it.
iStick Pico Mega Review
Same-same
The Mega has all the same features and pros as above yet this little baby is even more of a beast, running smooth up to 100W.
Compatibility
A sweet adapter sleeve makes changing both 18650 and 26650 batteries a breeze.
Changes
​Larger Screen and button, as if just to let you know that this is a Mega, I like!
More Juice
You get double the capacity with a kick-ass Melo III sub-Ohm 4ml tank
Heavy Juice Consumption
But what else would you expect when you've practically got fog horns sounding from all the clouds you're gonna be blowing
iStick Pico RTA Review
Aesthetics
This is a beautiful looking RTA, with the cleanest lines you could possibly ask for, has a tendency to look cloudy out of the box but clears once filled. Fits snug on the mod.
Airflow
Decent; 1.5mm x 3 holes, nice medium airflow. Good AFC with either Eleaf Pico.
Vapor Production
Beautiful Vapor production with 2 different build styles. Check this out:
Leakage
The top fill (4 x 2mm holes) has a tendency to cause a little seepage when you screw the cap back on.
Conclusion
What you get with the Eleaf iStick Pico range is a line of nearly flawless products. Eleaf's Pico and the Pico Mega are both a pleasure to use, gorgeous to look at, with tremendous vapor production, remarkable performance and endurance, all packed into a pint-sized, pretty package.
I seriously recommend Eleaf and the iStick Pico range for beginners or advanced vapers. I love Eleaf, and I love my Pico devices and will continue raising the fog horns with these babies for a long, long time!