Om Vapors Valentines Day Sale $7.99 120 ML Bottles and 2.99 Nic Salts. Mods, Tanks and RDA's up to 50% off!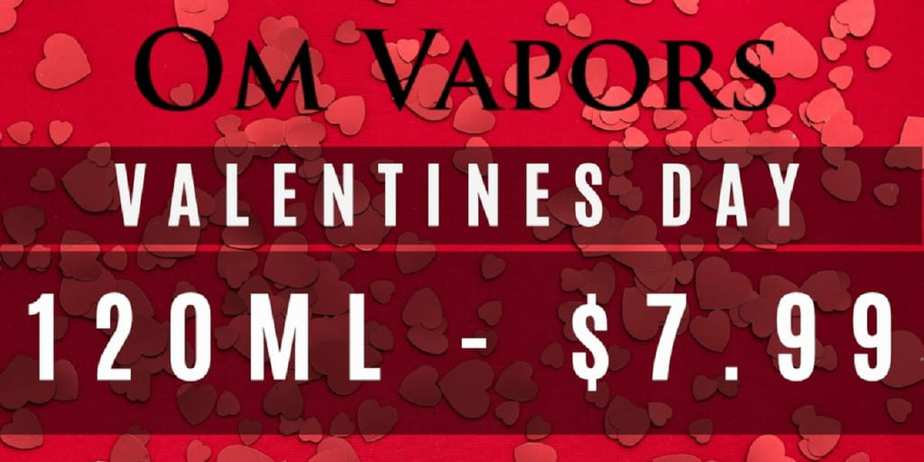 During the Om Vapors Valentines Day Sale, you can get 120ml bottles starting at only $7.99! Nic Salts are starting at only $2.99! This discount automatically apples at checkout!
During the Om Vapors Valentines Day Sale, you can get 120mls as low as $7.99! There are over 55 unique flavors available and this sale does include multiple e-liquid lines such as Umba Vape Blends Line, Om Express, Om Chillers, Om Origins, Om Reincarnation, Whole Tobacco Alkaloids, and Om Refresh Lines. Don't forget, Nic Salts are only from $2.99 a bottle!
All of their e-liquids are either 70/30 or 75/25 VG/PG. They have over 55 flavors of USP Nicotine e-liquids on the site and 12 flavors of nic salts. All of their flavors using lab-tested diketone free ingredients. Be sure to also check out their large selection of hardware at 50%.
Om Vapors is a self-funded premium e-liquid manufacturing start-up that was founded in 2014 by two University of Kentucky graduates. We are dedicated to reducing smoking rates around the world and helping, and take pride in our unique recipes, strict quality control, a growing, competitively priced hardware selection and fast fulfillment times. When you shop with Om Vapors, you can genuinely "Breathe Easy."
All in all, this is an amazing store sale! If you're looking to grab some e-liquid at insanely cheap prices plus get some hardware at 50% off, then this is a deal you simply cannot miss out on! You can get 120mls as low as $7.99 at Om Vapors!
Product Features:
120ml Bottles From $7.99
Nic Salt Bottles From $2.99
Over 55 Flavors Available
Save 50% off Hardware
70VG/30PG or 75VG/25PG Blends
Limited Time Sale