Wotofo SRPNT RDA $12.02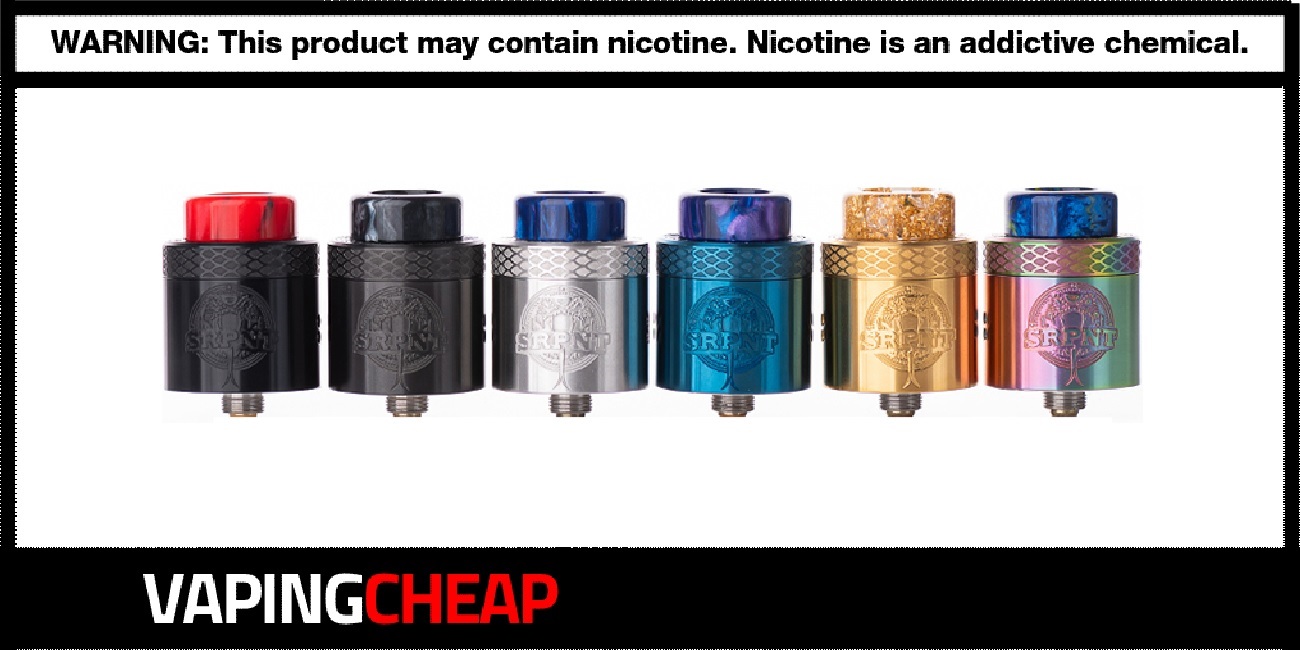 The Wotofo SRPNT RDA is now in stock and on sale! You can buy this atty cheap, for only $12.02 after using the discount code "vapingcheap". It's now back in stock at a USA based store for $18.00 plus free shipping over $80 when applying the coupon "HARDWARE10". There's six different color options you can choose from including Black, Gunmetal, Rainbow and others.
The SRPNT RDA by Wotofo features at an overall diameter of 24mm and is made from stainless steel. What's great about this atomizer is the building deck. For one, it's simple to use. There's a dual post build deck that supports both single and dual coil builds. When going for a single, it can house a massive 5mm inner diameter coil! When going for dual coils, two 3mm ID coils can be installed.
Included in the box, you do get a BF pin, so you can use with your favorite squonk mods. A regular 510 pin is there as well for you vapers who want to use it on your standard mods and mech tubes.
The Wotofo SRPNT BF RDA has an adjustable side airflow design and with this design, it delivers a smooth and flavorful vape. Lastly, adjusting the airflow is easy thanks to the knurled top cap.
Whether you enjoy larger single coil builds or dual coils, you'll definitely want to check out the Wotofo SRPNT RDA, that's for sure.
Wotofo SRPNT 24mm RDA Features:
Overall diameter: 24mm
Stainless steel construction
Wide bore resin 810 drip tip
Dual post build deck
Supports single and dual coil builds
Adjustable side airflow
Gold plated 510 connection pin
BF pin compatible
Six color options available: Black, Gunmetal, Rainbow, Gold, Stainless Steel and Blue
What's Included:
Wotofo SRPNT RDA
0.65 ohm pre-built coil
Cotton Strips
0.33 ohm pre-build coil
Screwdriver
Allen Key
Accessories
User Manual
Be sure to check out the Wotofo SRPNT RDA review video
More Great Vape Deals...
---
Vapefly Firebolt Cotton $3.13
For a limited time only, the Vapefly Fireboly Cotton 20pcs is now on sale right here for only $2.99! No coupon code required to get this[...]