Wotofo Serpent Elevate RTA Review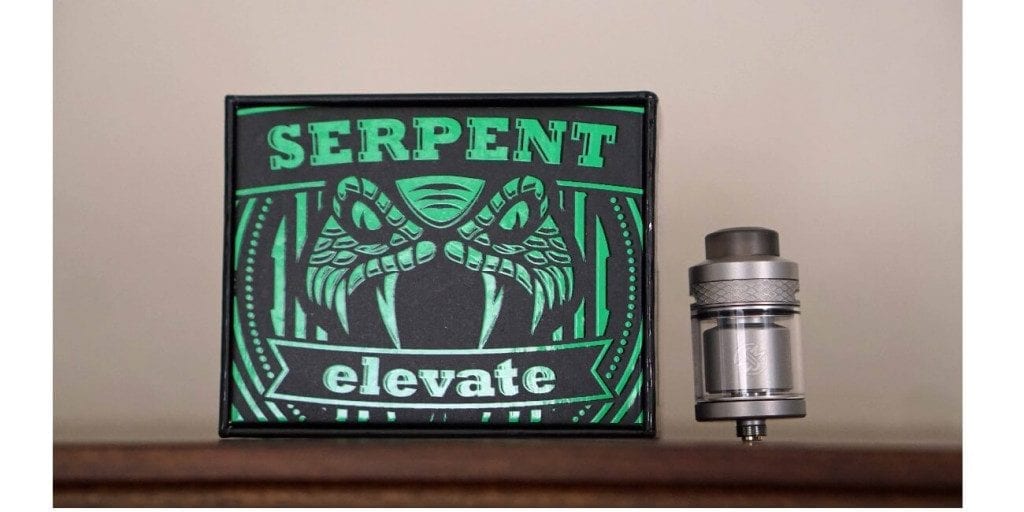 Wotofo is known for many good quality atomizers and have teamed up before to release new products. They're back at it again with Suck My Mod and have released their newest rebuildable, the Wotofo Serpent Elevate RTA.

Top airflow tanks have always been quite popular due to their leak resistant designs, but in some cases may not deliver the best flavor due to the air coming in from the top rather than the bottom of the atomizer. Wotofo and Suck My Mod has designed this new RTA to provide that leak proof design while delivering excellent flavor. How does it compare to others on the market and does it actually deliver amazing flavor? We'll cover all of that plus more in this in-depth review.
Wotofo Serpent Elevate RTA Features
Wotofo Serpent Elevate RTA First Impressions
The packaging Wotofo uses for their products has always been great and the same can be said for this one. However, they have updated the packaging and all of the changes are welcomed from the box itself to the colors. On both the front and back you'll see the Serpent logos and on the top is where you'll see what's included.

Included in the packaging you do receive the atomizer, a user manual, Japanese cotton, extra drip tip, clapton coils, a 510 drip tip adapter, a bubble tank section and a bunch of spares (o-rings and screws). As usual, you get a ton of stuff included with your Wotofo product, which is always a good thing and definitely a pro in my book!

The color I received is Gunmetal, but there are a variety of other colors available such as Rainbow, Stainless Steel, Black, Blue, Gold and Rainbow. The gunmetal color does have a matte finish which I do like, but this may be something not all vapers may prefer. It is a pro though that there are various color options available rather than just only one or two.
My first impression of the actual RTA is that it is well machined and I was surprised by the actual height. It's definitely on the shorter side and not what I expected. I personally liked that it was more compact rather than tall as I do prefer shorter and more stealthier looking tanks.

The Serpent Elevate does come pre-installed with a smoked drip tip which is 810, but the bore itself is quite narrow. Another drip tip is included alongside a 510 drip tip adapter, allowing you to use pretty much all of your custom 510 and 810 drip tips, which is another pro for sure. I will say that I preferred the smoked 810 drip tip with the narrow bore as it does fit my vaping style.

Overall, my first impressions of the Wotofo Serpent Elevate RTA was great! It's well machined and I did like the overall look and design. I was definitely excited to install a coil and get it wicked with my favorite cotton.
Building and Wicking Wotofo Serpent Elevate RTA
The Serpent Elevate features a very similar build deck to the Recurve RDA. With that being said, it's a postless style build deck with four post holes. This design allows you to fit any coil no matter how it's wrapped, which is a huge pro and makes building on this atomizer that much easier. There is an included tool that does help you cut the coil to the perfect length as well, which is a great addition.

In regards to what types of coils can fit in this tank, I would say most exotic coils will fit with no issues. The largest diameter I went with this tank is 3mm, but you can a slightly larger diameter if preferred. A 2.5mm would work, but when it comes to wicking, I'd say a 3mm works just a bit better based on my experience. My preferred coil build was a single Fused Clapton (26GA/36GA Ni80) which had a resistance of around 0.38 ohm.

With coil positioning, I preferred to have the top of the coil pretty much leveled with the top of the build deck. You can try other coil positions, but for me, this worked the best as it allowed the airflow to travel underneath and through the bottom sides of the coil.
Wicking this RTA is fairly easy as well, but like with all RTAs, wicking is key to getting the best performance. Your cotton will be a bit longer than usual in comparison to some other popular RTAs on the market, but that's the design. When wicking the Serpent Elevate RTA you want to make sure the entire wicking channel is covered, but not packed too tightly. If it cotton is stuffed in the wicking channel, then you'll run into dry hits or subpar flavor.

What worked best for me is just having a bit of cotton just past the wicking channel into the well, but I did thin out the cotton to ensure that there wasn't too much wick. It may take a few tries to really nail down the proper wicking, but once you do it'll be smooth sailing.

All in all, I would say building and wicking the Serpent Elevate RTA by Wotofo and Suck My Mod is easy, especially if you're experienced. Building will certainly not cause any troubles for any vaper, but wicking may take a couple tries, especially if the user is not experienced with rebuilding or wicking.
Wotofo Serpent Elevate RTA Performance
As mentioned before, my preferred coil build was a Fused Clapton with a resistance of around 0.38 ohm. I did try other builds in this RTA such as a simple round wire build, but my go to build is a Fused Clapton. It does strive with an exotic coil, but a simple round wire will surely do the trick. With this coil, I would vape it between 45w and 55w. At this wattage, I would get a nice and warm vape experience.

Since it's a single coil atomizer, you won't be needing much wattage to get a warm flavorful vape. What's great too with these types of atomizers is that on a single or dual battery mod, you'll get excellent battery life since you don't need to crank up the wattage to get a satisfying vape.

The airflow does come in from the top and travels underneath and the bottom side of the coil. The airflow design is great and surprisingly it's not that turbulent, which some top airflow tanks suffer from. It's not the smoothest airflow I've experienced, but definitely one of the smoothest for top airflow.
The draw is a bit on the restricted side as well, so if you're a vaper who enjoys a ton of airflow, then you might not like this one. For me and the way I like to vape, it's pretty much perfect. I do like to cut down the airflow just a tiny bit to add a bit more restriction and get a bit warmer of a vape.

The flavor from the Wotofo Serpent Elevate RTA is excellent. With the airflow design and how compact the tank is, I was expecting the flavor to be good, but it was better than what I had expected. In addition, the narrow bore 810 drip tip is a perfect match to the airflow and draw. I enjoyed the drip tip included and didn't feel the need whatsoever to use one of my other 810 or 510 drip tips.

I will say though that wicking is key to this RTA. If the wicking is not done properly, the flavor is not nearly as good and you'll probably encounter some dry hits. This one is not as forgiving as some other tanks on the market, but it's not difficult to master. I won't necessarily fault this RTA for the wicking, but I will mention it as something that is essential to get it to perform well.

All in all, the Wotofo and Suck My Mod Serpent Elevate RTA had stellar performance. As with most other RTAs, you have to wick it right in order to get the best performance.
Pros & Cons
Conclusion
In conclusion, the Wotofo Serpent Elevate RTA is an excellent performer that's pretty much leak proof. All of the extras that's included with Wotofo's products is always appreciated, and the build quality is top notch. The airflow is smooth, and the flavor is outstanding.

However, there are two drawbacks to this RTA and one is totally subjective. The first is that it can be a bit tricky to wick at first and can take some time to really nail down and master. However, once that's over with, the performance is seriously amazing. The second con that was mentioned is subjective, and it's the fact that this tank does have restrictive airflow. If you enjoy lots of airflow, then you might not be satisfied with this atomizer.

All in all, Wotofo and Suck My Mod knocked it out of the park with the Serpent Elevate. It's easy to build on and it just performs great. This one is definitely on our list of best RTAs. If you enjoy restricted direct lung vapes and looking for an RTA that is essentially leak proof, then the Wotofo Serpent Elevate is definitely worth adding to your collection!

We hoped you enjoyed our Wotofo Serpent Elevate RTA review. As always, thanks for reading and feel free to leave any questions or comments below!