Wotofo Profile 1.5 RDA $17.01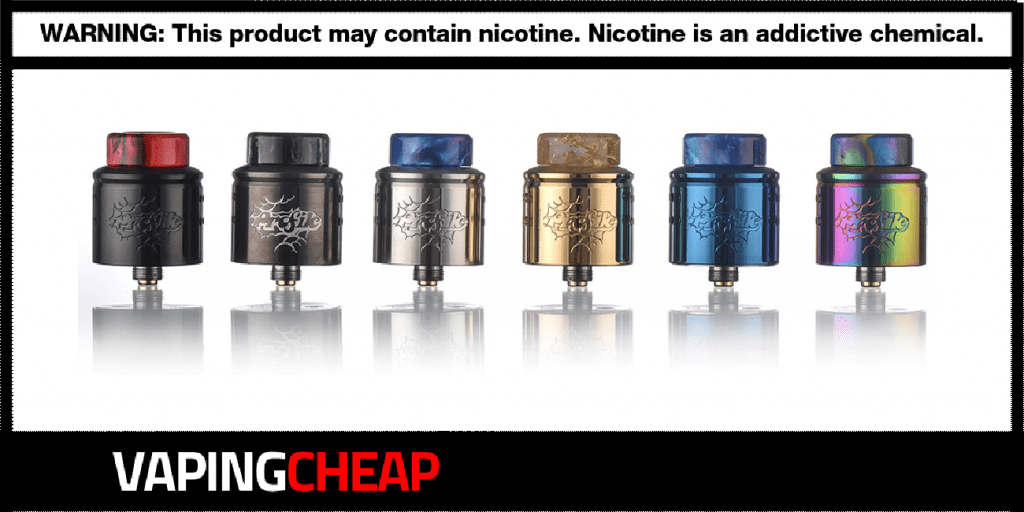 Here are a few cheap discounts for the Wotofo Profile 1.5 RDA in collaboration with Mr.JustRight1. Grab yours for only $17.01 when using code "April15". It's also available from a USA based vape shop for $22.78 when using the discount code "VC15". There's only a couple color options in stock, so be sure to act fast!
The Wotofo and Mr.JustRight1 Wotofo Profile 1.5 RDA sports some changes from the original Profile, offering improvements to provide a better vape experience. Like the original, it's constructed of stainless steel, and sports a base diameter of 24mm. In addition, it can be used on regular box mods, and squonk mods when using the BF 510 Pin.
However, the squonking experience has been improved thanks to its better e-liquid distribution. In the build deck, there is now a ridged surface on the ceramic block, which not only helps keep the cotton pressed against the mesh, but guides the e-juice into the well.
When it comes to building the Wotofo Profile 1.5 RDA, it's just as easy as before. It has a clamp style deck, which makes it incredibly easy to position, and install your mesh coil. Additionally, Wotofo is now including new mesh strips to provide even more intense flavor production. These new nexMesh coils are the nexMesh Chill, nexMesh Turbo and nexMesh Extreme.
The improvements on the Profile 1.5 RDA by Wotofo doesn't stop there. They've updated the airflow control system, which allows for even more fine tuning. There's max air supplies with all of the airflow holes open (top and bottom). In addition, you can close off the top row completely to leave just the bottom airflow slots open. The last configuration is adjusting both the top and bottom airflow slots together. Another great feature is the drip tips. It's an 810 size, so you're able to use your other favorite custom drip tips. However, they do include both an ultra wide drip tip, and a low profile wide bore drip tip.
If you were a fan of the previous RDA, then you'll definitely want to grab the new Wotofo and Mr.JustRight1 Profile 1.5 RDA. With its subtle yet effective improvements, it's bound to give off even more flavor than before, and offer a much more versatile vape experience.
Wotofo x Mr.JustRight1 Profile 1.5 RDA Features:
Stainless Steel Construction
24mm Base Diameter
Wide Bore Resin Drip Tip
Improved Clamp Style Deck

Ridged Ceramic Block
Easy to Build On
Better Squonking Experience

Fully Adjustable Airflow System

3 Airflow Styles Available

New nexMesh Mesh Strip Coils
German PEEK Insulator
6 Color Options
What's Included
Profile V1.5 RDA
Extra Drip Tip (Low Profile)
Bending Tool for Mesh Wire
Bag of Accessories
User Manual
Allen Key
Cross Head Screwdriver
3 Xfiber Cotton Strip (6mm Thick)
0.15 ohm nexMesh Chill
0.13 ohm nexMesh Turbo
0.16 ohm nexMesh Extreme
Check Out The Wotofo Profile V1.5 RDA Review
More Great Vape Deals...
---
Vandy Vape Mato RDTA $22.40
Here are cheap deals and discounts on the new Vandy Vape Mato RDTA. Get this atomizer from only $30.36plus free[...]