Vivi Nova Review: Top Features, Ratings, Pros & Cons!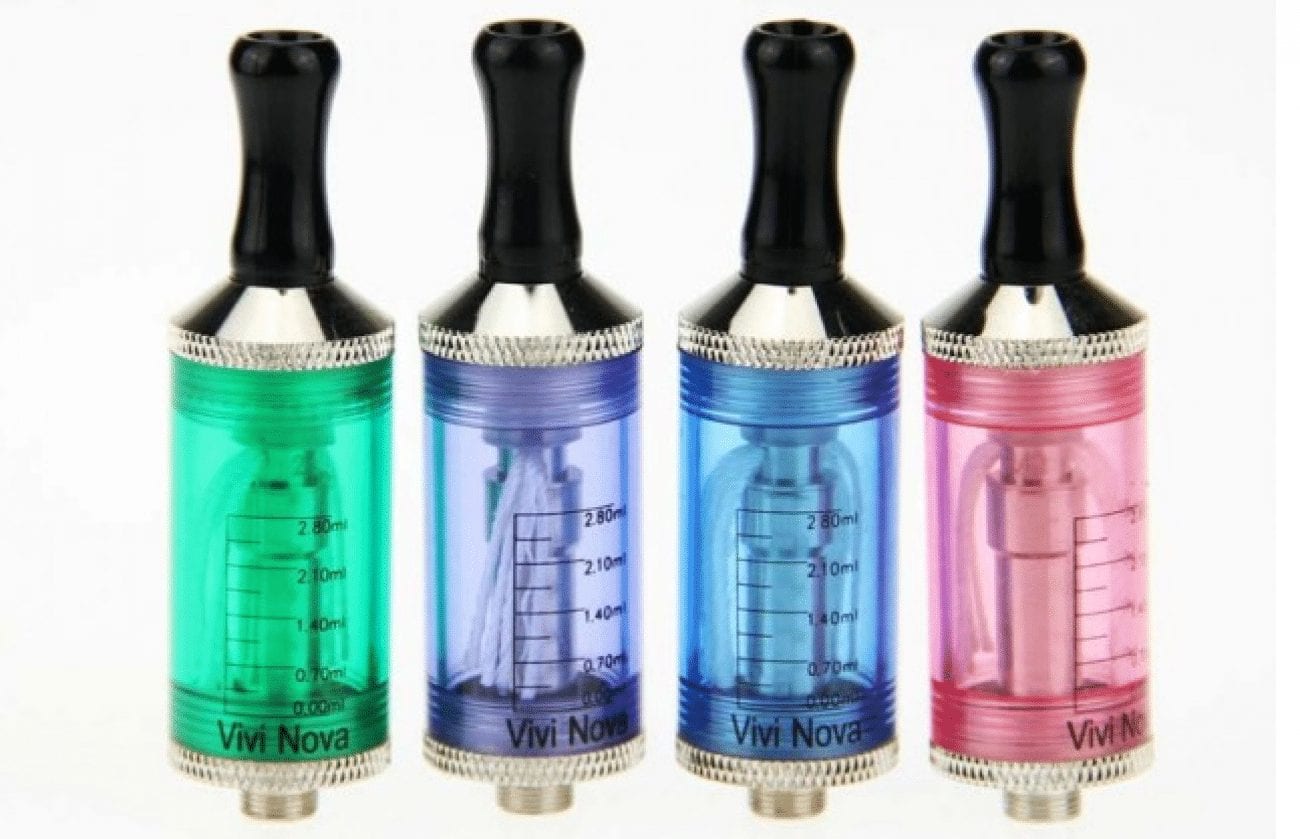 Step into the e-cigarette market and it won't be long before you run into Vision. It's a huge e-cig brand known for many good things, but mostly for their high quality vaping devices and accessories. A good number of these devices are priced highly. But the majority are within the moderate price range and that hasn't in any way turned away vapers. Instead, it has a legion of enthusiastic vapers chasing after their units.
Vision's Vivi Nova tank is an impeccable clearomizer and this is for a good reason. It's affordable, easy to set up, comes in a wide range of sizes and shapes, and best of all, it delivers a remarkable vape without sweating you out.
If you buy the tank from Vision Cig and it fails to excite you, just take advantage of their return policy and get the unit back to them. But that won't come easy (the dissatisfaction) because the tank has been put through quality tests and no serious vaper seems to moan about its performance.
In this Vivi Nova review, we'll tell you what you never knew about the Vivi Nova clearomizer and at the end of it, you will love the outcome.
Vivi Nova Tank Ratings
Design: 5.0/5.0
Ease Of Use: 5.0/5.0
Performance And Vapor Production: 4.0/5.0
Value: 5.o/5.0
Vivi Nova Tank Review
You have to try out other clearomizers before you finally appreciate that the Vivi Nova is among the few well-designed tanks. Changeable heads was a well-thought feature that gives this unit an edge over its rivals. On top of that, you have plenty of color options to choose from, from pink to black to blue to silver and others.
Using it, as you will see later in our vivi nova clearomizer review, doesn't require any special skills or tools. That even makes it a perfect option for the beginner vaper. And putting into consideration what this unit brings and what you have to pay for it, the price is just a perfect match, in fact, more affordable than what you will pay for a similar unit elsewhere.
In designing them, Vision intended for the tank to be used with more advanced personal vaporizers. This means that their atomizers are powerful and you should expect nothing but huge clouds. That also means that the performance goes down when you use a low capacity battery. Also watch out for leakages, even though this is so rare.
Pros
Very Affordable
Owning this amazing unit will set you back only $5 at the least or at most $15. That's pretty huge for a tank of this quality and potential. Of course you can find other alternatives that are way cheaper than that but the chances of finding one that matches up to this unit's quality is little to none.
Easy To Use
Whether it's the assembling or the refilling, none of them will have you feel like you are working out a set of calculus equations. It's just as simple as removing the end of the cap and then proceeding to fill the tank to your preferred level. You need no syringes or whatever. But care should be taken not to introduce the e-liquid into the middle hole or get it too low. And always ensure you keep the vape upright so as the wick can soak right into the e-juice.
Easy To Clean And Rebuild
It's obvious that at some point you will want to clean this tank and the good thing about the tank is that taking it part is so easy. This means you'll have an easy time taking care of it. The same also applies to rebuilding it, something that every newbie should be excited about.
Aesthetically Appealing
Not all clearomizers look this good. Ever seen the top-fill ones that have a mass of wicks dangling down? That sucks, man. But the Vivi Nova has a banging look to it and what's more, you can change the drip tips plus the tubes come in a wide array of materials and colors so it won't be hard finding something that suits your taste and style.
Cons
Leakages
This is not guaranteed but sometimes it will happen. It could be due to many factors like a loose O-ring or anything related. Fixing that isn't hard though it can take you a while finding the leak. But if your clearomizer is leaking and you are determined to fix it, please watch the video below on what to do.
You can as well get yourself a new one. It's pretty cheap after all.
Limitations
Using this unit will require that you also take the time to find out about its limitations. For instance, the makers warn against using e-juices that are 100%VG. Even cinnamon-flavored e-liquids are cautioned against. The recommend PG/VG ratio is 70:30.
Top Features of Vivi Nova Tank
Changeable Heads and Ohms
Anything could happen that could see you end up with a messed-up coil and wick. But that shouldn't bother you because you can toss the thing away and get yourself new heads. Screwing them in won't take more than 3 seconds even if you know zilch about tanks and atomizers. With this heads, you also have a wide selection of ohms to pick from since each of them has different ohms. So if you aren't sure what ohm rating works best for you, this should sound like heaven to you.
510 threaded
Once you mention '510 thread', that already spells compatibility. Every veteran vaper would definitely look out for such a feature and thankfully, the Vivi Nova has it. So bring your eGo Series batteries and all the 510 thread compatible accessories and devices like Zmax or Bolt and you will be glad that you can use them together with this tank.
High capacity tank
Vivi Nova clearomizer can store up to 3.5ml of e-liquid. For many vapers, that capacity is enough to last one an entire day. To see the best of this, you will also need to bring along a high-quality battery like the Samsung 18650, ProVari or Vtube. With your tank filled to capacity and powered by such a battery, you will be able to enjoy an entire day of vaping without worrying that your tank will run dry.
Conclusion
Everything we've seen about the Vivi Nova in this Vivi Nova review is enough to put it as a top contender for the top spot in its category. You will agree that Vision did a pretty amazing job with its design, especially when you take a look at the unit itself. Performance was a huge priority and we can see they even went to an extent of having to use different heads just to ensure every user finds that sweet spot when it comes to vaping.
Then there's the ease of use, an aspect we all anticipate of knowing just to be sure of whether that particular unit is a perfect fit for us or not. So, whether you are a beginner or a veteran, there's nothing strange or difficult in operating the Vivi Nova.
Not forgetting to mention the compatibility, which is a priority for nearly every advanced users. No one wants a lonely clearomizer. The Vivi Nova wins it in this space and just as you saw earlier in our vivi nova v5 review, you can use it with a wide range of devices and accessories.
For its little price, you barely have any reason not to own the Vivi Nova Clearomizer if you are a serious vaper out to get yourself a quality and affordable clearomizers.