Vapefly Alberich MTL RTA $15.89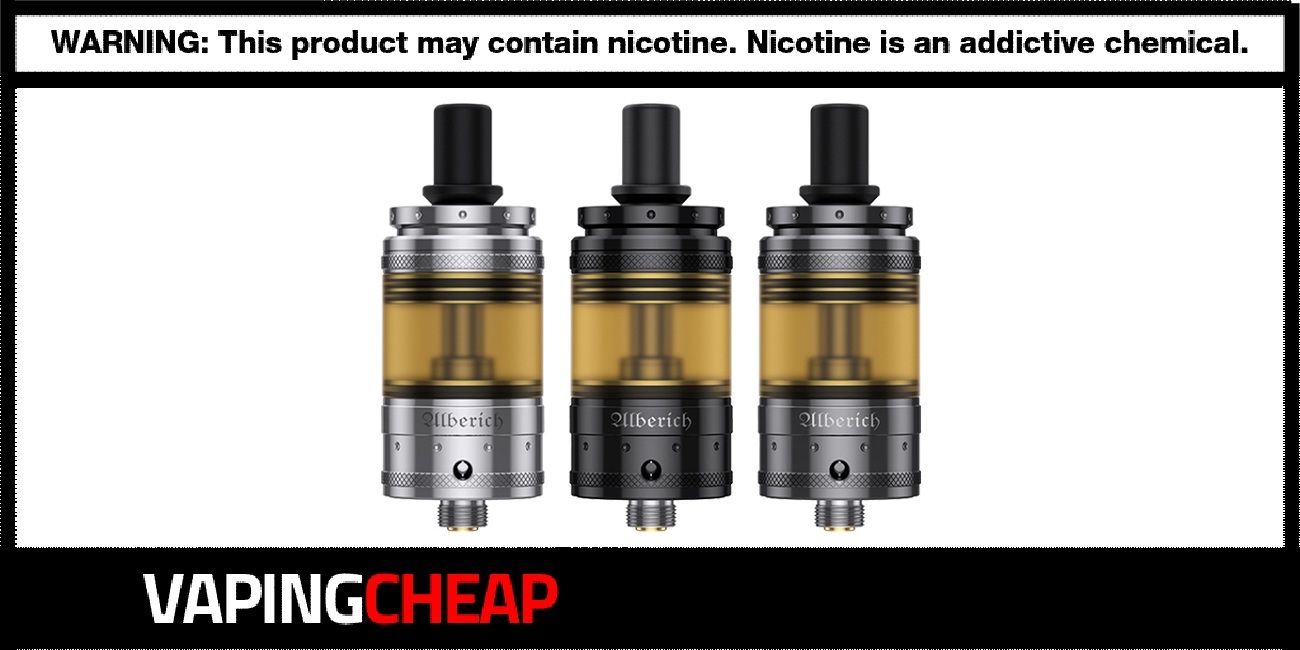 If you're looking for the best deals and discounts for the Vapefly Alberich MTL RTA, then you've come to the right page. For a limited time only, you can get this atomizer for only $15.89. No code is required. There are three color options you can pick from including stainless steel, gunmetal and black.
Vapefly's Alberich MTL RTA takes a more traditional approach when compared to the previous Brunhilde MTL RTA. This atomizer has a diameter of 22mm. In addition to that, it comes with two different PEI tank sections and has a maximum e-juice capacity of 3ml or 4ml, depending on which you use. You can easily refill this tank from the top.
The Vapefly Alberich RTA features a unique build deck, which makes installing an absolute breeze. On top of that, the bottom airflow system provides excellent flavor. The airflow is adjustable and is different when compared to other RTAs. Rather than an exterior airflow ring, the draw is adjusted by swapping out the 510 pins, which is ideal for this style of vape.
If you're in the market to add another smaller 22mm rebuildable tank to your collection that's focused on mouth to lung vaping, then definitely check out the Alberich RTA by Vapely.
Vapefly Alberich 22mm RTA Features:
Stainless steel construction
Overall diameter: 22mm
Maximum e-juice capacity: 3ml or 4ml (Large Tank)
Two post build single coil build deck
Bottom airflow system
Interchangeable 510 airflow pins
Available in three color options: Stainless steel, Black and Gunmetal
What's Included:
Vapefly Alberich RTA
Accessory Bag
5 Airflow Pins
4ml Tank Section
User Manual
Pre-built coils
Cotton Strips
Be sure to check out the Vapefly Alberich RTA review video
More Great Vape Deals...
---
Aspire Nautilus GT Kit $49.90
Here are cheap deals, discounts and sales for the Aspire Nautilus GT Kit in collaboration with Taifun. Buy one from[...]