Nitecore Charger Reviews: Focusing on Intellicharger i8 and Superb Charger SC4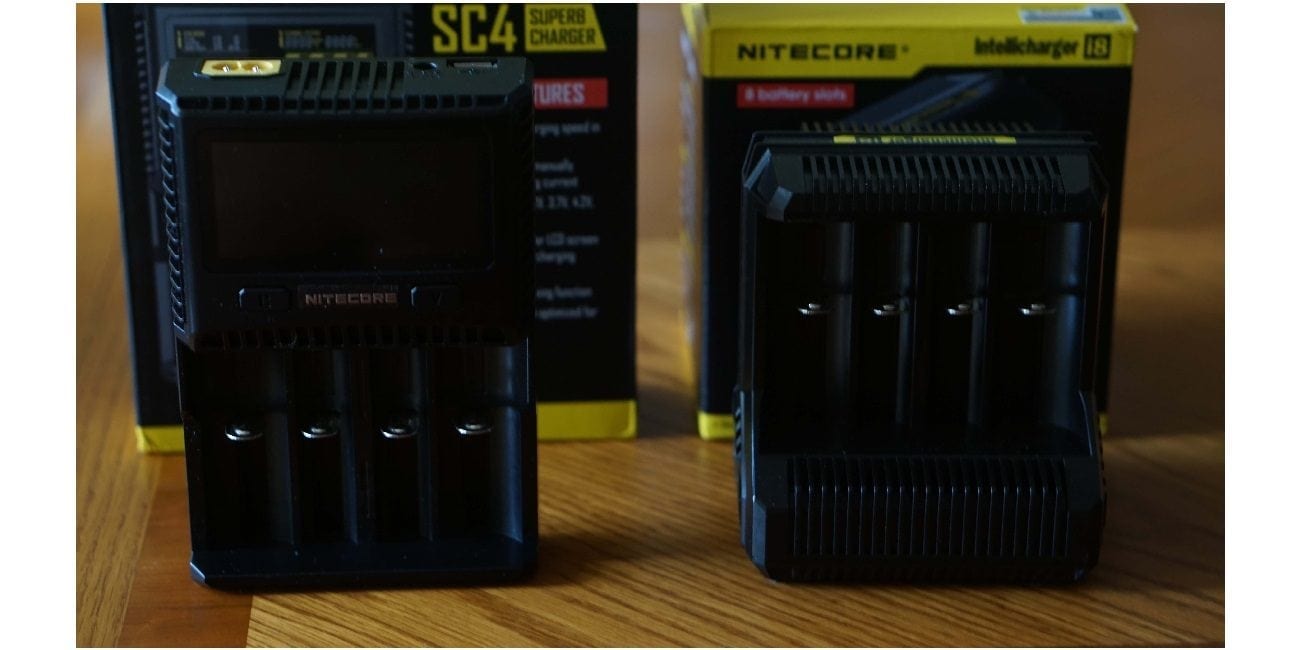 Nitecore Vape Battery Charger Review
In this review, we'll be covering two brand new chargers by Nitecore, which are the i8 and the SC4. Nitecore is well known for their battery chargers, and many vapers use them daily to charge their 18650 or 26650 batteries! Some of their popular chargers include the Nitecore Q2, i4 and i2. Their newest chargers offer some major differences, and one that offers 8 slots, so you can charge up to 8 batteries at the same time!
Before getting any further, we'd like to thank Nitecore for sending these 2 chargers to us for the purposes of this review. We will provide you with our first impressions, usage, pros and cons, and conclude with whether or not we recommend them!
Check Out The i8 Here! Check Out The SC4 Here!
First Impressions
Upon receiving the Nitecore SC4 and i8, I immediately noticed the familiar packaging. If you've bought a Nitecore vape battery charger before, you'll know this exact packaging, which isn't a bad thing by any means. Both the chargers were protected very well during transit, and due to how it's packaged they will not move whatsoever until you take them out of the box. The packaging itself is quite larger, especially for the i8, so I was expecting this charger to be quite large.
For both products, there is a ton of information on both the front and back, which is definitely a pro as you can see pretty much all the specifications by simply looking at the packaging. Once you open either packaging, you can easily slide out the charger. Included with each is the charger itself, a power cord, a warranty card and a user manual.
My first impressions of the Nitecore i8 was that it isn't as big as I thought it'd be. Even though it can house 8 batteries, since it's a vertical design rather than horizontal, it's smaller than you think it would be. In addition, I do like this design since it's much different than the other vape chargers on the market, and it won't take up too much room wherever you decide to store it. There are 4 battery slots on each side, and LED lights at the top of each slot indicating whether the slot is charging or fully charged.
A con to be mentioned though with this charger specifically is that some of the springs were a bit crunchy and not very smooth. Thankfully, not all of them were like this and most of them were smooth. Regardless, I would've like to seen that all of the springs were smooth, which makes it a bit easier to insert your batteries and take them out.
When first taking a look at the SC4, I immediately noticed that it was a much more "premium" design. The build quality of this one was better than the i8, and the addition of the screen is something I do prefer so I can easily monitor each battery. The screen itself is quite large, and there are two buttons right under the screen which allows you to cycle between information and the selected battery alongside adjusting the preferred charge rate. The springs on this one is silky smooth as well.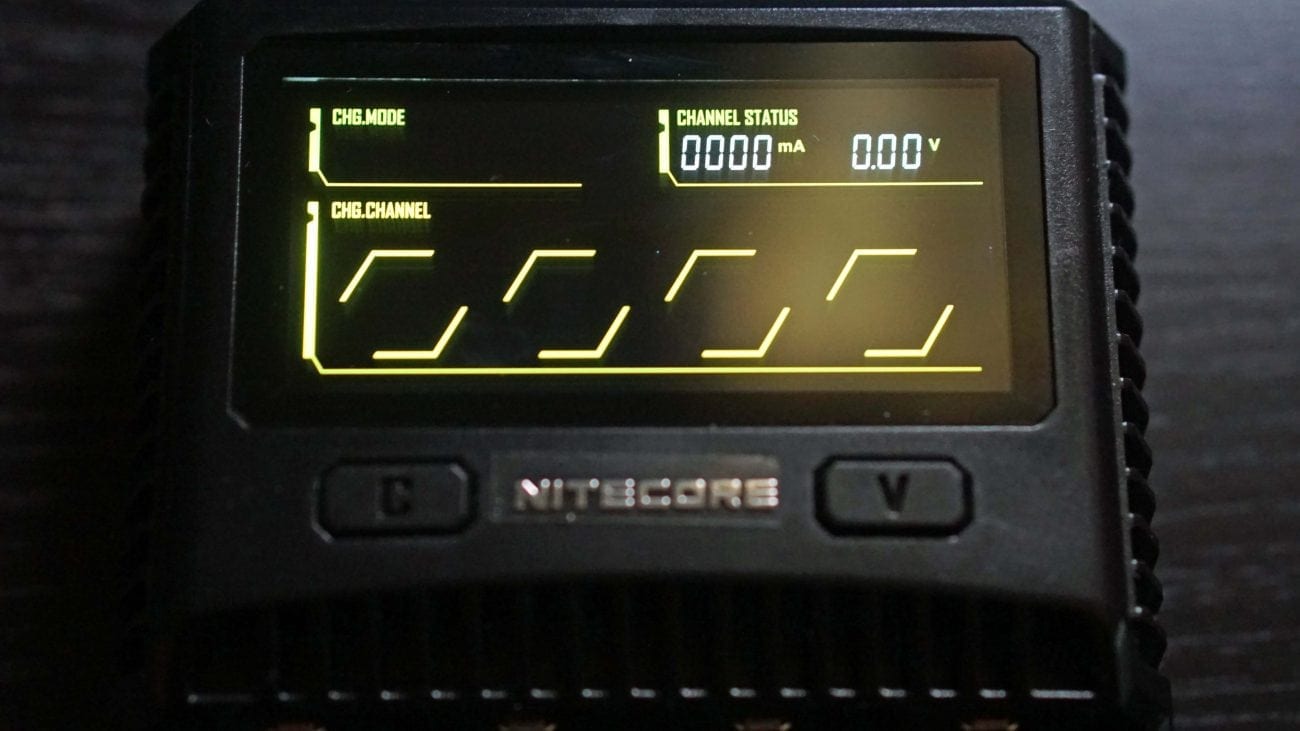 The overall size of the SC4 is about average in comparison to other 4 bay chargers. It is a bit thicker than some though, but that isn't a con by any means. It's a great size for at home or bringing with you out of the house for traveling. The i8 on the other hand might not be the best for traveling since it is on the taller side, and is generally larger than most other 2 or 4 bay chargers. I would say this is much better suited for home.
Both of these Nitecore chargers feature a USB output, so they're capable of charging USB devices upon charge completion. The USB output is rated at 5v/2.1A max. This is a nice touch, but not really something I'd be using it for. Regardless, it's still a pro and something worth mentioning.
Overall, my first impression of the Nitecore i8 and SC4 were great. There was a con to be mentioned with the springs of the i8, but like mentioned, only a few of the springs had this issue.
Usage (Nitecore i8)
Using the Nitecore i8 has been a pleasure, and it does exactly what it's supposed to do. The design of this vape charger is much different than other chargers on the market, and I was glad to see that Nitecore went a different direction with this one. Honestly, I don't think there's any other chargers that can charge up to 8 batteries, so this is probably the first of its kind. The vaper who vapes at higher wattages and run through batteries will absolutely love this charger since it can charge up to 8 batteries.
Even though it does charge this many batteries, the maximum charging current of a slot is 1500mA. This is to be expected since it's housing 8 batteries, but it's still something worth mentioning. With this charge speed, you won't be charging your batteries very quickly. This may be seen as a con to some vapers, but to me it wasn't that much of an issue. I actually prefer to charge my batteries around that rate.
When you're charging a battery whether it'd be a 18650 or 26650, the LED above the battery slot will glow red. This indicates that the charge is in progress, and once it turns green, that means the charge is complete and the charger has stopped charging this slot. This is definitely a pro and a major safety feature implemented. Another great feature is that once a slot is almost finished charging it will allocate more charging current to a different slot automatically. This is called their ACD technology (Active Current Distribution).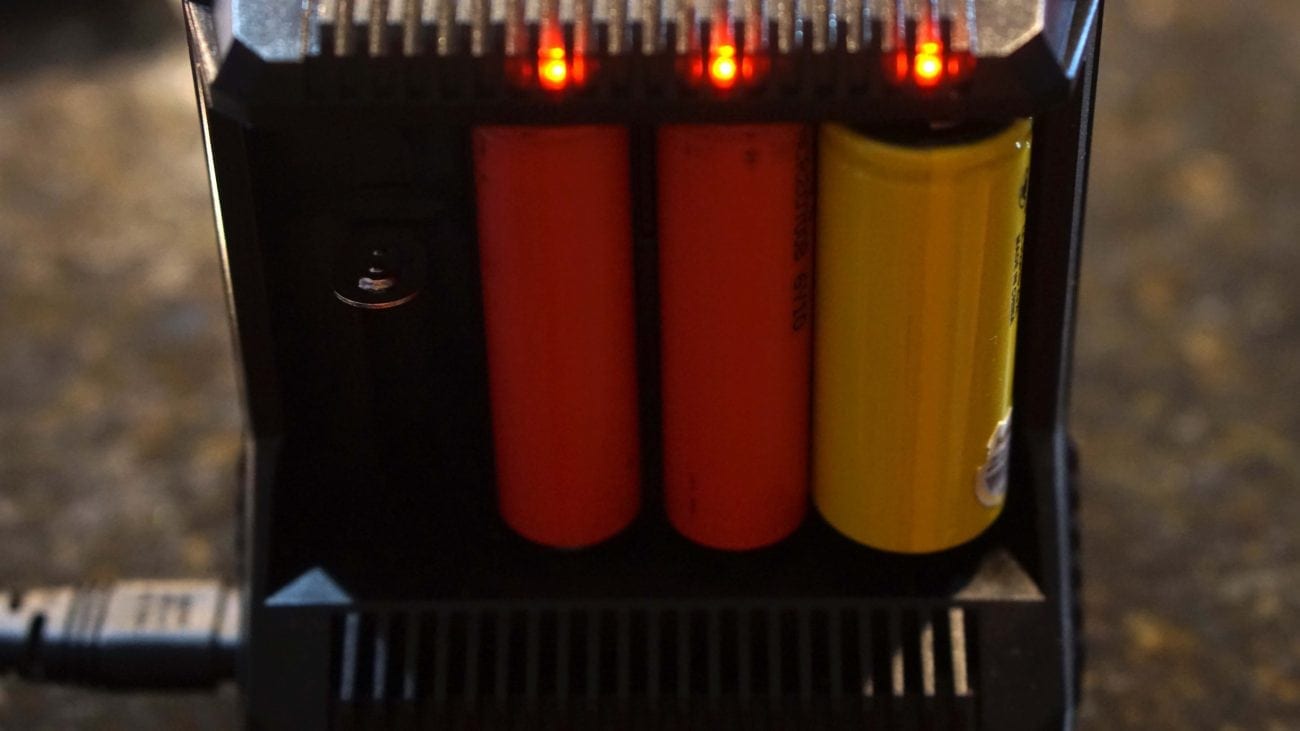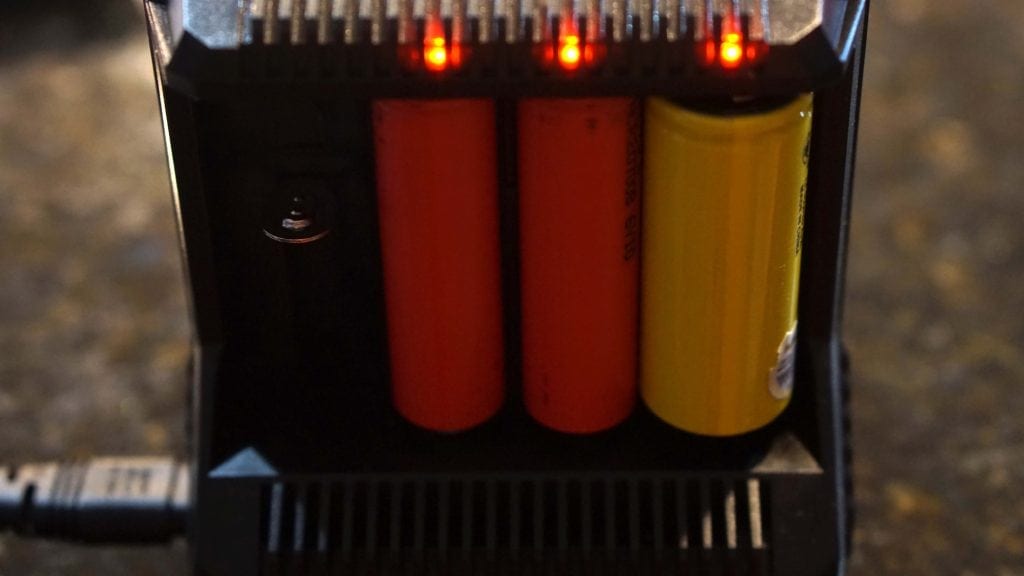 Now a big question is does this charger compatible with 20700 batteries? Well, I can say that it does! The batteries with the red wrapping in the image above are 20700 batteries. However, when inserting a 20700 battery into the Nitecore i8 be careful, because it's a pretty tight fit. Just be sure you are taking your time with a 20700 battery, as the last thing you want is to rip the wrapping of your battery. Regardless, it's still a pro that it can charge your 20700 batteries, especially since we're seeing more and more 20700 box mods.
This battery charger also has a ton of safety features such as reverse polarity protection, short circuit protection, and overtime protection. These are all incredibly important features to have in any vape battery charger, so this is a huge pro for me. The i8 is also designed for optimal heat dissipation, and each battery charged is done so independently. Not to mention, it's constructed from flame retardant and fire resistant PC materials which allow for extended lifespan and safety.
All in all, using the Nitecore i8 over the past couple of weeks has been great. Even though it's not the fastest charger available, it does charge up to 8 batteries, which is something completely new and probably one of the biggest pros to this vape charger.
Pros
Capable of charging 8 batteries
Great design
Charges 20700 batteries alongside a ton of other sizes including 18650 & 26650
Easy to use
Tons of safety features
Cons
Some springs are not smooth
20700 batteries are a tight fit
Only 1500mA maximum charging current
Usage (Nitecore SC4)
The Nitecore SC4 is a completely different beast of a charger and offers some key differences to other battery chargers. One of those differences is the fact that this charger has a maximum charging current of 3A and they claim that you can charge a 3500 mAh IMR battery to 80% in only 55 minutes. I can certainly say that this charger does charge your vape batteries incredibly quick especially at 3A charging. At only 2A charging, I was able to fully charge an 18650 battery in about an hour or so.
The maximum total output of this charger is 6A, so the maximum in one slot is 3A. You can easily change the charge rate by simply pressing and holding the "C" button. Once you do this, you can swap between options and once you get to the charge rate, simply press the "V" button and you can manually select the rate. Or, if you didn't want to manually select the charge rate, you can simply leave it as is and it will intelligently select the appropriate charging current by detecting the battery type and capacity.
20700 batteries also fit in this charger, but it's even more of a tight fit in comparison to the i8. So with the SC4, I would be even more careful when charging your 20700 batteries. However, like the i8 26650 and 18650 batteries fit with zero issues.
Another great feature of the Nitecore SC4 is that you can prioritize the first two slots. So if you wanted the batteries in the first 2 slots to be charged first or quicker, you can do so. Like the Nitecore i8 this vape battery charge has a ton of safety features such as Anti-Short Circuiting and reverse polarity protection, distinctive cooling fins and is constructed of safe material.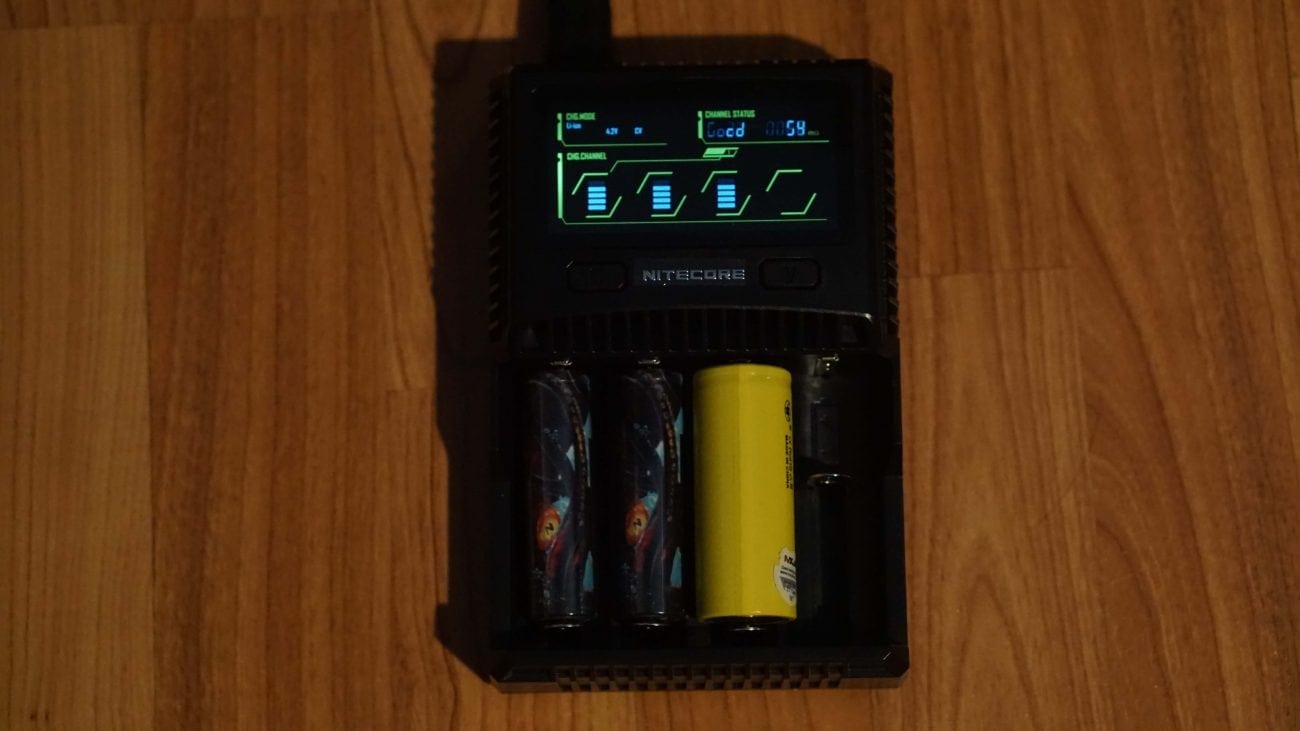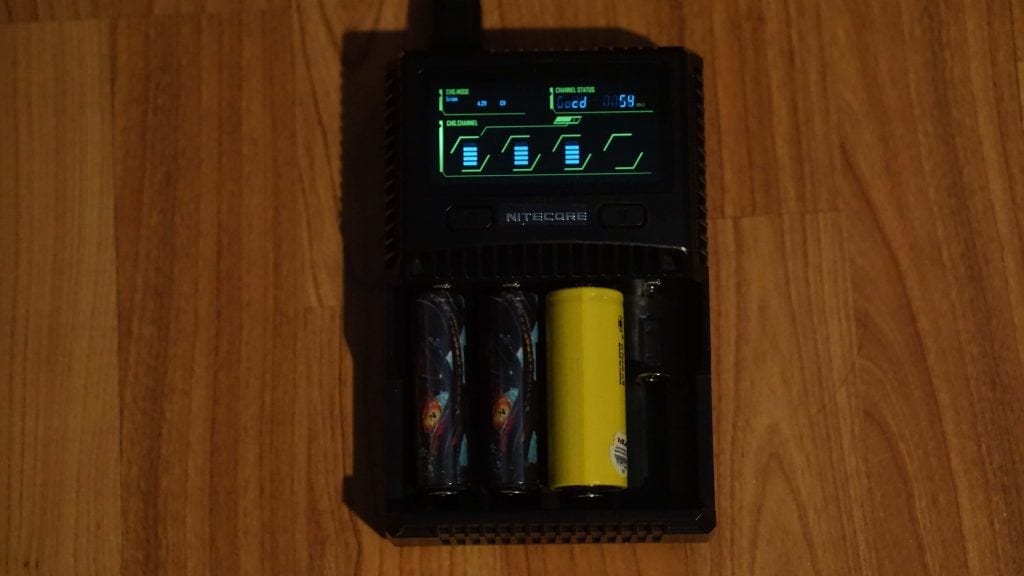 One of the biggest pros in my opinion is the screen and all of the information it shows you. The information displayed includes the charging mode, battery voltage, battery type, charging time, charging current, charging volume and charging voltage. You can easily swap to different information by utilizing the buttons right below the screen. Also, the screen is bright and very easy to see. Not to mention, when it is inactive for a bit, the screen does dim down. However, once you press the "C" or "V" button it'll brighten up, which I think is another great feature.
One con to be mentioned is that when the charger is plugged in and turned on, there is a slight buzzing noise. This can be annoying to some vapers, and I honestly don't know what the cause is, but it wasn't a huge deal to me. Also, something else worth mentioning is that the SC4 does get a bit warm when charging multiple batteries at higher charging currents.
Overall, the Nitecore SC4 has become one of my favorite, if not my favorite 4 bay charger. This battery charger is loaded with features, and one of the best is the easy to read display which offers a ton of crucial information.
Pros
Excellent build quality
Great display with tons of important information
3A charging (6A total output)
Tons of features
Lots of safety features
Cons
20700 batteries are a very tight fit
Slight buzzing noise
Gets warm when charging multiple batteries at higher charging currents
Conclusion
In conclusion, I was quite impressed with both the Nitecore i8 and SC4. Both of them are quite different and certainly cater to different vapers. For the vaper wanting a charger that can charge a ton of batteries and want simplicity, they'll love the i8. However, if you're a vaper that wants detailed information about your batteries during the charging process, and want something a bit more "premium", then the SC4 is up your alley.
There were a few cons to be mentioned with each battery charger, but none that really turned me away from either. The only thing I would want for both chargers is for them to not have such a tight fit for the new 20700 batteries. Even though it's not the biggest issue, you still have to be careful since you don't want to possibly cause damage to your battery wrap. I do want to mention that I did not tear or damage any of my battery wraps for all the batteries used with these chargers, but just mentioning this as it can possibly happen.
Battery safety is incredibly important in vaping, so I do love the safety features implemented for both chargers. In addition, the SC4 is packed with a ton of features and the fact that you can manually select your charging rate is great.
All in all, both of these Nitecore chargers are great and work just as expected, which is pretty much flawlessly. If you're in the market for a new battery charger, then I do highly recommend checking out both the SC4 and i8!
I hope this helps you in choosing the perfect vape charger! Feel free to leave any comments or questions down below! Thanks for reading!
Check Out The i8 Here! Check Out The SC4 Here!