Tobacco Monster EJuice Sale! $12.95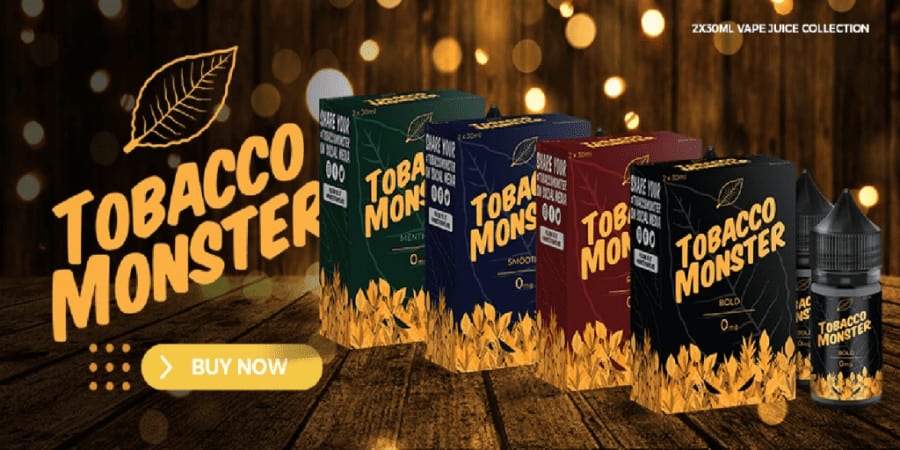 Here's a cheap deal and discount on the Tobacco Monster EJuice Line! With this sale, you'll get 2x30ml (60ml) or 2x15ml (30ml) salt for just $12.95. No code required to get this price.
The Tobacco Monster E-Liquid Line consists of 4 different flavors for both the regular freebase and nicotine salt. This includes Rich, Smooth, Menthol and Bold. The salt nicotine version includes two 15ml unicorn bottles for a total of 30ml while the freebase flavors comes with two 30ml bottles, for a total of 60ml.
When it comes to nicotine strengths, there's 0mg, 3mg, 6mg, 12mg and 18mg freebase. Additionally, you can get 20mg, 40mg or even 60mg salt. Lastly, the VG/PG blend is either 50VG/50PG or 70VG/30PG.
If you enjoy tobacco e-juice flavors, and looking for a new premium line to try out for cheap, then look no further! At just under $13 for either freebase or salt, you can't go wrong.
Tobacco Monster Vape Juice Sale Details:
2x30ml (Freebase)
2x15ml (Salt)
Unicorn Bottles
Nicotine Strength Options: 0mg, 3mg, 6mg, 12mg, 20mg, 40mg, 60mg
50VG/50PG or 70VG/30PG Blend
4 Flavor Options:

Tobacco Monster Smooth
Tobacco Monster Bold
Tobacco Monster Menthol
Tobacco Monster Rich
More Great Vape Deals...
---
Eleaf iJust 21700 Kit $14.99
Rebuildable Dripping Atomizer For a limited time only, the new Wotofo Elder Dragon RDA is on sale right here for only $27.54 using coupon code "Hardware"![...]