Smok E-Priv Mod $22.50 | Kit $29.99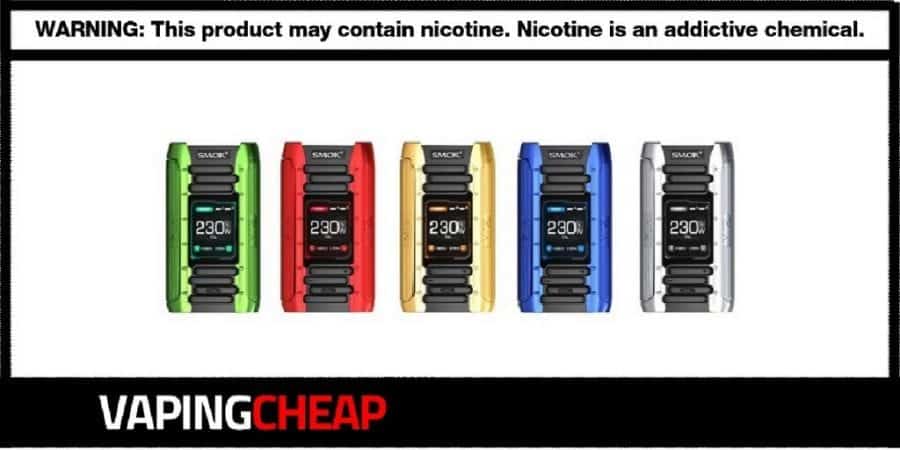 Here's an excellent deal on the Smok E-Priv Box Mod. You can buy one as cheap as $22.50 plus free shipping over $50 with code "vapingcheap10". The full E-Priv 230w Kit is also on sale for just $29.99 with the code "EPKVS". There's various color options available for purchase.
The Smok E-Priv Mod features a unique form factor which gives it a comfortable fit in the palm of your hand. It's primarily constructed out of a zinc alloy material, so not only is it lightweight, but quite durable too. Additionally, the E-Priv box mod by Smok is powered by two high drain 18650 batteries, and can provide the vaper with a max wattage of 230w.
A great feature this mod has is memory mode, which allows you to save your own custom preset options. This makes it so that you can customize, and set up your vape to your liking for multiple different resistances or atomizers. Not to mention, the Smok E-Priv 230w Mod does have temperature control settings for Ni200, Ti and SS wires. The minimum firing resistance for TC mode is 0.05 ohm and 0.1 ohm in wattage mode.
Another signature feature of the Smok E-Priv Mod is the large side fire bar, which is not only easy to use, but adds to the overall comfort. Like many vape mods, you can click it 5 times to turn it on and off. Lastly, it has a bunch safety features such as short circuit protection and over-heat protection.
If you are more interested in the Smok E-Priv 230w starter kit, it includes the Smok TFV12 Prince Sub Ohm Tank. This tank atomizer uses the Prince Mesh Coils and includes 2 replacement coil heads in the packaging.
Also, it has has an overall diameter of 25mm and holds a maximum e-juice capacity of 5ml or 8ml with the bubble glass. Filling this atomizer is quite simple, you have to unlock the top and then turn it. Lastly, there are two adjustable airflow slots at the bottom, and a wide bore resin drip tip up top.
All in all, if you are searching for a solid performing mod or kit, then you should check out the Smok E-Priv. It offers a high wattage output with a ton of features such as memory mode and TC, and for the price, you just can't beat it.
Smok E-Priv 230w Kit Features:
Smok E-Priv Box Mod

Requires 2 High Drain 18650 Batteries (Not Included)
Maximum Wattage Output: 230w
Temperature Control (Ni, Ti and SS)
Memory Mode
1.45 Inch TFT Full Color Display
Large Side Fire Bar
Ergonomic Design
Multiple Safety Features

Smok TFV12 Prince Sub Ohm Tank

Overall Diameter: 25mm
Maximum E-Juice Capacity: 5ml (Standard Glass) or 8ml (Bubble Glass)
Top Fill Design
Uses The Smok v12 Prince Replacement Coils

Includes 2 Replacement Coils

Dual Adjustable Bottom Airflow
Check Out The Smok E-Priv 230w Kit Review