Lost Vape Ultra Boost X Tank $5.39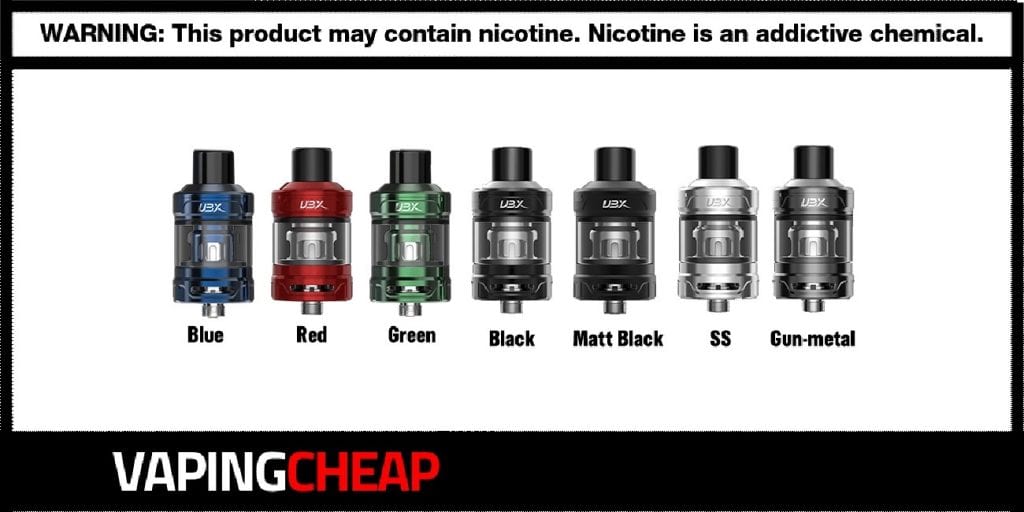 The new Lost Vape Ultra Boost X Tank is now available for pre-order. Get yours for the cheap price of $5.39 using code "SUMMER". There are seven different color options available including Stainless Steel, Red, Green, Black and more.
The Ultra Boost X Tank by Lost Vape has an overall diameter of 24mm and holds a maximum e-juice capacity of 2ml, making it TPD compliant. However, it does come with a spare bubble tank section that increases the e-juice capacity to 4ml. Additionally, you can fill this tank from the top since there is a sliding top fill system.
This tank atomizer is compatible with the Ultra Boost Coils and comes with two different coil heads. What's great is that you'll get two different coils inside the box. One is designed for MTL vaping (1.0 ohm) while the other is for direct lung (0.15 ohm).
The airflow system is quite different from other tank designs as well. It offers an adjustable bottom airflow design, but you can choose between a direct lung airflow or a mouth to lung airflow. To change it to an MTL style, you simply turn it all the way to the right to reveal multiple smaller airflow ports. Lastly, this tank can be used with your favorite nic salt e-juice as well as regular freebase e-liquids.
For this insanely low price, you're getting a pretty solid tank, and this is probably the lowest price we've ever seen on any Lost Vape product. At over $5, you seriously cannot go wrong.
Lost Vape Ultra Boost X 24mm Vape Tank Features:
Overall diameter: 24mm
Maximum e-juice capacity: 2ml or 4ml (Bubble Glass)
Sliding top fill design
Compatible with the Ultra Boost Coils
Adjustable bottom airflow

Can swap between MTL or DL airflow styles

Seven different color options available
What's Included:
Lost Vape Ultra Boost X Tank
4ml Bubble Glass Tank
0.15 ohm DL coil head
O-Rings
User Manual
1.0 ohm MTL coil head
510 drip tip
More Great Vape Deals...
---
Breazy Big Bottle Sale! 40% Off
For a limited time only, Breazy is having their Big Bottle Friday Sale right here where you can save 40% off using coupon code[...]
Vapefly Nicolas MTL Tank $10.59
For a limited time only, the Vapefly Nicolas MTL Tank is now on sale right here for only $11.99! No coupon code required! The colors available[...]