Suicide Mods Ether RTA $47.99 (USA)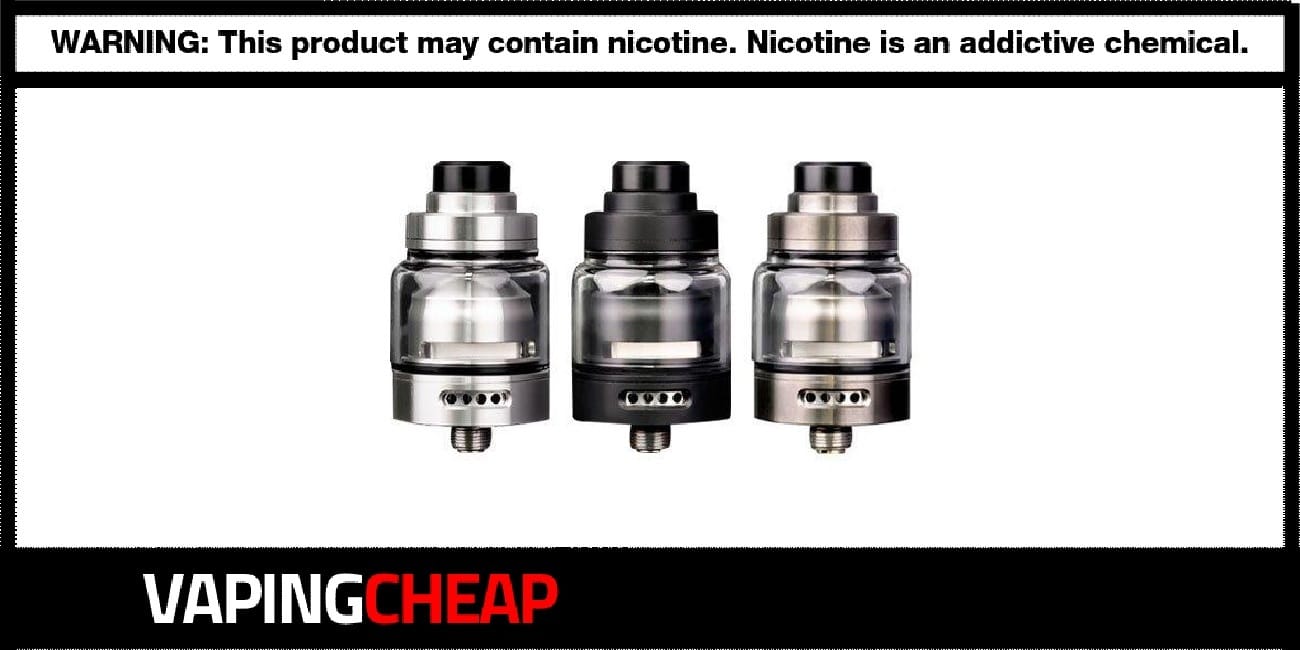 The popular Suicide Mods Ether RTA is now back in stock and on sale. Buy yours for just $47.99 plus free shipping over $50 with coupon "HALLOWEEN5". There are now four color options you can pick from including Matte Black, Stainless Steel, Brushed Stainless Steel and Blue.
The new Ether RTA is a collaboration between Suicide Mods and YouTuber The Vaping Bogan. It sports an overall diameter of 24mm and has a maximum e-juice capacity of 2ml. When it comes to filling this tank, it couldn't be easier! Just turn the top cap half way and the top section comes off to reveal large fill ports.
Not only is this tank easy to fill, but building on it is a breeze as well. It features a two post single coil build deck. With its designed, it works well with simple micro coils or even slightly larger Claptons. When it comes to the airflow, it comes in from the bottom. You can adjust it to your liking, whether restrictive direct lung or tighten it up for a mouth to lung.
It doesn't stop there though! Like we've seen on some recent RTAs, you can further fine tune the airflow on the inside using airflow plugs, giving you an even tighter and true MTL vape if that's what you're looking for. Lastly, the Suicide Mods Ether RTA is primarily constructed from stainless steel material and includes multiple drip tips in the packaging, giving you more for your buck.
If you're a flavorchaser and enjoy restrictive direct lung or mouth to lung vaping, then you'll definitely want to check out the Ether 24mm RTA by Vaping Bogan and Suicide Mods. It's easy to build and wick, provides excellent flavor and does look quite unique with its tank section!
Suicide Mods x Vaping Bogan Ether RTA Features:
Overall diameter: 24mm
Collaboration with The Vaping Bogan
Maximum e-juice capacity: 2ml
Top fill design
Single coil dual post build deck
Adjustable bottom airflow design
Stainless steel construction
Gold-plated 510 connection pin
Available In Three Color Options: Matte Black, Stainless Steel and Brushed Stainless Steel
What's Included:
Suicide Mods Ether RTA
Two Drip Tips
O-Rings
Smoked Glass Tank
Extension
User Manual
Pyrex Glass Tank
Check Out The Ether RTA Review