Wismec Preva Pod System $21.45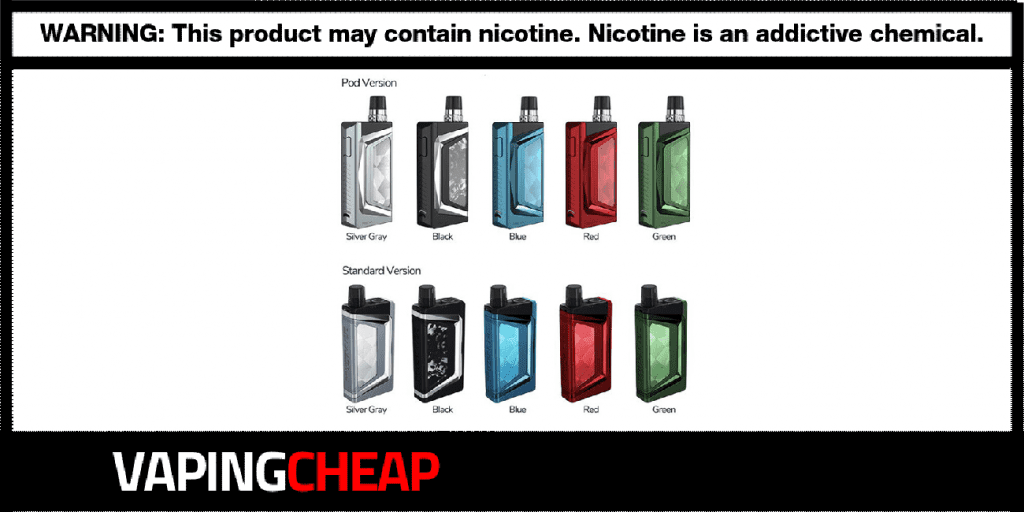 Here's a cheap deal and discount on the Wismec Preva Pod System. Get this AIO Kit for only $21.45 using the code "WPK". There's multiple versions available, and different color options. Some of the colors you can choose from includes Silver Gray, Black, Red, Blue and more.
Wismec's Preva Pod System Kit sports a rather similar form factor when comparing it to their original release, the Preva DNA Pod Kit. However, there are a few key differences. For one, it sports a completely different chipset, which makes this pod mod much more affordable in comparison. Secondly, as mentioned earlier, there are two different versions you can choose from, but we'll get into that later.
The Preva Pod Kit by Wismec has a built in 1,050mAh battery, and can be quickly charged since it supports 2A charging speeds. You'll know when to charge it by simply looking at the LED light indicator. With Wismec's own chipset, it can achieve up to 20w, which is plenty for any pod vape. In addition, it can fire down to a 0.2 ohm coil resistance.
Now, depending on which Preva version you choose will determine what kind of cartridge or coil that can be used. However, regardless of which version chosen, you can use both available pod cartridge or coil system. The actual Wismec Preva Battery does support both, so you're not stuck with just one option based on your initial choice.
The Wismec Preva Pod Version includes a refillable pod cartridge which feature a non-replaceable coil. This pod has a 0.25 ohm SS316 Dual Coil. Also, it has a 2ml or 3ml e-liquid capacity. As with any cartridge, you can use any type of e-juice you prefer, and that includes both regular freebase, and nicotine salt vape juices.
The second is the Wismec Preva Standard Version. Now, this Wismec Preva Pod Kit utilizes a replaceable coil system. So, you won't need to change out the entire cartridge when your coil burns out. Included, you'll get a 0.6 ohm WR01 mesh coil. Lastly, both of these versions do have adjustable airflow, so you can fine tune the draw to your preference.
If you were interested in the Wismec Preva Pod Kit before, but wanted something more affordable, then look no further. Although it doesn't have a premium chipset, it still provides a great vape experience. On top of that, you now have the option to choose replaceable coils, which is always a good thing.
Wismec Preva Kit Features:
Internal 1,050mAh Battery
2A Charging
Maximum Wattage Output: 20w
3 Power Levels (Low, Med, High)
Resistance Range: 0.2 ohm - 1.7 ohm
Adjustable Airflow System
Various Safety Features Built In
2 Versions Available
Standard Version

Replaceable Coil System
0.6 ohm WR01 Mesh Coil

Pod Cartridge Version

Non-replaceable Coil
0.25 ohm SS316 Dual Coil

2ml or 3ml E-Juice Capacity
Anti-Leak Top Fill System
What's Included
Wismec Preva Battery
Standard Cartridge with 0.6 ohm Mesh Coil (Standard Version)
0.6 ohm WR01 Mesh Coil (Standard Version)
0.25 ohm SS316 Dual Coil (Pod Cartridge Version)
Charging Cable
Warranty Card
User Manual
Warning Card