Cloud Chasers Inc Triarii RDA 30mm $16.00 (USA)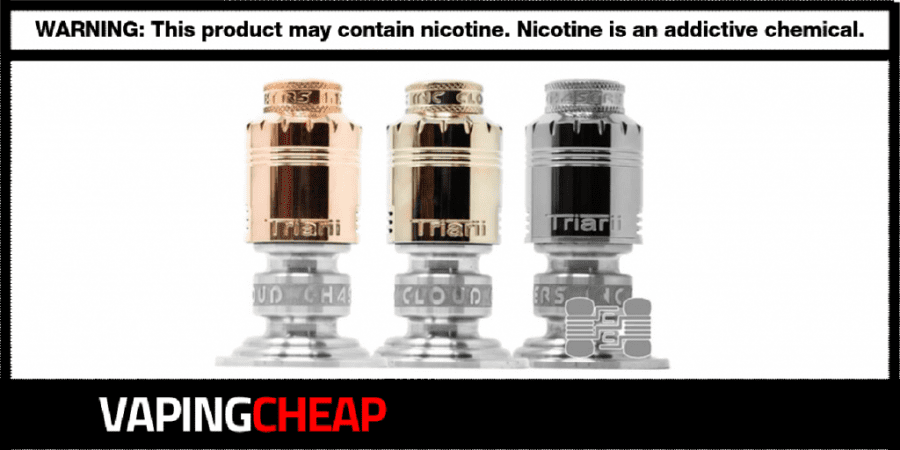 Here's a discount for the Cloud Chasers Inc. Triarii RDA 30mm. Get yours for just $16.00 with coupon "XMAS20". Free shipping is included when spending over $80. There are tons of different color options back in stock such as Black, Stainless Steel, Blasted Blue, Rose Gold, Neochrome, Mana Burn and more.
The Triarii 30mm RDA by CCI is focused on delivering massive clouds with intense flavor. Although it sports a massive 30mm overall diameter, its airflow design is aimed strictly for smooth flavor. As expected, it's primarily constructed of stainless steel material, and offered in a wide range of color options. You'll get two wide bore drip tips in the packaging. One is crafted of metal while the other is Ultem, which is great for higher wattage vaping as it does keep cool. Both does have a huge 16.4mm bore.
Moving onto the building deck of this atomizer, it sports a 2 post clamp style design. We've seen it before with some other RDAs, but that's certainly not a bad thing as it works well. You'll be able to easily fit any coil for flavor including those chunky Aliens. It's also electroplated, and engraved with the Triarii logo.
Another great feature is its massive juice well, which is expected given its size. Additionally, the bottom airflow slots do feature a honeycomb design, which provides a silky smooth draw. Lastly, you can use the Cloud Chasers Inc Triarii RDA 30mm with your squonk mods as it does include a BF 510 pin.
If you're a fan of larger 30mm atomizers, then you won't wanna miss out on this CCI Triarii RDA 30mm deal. These don't often go on sale, so definitely pick it up while you can if you've been looking for one.
CCI Triarii 30mm RDA Features:
30mm Overall Diameter
Stainless Steel Construction
Massive Juice Well
Electroplated Build Deck

2 Post Clamp Style Design
Beveled Post

Honeycomb Bottom Airflow
Serialized
Gold Plated 510 Pin (Regular/BF)
PEEK Insulator
16.4mm Wide Bore Drip Tip
Various Color Options
What's Included
Triarii RDA 30mm by Cloud Chasers Inc
Spare Parts Pack
BF 510 Pin
Metal Wide Bore Drip Tip
Ultem Wide Bore Drip Tip
Check Out The CCI Triarii 30mm RDA Review
More Great Vape Deals...
---
Aspire Nautilus GT Kit $49.90
Here are cheap deals, discounts and sales for the Aspire Nautilus GT Kit in collaboration with Taifun. Buy one from[...]