Vaperz Cloud Temple RDA 2020 $46.80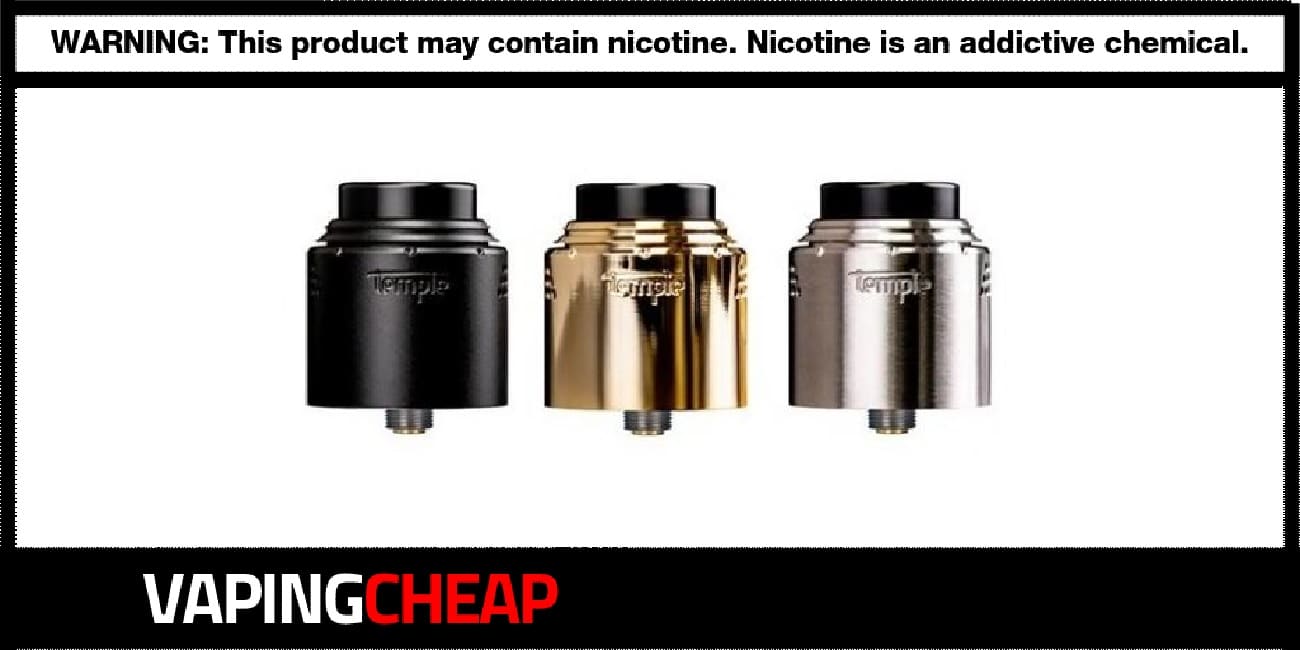 The Vaperz Cloud Temple RDA 2020 Edition is now in stock and on sale. The 25mm version is on sale from a UK based vendor for only $46.80. You can also get the 28mm version for $64.36. No code is required for these discounts. There's three color options available which are Brushed Stainless, Matte Black and Gold.
The Vaperz Cloud Temple RDA 2020 Edition is primarily constructed from stainless steel material and includes a wide bore heat-resistant drip tip. Depending on which version you choose, it'll have an overall diameter of 25mm or 28mm. Additionally, this atomizer has a large 6mm deep juice well, so you've got plenty of room for wick and e-juice.
The Temple RDA by Vaperz Cloud also features a two post build deck. This makes installation a breeze, even with those larger exotic builds. Another amazing feature is the adjustable top airflow system. What makes it different from other RDAs, is that it has a locking mechanism to keep it secured. Not to mention you won't get any leaking at all!
Included in the packaging, you will get an acrylic top cap with matching acrylic chamber reducer, heat sink and airflow diffuser. Lastly, it comes with both a regular and BF 510 pin, so you can vape with it on squonk mods as well.
The Vaperz Cloud Temple RDA 2020 Edition is an awesome addition to any vape collection. The dual post build deck is great for larger builds and the airflow system is top-notch. What's even better is that you also get a ton of extras including an acrylic top cap with matching accessories!
Vaperz Cloud Temple 25mm/28mm RDA Features:
Overall diameter: 25mm or 28mm (Depending on which choice)
6mm deep juice well
Locking top cap
Rail system
Dual post build deck
Compatible with a 510 pin or squonk pin
Adjustable top airflow design
Stainless steel construction
What's Included:
Vaperz Cloud Temple RDA 2020 Edition
Arcylic top cap
Spare parts
Acrylic Airflow diffuser
Heat Sink
Chamber Reducer
More Great Vape Deals...
---
Vapefly Firebolt Cotton $3.13
For a limited time only, the Vapefly Fireboly Cotton 20pcs is now on sale right here for only $2.99! No coupon code required to get this[...]