VooPoo X217 Review | Dual 21700 Beast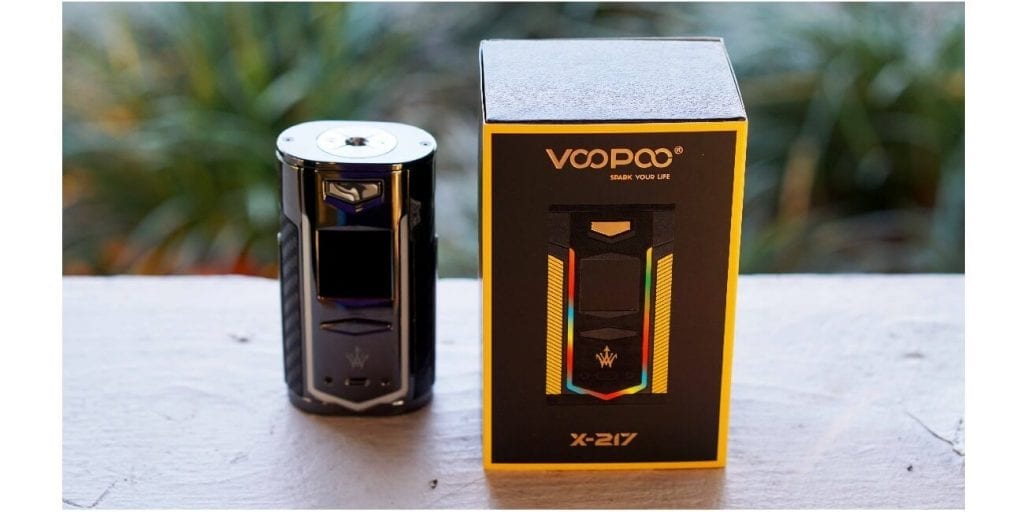 VooPoo needs no introduction when it comes to vaping devices. Since this company has been around they've had plenty of great releases and best known for their mods. However, for the start of 2019, they released their newest device, the X-217 Box Mod. How does it compare to the competition? Stick around and find out in our VooPoo X217 Review!
VooPoo X217 Features
X-217 Box Mod First Impressions
The VooPoo X-217 Box Mod comes in a fairly similar packaging, and we've seen it before with some of their other products. This isn't a bad thing by any means as their packaging is pretty good overall, Right on the front, you'll see an image of the device, and on the back it lets you know what's exactly included alongside some warnings.

One the side, you'll notice a QR code and their social media. Once you slide open the box, you'll see the device right away. Included, you do receive the X-217 box mod, two 18650 battery adapters, a USB cable, warranty card, user manual and Gene chip card.

My first impressions of the actual mod is that it looks great! Honestly, I thought it'd be quite bigger than what it is. It's on the smaller side, especially when considering it houses two large 21700 batteries. One pro to mention, for me at least, is the centered 510 connection. This simply allows your atomizers to look great, and best of all, your larger atomizers will fit flush with no overhang.
Another standout design feature is the resin on the button. It is located right on the front, which is something I prefer, but I know some vapers prefer the button location on the side. However, I feel it's comfortable when in this position, but like said, this is subjective. I do like the added touch of resin though on the button as this is quite unique, and does match the resin on the back of the device.

On the side is where you'll notice the leather, which does have a carbon fiber look to it. I'm not sure if this is the case with all color options, but it is another great addition in my opinion. On the front, there is a LED light somewhat in a shape of an extended "V". The last thing to mention is that there is zero rattle whatsoever, so the overall construction is very good.

All in all, my first impressions of the VooPoo X-217 box mod was great! I really did like the looks, and design, so I was excited to really start testing it out and really dig into the VooPoo X217 Review.
VooPoo X217 Box Mod Daily Usage
Like mentioned previously, the X-217 is on the smaller side when it comes to dual 21700 mods, and quite lightweight without batteries installed, so you can travel with it in your pocket or purse. However, it's not super compact either, so that's something to keep in mind, but it's to be expected.

Installing batteries is easy and straightforward. You can either use two 21700 batteries, two 20700 batteries or two 18650 batteries with the included batteries. I always opted with 21700 batteries as I'd get the best battery life. Now I will say that with 21700 batteries installed, the mod does become quite heavy, and not the most comfortable in the pocket.

A simple 5 clicks of the fire button will turn the device on or off. The TFT color display screen is clear and crisp, so that's definitely a pro for me. To access the power menu, hold down the wattage up and down buttons together. From there, you can choose between the different power mode options, set up your power curves, and enter volt mode.

When you click the fire button 3 times, you'll enter TC mode. If you click it again 3 times, you'll see "Function". When here, you can once again click the wattage up and down button to enter a different menu. In this menu, you can adjust the lock menu, clock select, brightness, change the LED colors or turn it off completely, select from different wallpapers, change the language, and adjust the time and date settings. You'll also see which version you're on in this menu if you'd like.
It's pretty simple, but I will admit I was a bit confused at first with the menu system. Most devices are 3 clicks to enter the entire menu, but this one was a bit different, but I did figure it out relatively quickly without looking at the user manual.

Using this device day to day is great and I can easily get through an entire day without needing to recharge the batteries. I could even get up to three days of vaping without changing the batteries depending on the wattage I was vaping at and how much I was actually vaping.

The VooPoo X217 Box Mod is also very comfortable to hold and use. There's no sharp edges to be found at all, which is certainly another pro for it. I was able to house a huge 30mm RTA with zero overhang, and there's additional room up there as well, so you can fit even bigger atomizers if you want.

Overall, the day to day usage of this device was great. It was heavy with two 21700 batteries, but honestly, it's expected. I got used to the menu system within the first hour with it, and the fact it can fit large RDAs and other atomizers with no problems is a huge bonus.
VooPoo X-217 Box Mod Performance
When it comes to raw performance, the X217 is no slouch. It does have a maximum wattage output of 217w, and it does feel it's hitting that wattage, especially when using 21700 batteries. With 18650 batteries though, it doesn't feel as high 217w, but it does vape near the 200w range when maxed out. If you are vaping at those wattages, I definitely recommend using 21700 batteries for sure.
For temperature control, it works well too. I tested a simple stainless steel round wire build, and I didn't experience any dry hits, and the temperature felt pretty accurate. It does have curve modes as well, which is perfect for those exotic coils for flavor that needs a bit of ramp up to really get going. The volt mode also worked just as expected, and great for regular non-tc coils.

All in all, the VooPoo X-217 performed incredibly well, and I had no complaints in this department. It does vape above the 200w mark, and the temperature control performance was spot on.
X217 Mod Pros & Cons
Conclusion
VooPoo is best known for their Drag Box Mod, but this new X-217 is a great addition to their lineup. It performs well in both regular wattage mode and TC, and the fact that it can house your larger atomizers is great as there's not many dual battery mods that can do this.

Although there's a lot of good things mentioned with this device, it did have two drawbacks. The first is expected, but still has to be mentioned. It is quite heavy with those 21700 batteries installed. This leads to the next con as with these batteries installed, it's not the most pocket friendly device, but it's not too bad either.

If you're looking for a new dual 21700 box mod, then definitely check out the new X-217 by VooPoo. It does everything you need it to while being able to house those giant attys.

We hope you enjoyed our VooPoo X217 Review! If you have any questions or comments, feel free to leave them down below! Thanks for reading!