Innokin Proton Mini Kit $56.66 + FS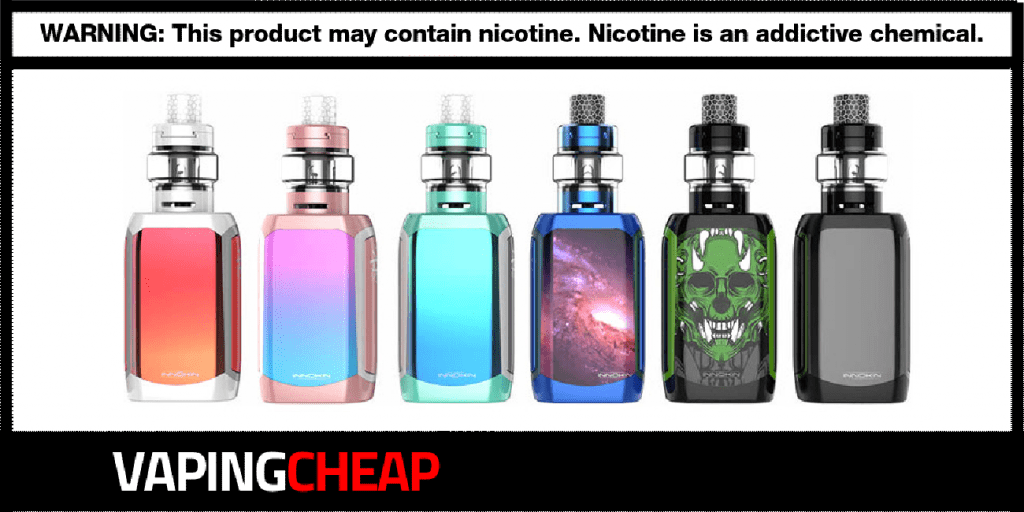 Here are cheap deals and discounts for the Innokin Proton Mini Kit. Buy yours from a USA based store for just $56.66 plus free shipping with code "VC10". It's also on sale at a China based shipper for $61.52 plus free worldwide shipping.
Innokin's Proton Mini Starter Kit includes both the Innokin Proton Mini 120w Mod, and popular Ajax Tank. The Proton Mini features an internal 3,400mAh battery, and charges via micro USB. Additionally, it has a max wattage output of 120w, more than more other vape mods with a built on battery.
However, it does stay true to its name, and has a compact size. On the front on the Innokin Proton Mini 120w box mod there's a large 1.45 inch TFT screen. Controlling everything can be done with the analog button, and firing it can be done with its side firing bar. Also, there's a ton of different firing modes available including temperature control, custom TCR, wattage curve, bypass and more.
As mentioned earlier, you'll get the Ajax Tank with the Innokin Proton Mini Kit. This atomizer sports an overall diameter of 24mm, matching the centered 510 connection of the Proton Mini perfectly. It does have a maximum e-liquid capacity of 5ml with the bubble glass tank section. If you prefer the straight glass, it does hold 2ml. Regardless, it's easy to fill since it does have a top filling design.
What's great about this full kit is the included coil heads. You'll get Innokin's new Plex3D Matrix Mesh Coils. It has a resistance of 0.16 ohm, and best vape anywhere between 50w and 80w. Airflow on the Ajax sub ohm tank does come in from the bottom, and it's fully adjustable.
If you're looking for a powerful yet super compact vape starter kit, then you'll want to check out the Innokin Proton Mini Kit. It's small, packs a ton of features, and comes with an amazing tank atomizer.
Innokin Proton Mini 120w Ajax Kit Features:
Innokin Proton Mini Box Mod

Internal 3,400mAh Battery
Micro USB Charge Port
Wattage Output Range: 5w - 120w
Max Voltage Output: 7.5v
Temperature Control & Custom TCR
Bypass & Curve Modes
3 Coil Memory Slots
Large 1.45 Inch TFT Display SCreen
RGB Customization
Compact Size
Centered Spring Loaded 510 Connection

Innokin Ajax Tank

24mm Diameter
2ml or 5ml Capacity
Top Fill
Adjustable Bottom Airflow
Compatible with Plex3D Matrix Coils
Wide Bore Drip Tip
Stainless Steel & Glass Construction
What's Included
Innokin Proton Mini 120w Vape Mod
Ajax 24mm Tank
Pre-Installed 0.16 ohm Plex3D Matrix Coil
Spare 0.35 ohm Plex3D Coil
Additional Glass Tank Section (5ml)
O-Rings
Charging Cable
User Manual
Check Out The Innokin Proton Mini Ajax Kit Review