Geekvape Ammit RTA Review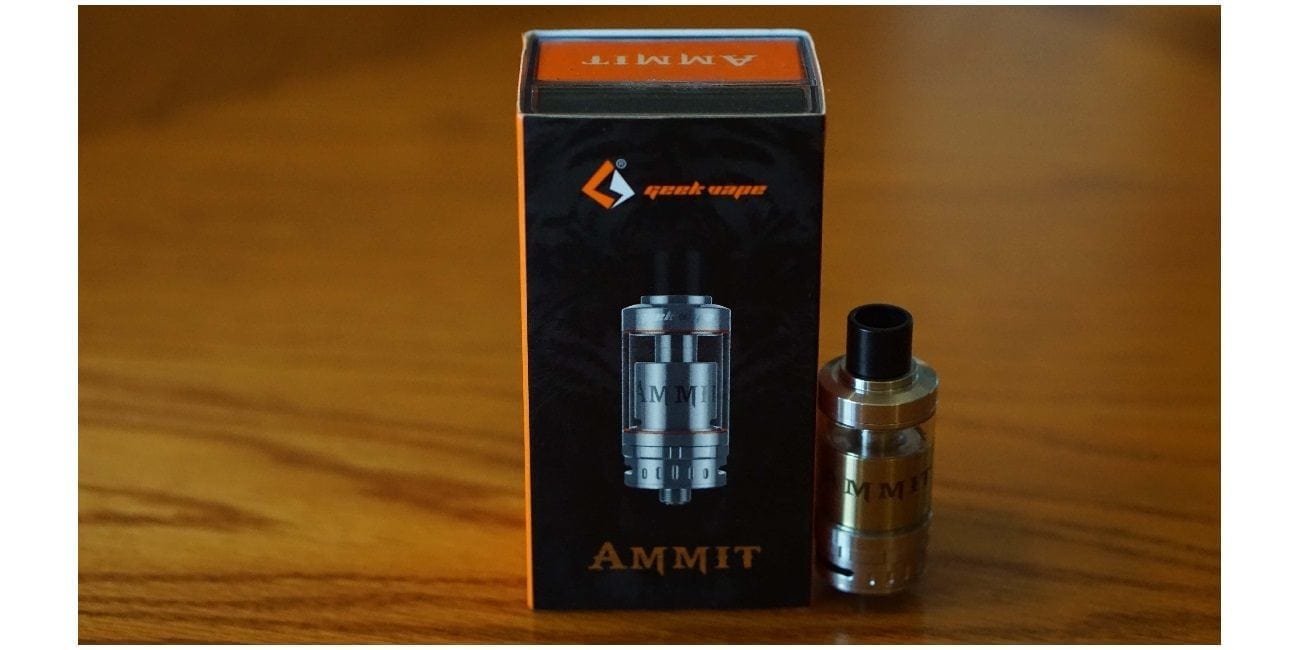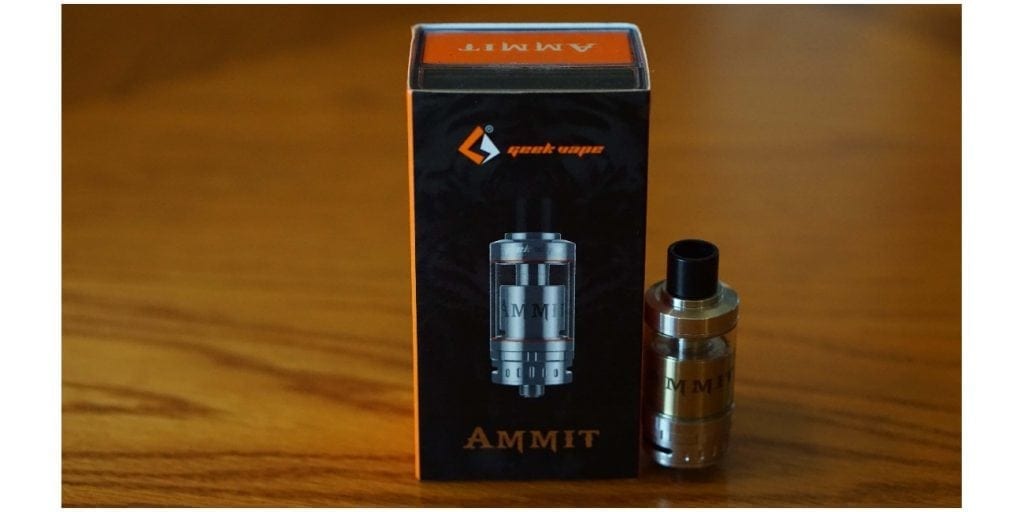 Geekvape Ammit RTA Review
Geekvape has released quite a few impressive products in 2016, especially RTAs. They have recently released their newest RTA, the Ammit, which is what we will be reviewing in this article. The Ammit is different than most RTAs on the market since it is a single coil only RTA. Even though many vapers love dual coil RTAs, there are still plenty of vapers who are interested solely in single coil RTAs, and Geekvape has released a product just for them.
Firstly, I would like to thank Heaven Gifts, for sending this product my way for the purposes of this review. I will go over my first impressions, building and wicking, its overall performance, summarize pros and cons, and conclude with telling you whether or not I recommend this atomizer!
Check Out the Geekvape Ammit RTA Here! (SS) Check Out the Geekvape Ammit RTA Here! (Black)
Use Coupon Code ACHEAP15 for 15% off!
Out of the Box
When first receiving this product, I immediately noticed the familiar Geekvape packaging. If you've bought a Geekvape product before, then the packaging for the Ammit wouldn't be of any surprise. This is certainly a good thing, as Geekvape does provide excellent packaging with their products.
Once you slide off the initial packaging, it reveals the Ammit RTA and a replacement glass tank section. The tank itself is not too large nor is it small, just about the right size in my opinion. Typically, many single coil RTAs are a mini size, so I was glad to see that Geekvape designed this tank to be larger, which will certainly give you more e-liquid capacity.
The build quality of the Geekvape Ammit is outstanding, just like many other Geekvape products on the market. The threads were all very smooth, and I didn't notice any burs either. If you are familiar with other Geekvape RTAs, then the Ammit would feel similar in regards to its design, aside from the deck of course.
The Geekape Ammit is 22mm in diameter, so it looks great on most box mods. Some vapers may find this as a con, especially with most newer tanks being 24mm in diameter and up, but I do not find this as a con.
One pro to be mentioned right away is that this tank is compatible with standard 510 drip tips, so you can use all of your favorite 510 drip tips! In addition, it does include a delrin drip tip, which is another pro as this is something many vapers prefer over stainless steel.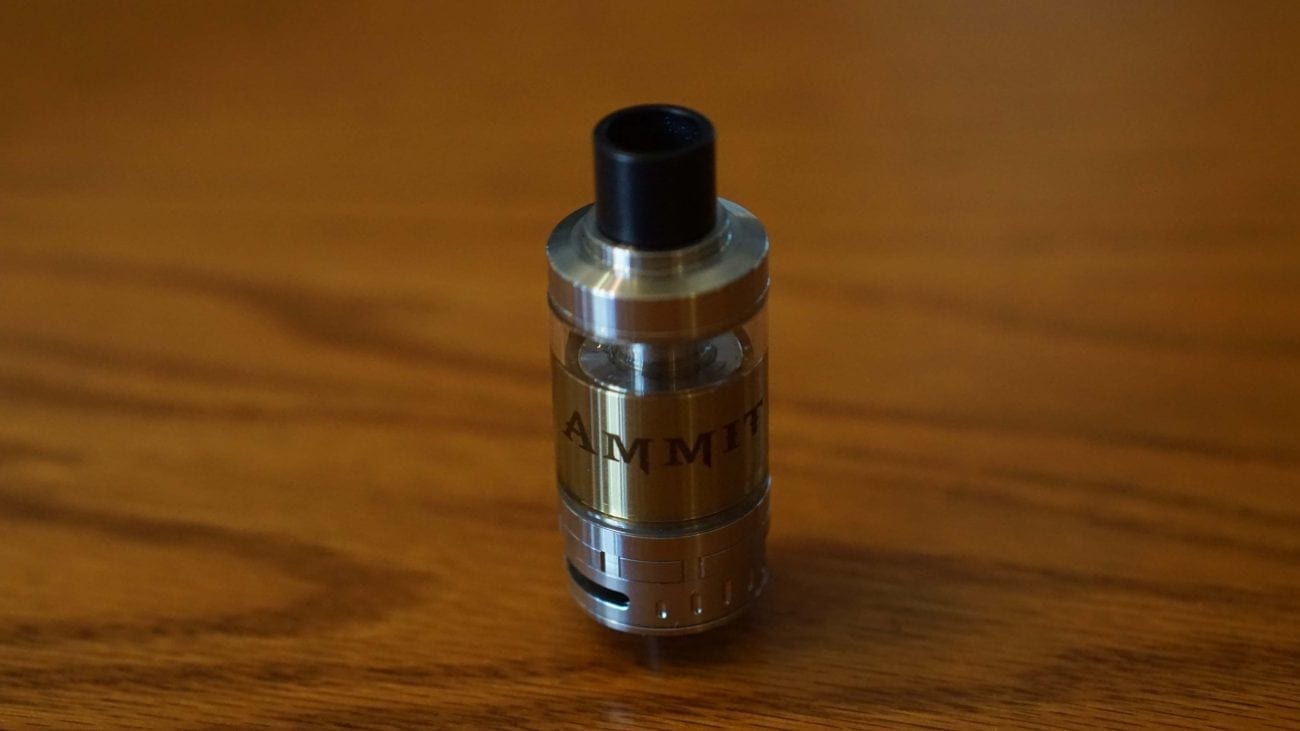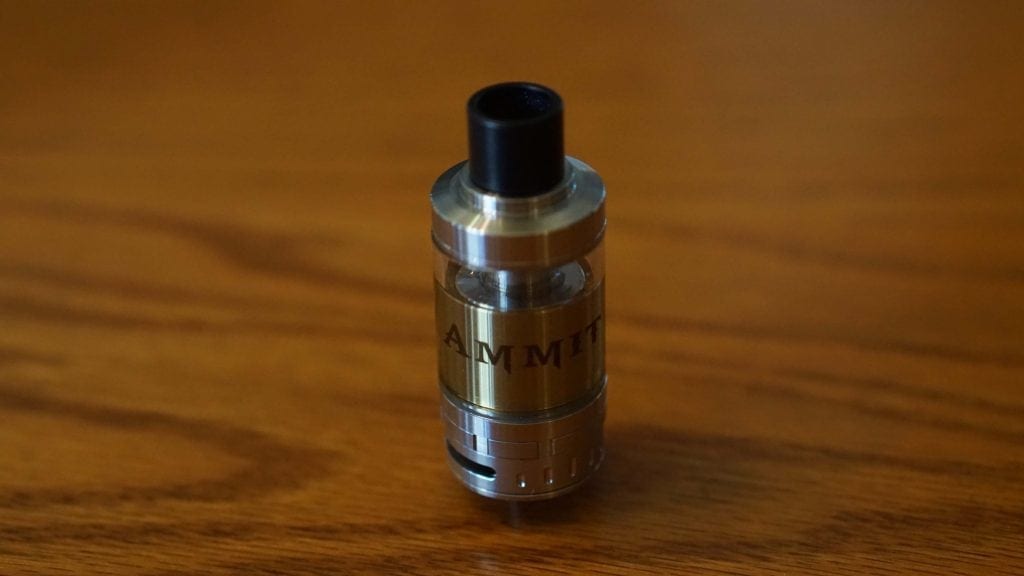 The Geekvape Ammit does feature adjustable bottom airflow, and features a new 3D airflow design, where the airflow hits the coil from underneath and from the side. This is a pro for sure, as I haven't really seen any other single coil RTA feature this type of airflow design. In addition, this RTA does feature juice flow control, which is another huge pro.
The airflow control clicks into place, similar to other Geekvape RTAs, which is great. It seems like they took a lot of things people liked about their other RTAs and implemented into this new single coil RTA.
Also, the Geekvape Ammit features a gold plated 510 pin, which is great for conductivity. It does protrude a bit, but I still do not recommend using this atomizer on a hybrid mechanical device.
Included with the Geekvape Ammit RTA, you do receive a replacement glass tank section, a multi-use tool, a bag of spares and a user manual.
A con to be mentioned is that this RTA did come with some machine oil. However, one wash with soap and warm water, and all of the machine oil was gone. Not the biggest con, but still has to be mentioned.
All in all, my first impressions of the Geekvape Ammit were all positive aside from the machine oil residue. This tank is very familiar to other Geekvape RTAs in many ways, but differentiates itself with its single coil build deck, and airflow design.
Building & Wicking
The Geekvape Ammit features a 2 post build deck, making it extremely easy to install coils. The post holes do have a pretty decent opening as well, so you can easily fit larger coils such as Fused Claptons or Alien builds.
All you have to do is wrap a normal coil like you would for any dual coil RTA, and install your build. Like said previously, it's extremely easy, and the way it's designed, it makes centering and moving your coil to the preferred position a breeze.
I do recommend when you are installing your coils that you do cut the wire flush to the posts or else you can create a short due to its design. When you screw on the chamber, it is pretty close to the posts hence is why it is important to cut your excess wire flush to the post holes.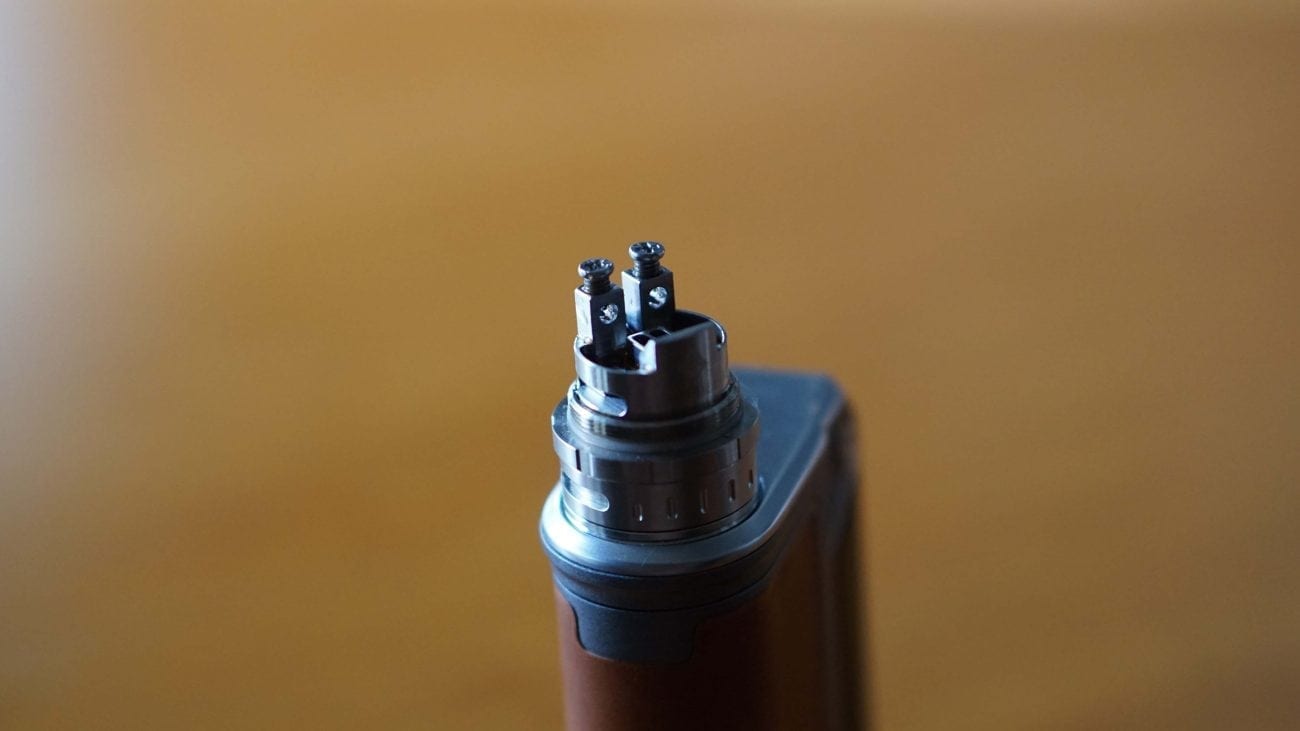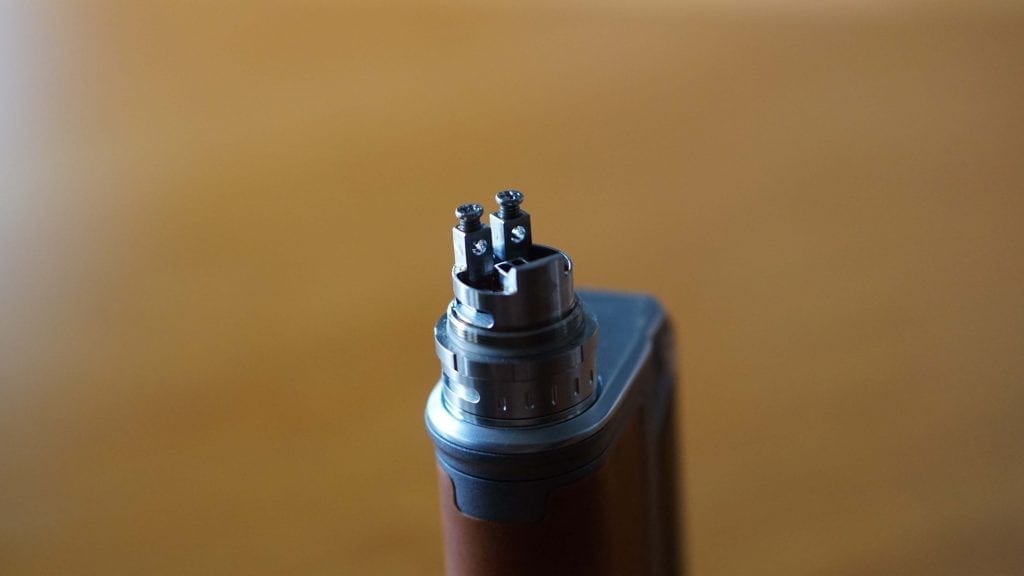 Wicking the Geekvape Ammit is a bit more difficult that I thought it would be when I first inspected the deck section. It does wick similarly to the Augvape Merlin RTA where you just lay your cotton into the wicking channel. However, I found that with too much cotton, you can easily encounter dry hits, and with too less cotton you can run into flooding issues or potentially leaking issues.
I found that by making sure the cotton was fluffy, and thinned out with a ceramic tweezer or any other tool with a sharp end will certainly help with wicking. Just be sure not to stuff the wicking channel with cotton, as it just won't wick efficiently. Just fluff out the cotton and lay it into the channel, and you are good to go.
Performance
The biggest question of this review is how does the Geekvape Ammit perform? I can certainly say it performs great! My preferred build for this RTA was a Fused Clapton (26GA Kanthal/34GA Kanthal) which had a resistance of around 0.42 ohm. With this specific build, I would set the wattage between 35w and 50w.
I did try other build as well, such as a standard single core Clapton and round wire builds, and they performed great! However, I found that with a Fused Clapton I was easily able to get a warmer vape, and the flavor was just a tad bit better.
Speaking about flavor, the flavor on the Geekvape Ammit is excellent! I initially thought since it was a larger single coil RTA the flavor would be lacking a bit, but the flavor was still top notch! It might be due to its airflow design, where the airflow comes from underneath and hits the side of the coil as well. I tried multiple different e-liquids that I vape quite often, and they all tasted fantastic in this RTA.
The vapor production off of this RTA was also impressive considering it's a single coil RTA. With a single Fused Clapton coil, it can easily deliver tons of flavor and vapor production!
Also, the Geekvape Ammit has tons of available airflow, especially considering it's a single coil RTA. I wouldn't necessarily say this is a cloud chasing RTA by any means, but it still has tons of airflow. I personally preferred to close the airflow just about a quarter of the way, and I was able to get a nice restricted lung hit. With the airflow positioned like this, the vape was a bit warmer, and the flavor did increase a bit. In addition, the airflow is nice and smooth.
I do not think this is a great mouth to lung RTA, even when closing the airflow all the way. I do think this RTA is primarily for lung inhales for sure. It is possible to do a mouth to lung draw, but it's not the greatest in my opinion. This RTA truly shines with the airflow open, and with a larger coil build.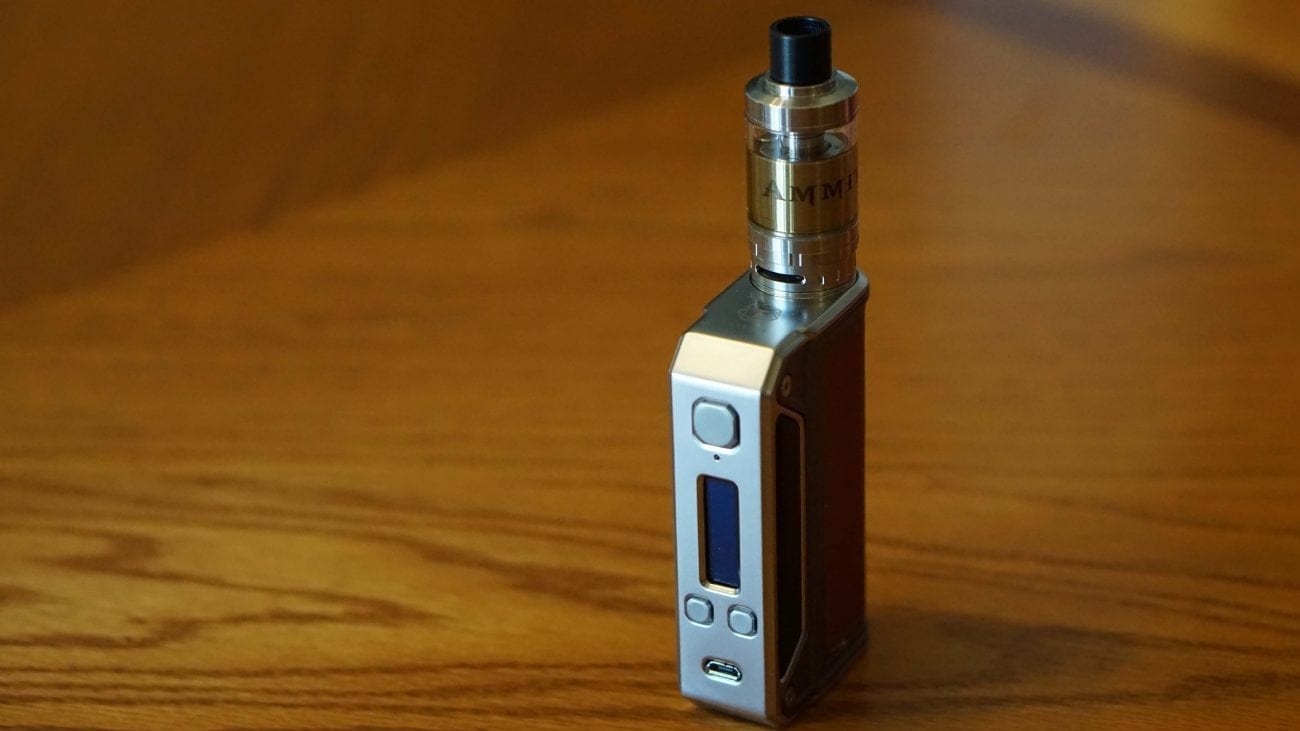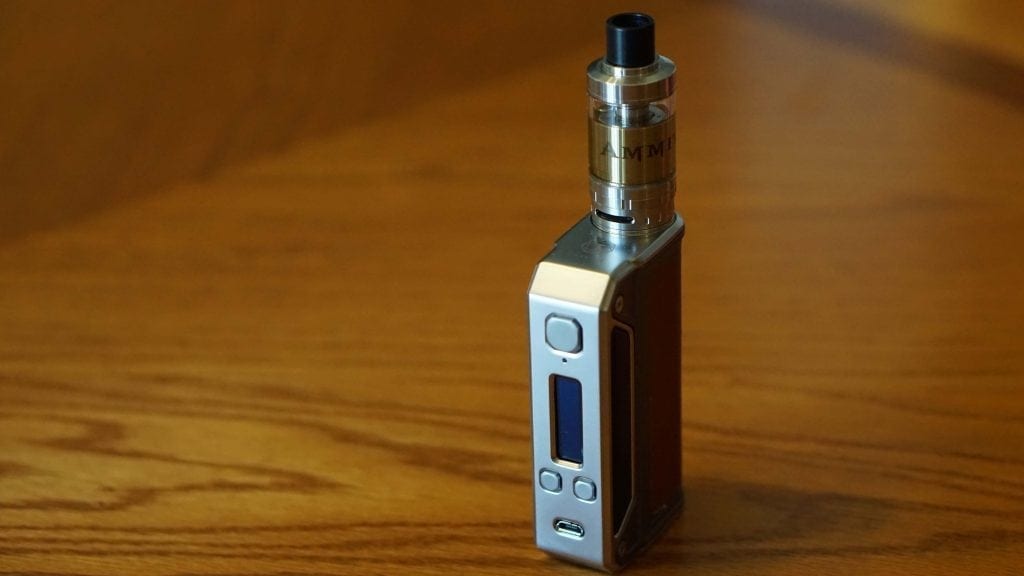 I did run into issues though with higher VG e-liquids. Due to the way this tank is designed, higher VG has trouble efficiently wicking. There is very minimal space between the chamber and the glass tank section, and I do think this is reason why it has this issue. The way I found to help with this issue is using less cotton. So if you are encountering this issue, just try using less cotton, and it should help resolve this issue. With thinner e-liquids such as 70VG/30PG and under, I had no issues with wicking whatsoever.
This tank has an e-liquid capacity of 3.5ml, which does last quite some time since this is a single coil RTA. In addition, this RTA does feature an easy top fill design, so filling the Ammit was quick and easy! I could easily get through 3 to 4 hours without needing to refill. Of course, this can vary with the build and wattage, but with my preferred build and wattage, this is the amount of time I can go without needing to refill.
The included drip tip was very comfortable to use, and I didn't feel the need to replace it with any other 510 drip tip. I do think it looks great on this tank as well.
Overall, the performance of the Geekvape Ammit RTA is excellent! Even though I encountered an issue with higher VG e-liquids, it still doesn't take away its incredible flavor and vapor production.
Check Out the Geekvape Ammit RTA Here! (SS) Check Out the Geekvape Ammit RTA Here! (Black)
Use Coupon Code ACHEAP15 for 15% off!
Pros
Easy to Build
Juice Flow Control
Compatible with 510 Drip Tips
Excellent Flavor
Tons of available airflow
Airflow design
Includes Delrin Drip Tip & Replacement Glass Tank Section
Adjustable Airflow
Cons
Wicking is not the easiest
Wicking issues with higher VG e-juice
22mm Diameter (Subjective)
Machine oil residue
Conclusion
In conclusion, the Geekvape Ammit RTA is a solid single coil RTA. It has incredible flavor, and solid vapor production. Building on this RTA is extremely easy due to its 2 post deck design, and it has a great airflow design.
Even though there are tons of pros to this RTA, it does have its drawbacks such as finding the perfect amount of cotton to put into the wicking channels, and the issues with higher VG e-liquids. Just like with any RTA, practice makes perfect when it comes to wicking.
Honestly, neither of these are deal breakers in my opinion, as this tank just performs well. It's compatible with all of your 510 drip tips, has juice flow control to help preventing any leaking or flooding issues, has tons of available airflow, and more.
Geekvape did a great job with the Ammit, and fans of single coil RTAs will absolutely love it! With that being said, if you're looking for a solid performing single coil only RTA, then the Ammit is definitely an atomizer I recommend!
I hope this review helps you in choosing the best atomizer to fit your vaping needs! Feel free to leave any questions or comments below. Thanks for reading!
Check Out the Geekvape Ammit RTA Here! (SS) Check Out the Geekvape Ammit RTA Here! (Black)
Use Coupon Code ACHEAP15 for 15% off!
Product Features:
22mm Diameter
Stainless Steel and Glass Construction
3.5ml E-Liquid Capacity
Top Fill Design
Juice Flow Control
Adjustable Airflow
3D Airflow Design
Compatible with 510 Drip Tips
2 Post Build Deck
PEEK Insulator
24k Gold Plated 510 Connection
Includes Delrin 510 Drip Tip
Includes Replacement Glass Tank Section
Includes Bag of Spares and User Manual
Colors Available: Stainless Steel and Black