Dovpo x Suicide Mods Abyss AIO Kit $83.70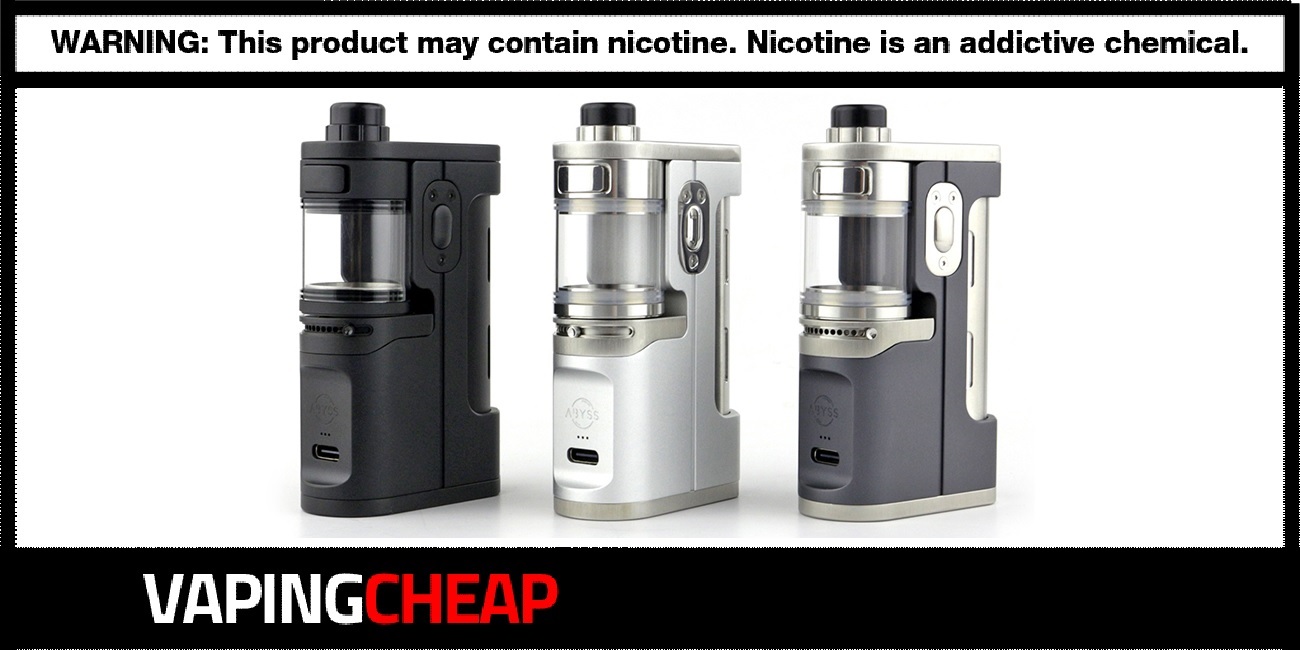 Here's where you'll find the best prices and discounts for the popular Dovpo x Suicide Mods Abyss AIO Kit. You can grab one of these kits from a UK based store for as low as $83.70! No code needed, the discount automatically applies.
Finally, it's back in stock at a USA shipper for just $92.65 with free shipping after using the coupon "BEST15". It's available in various color options including classic, onyx, storm and more.
The Abyss 60w Kit is a collaboration between Dovpo and Suicide Mods. Although it sports a compact size, it can utilize those larger 21700 batteries. An 18650 can be used as well if preferred. This device has a maximum wattage output of 60w and offers three different user modes.
Speaking of modes, you've got wattage, bypass, and temp control. Using the menu system is simple. Similar to Dovpo's other recent release, the College DNA60, the Abyss features an OLED display screen on the bottom, giving it a unique and stealthy look. Constructed out of aluminum and stainless steel material, it is quite durable.
Dovpo and Suicide Mods Abyss Kit comes with a tank atomizer and glass tank section. A maximum of 7ml of vape juice means you won't be filling it often. Filling it is quite easy though as it's on the top side.
Included in the box, you'll get an adapter or bridge that allows you to use the popular Nautilis Coils by Aspire. However, it is compatible with a wide variety of other bridges, both designed specifically for the Abyss, such as the Ether Bridge and others for the Billet Box. Lastly, the Abyss tank does have an adjustable bottom airflow design.
Definitely one of the more unique devices to come out this year, the Dovpo and Suicide Mods Abyss 60w AIO Kit is an excellent addition to any vaper's collection. It's compatible with a wide variety of bridges and best of all, Dovpo has made plenty of others, so you can use various coil heads with it.
Dovpo x Suicide Mods Abyss 60w Kit Features:
Collaboration between Dovpo and Suicide Mods
Requires a single high drain 18650 battery or 21700 battery
Maximum wattage output: 60w
Three modes: Wattage, TC and Bypass
Three button design
Large OLED display screen
Aluminum and Stainless steel construction
Tons of safety features
Maximum e-juice capacity: 7ml
Side fill design
Nautilus Coil bridge
Compatible with various bridges (optional)
What's Included:
Dovpo x Suicide Mods Abyss Mod
Tank Atomizer
21700 Battery Cap
Nautilus Coil Bridge
Accessory Bag
USB Cable
Battery Warning Card
User Manual
Be sure to check out the Dovpo x Suicide Mods Abyss AIO 60w Kit review video