Dovpo MVV 2 Mod $22.44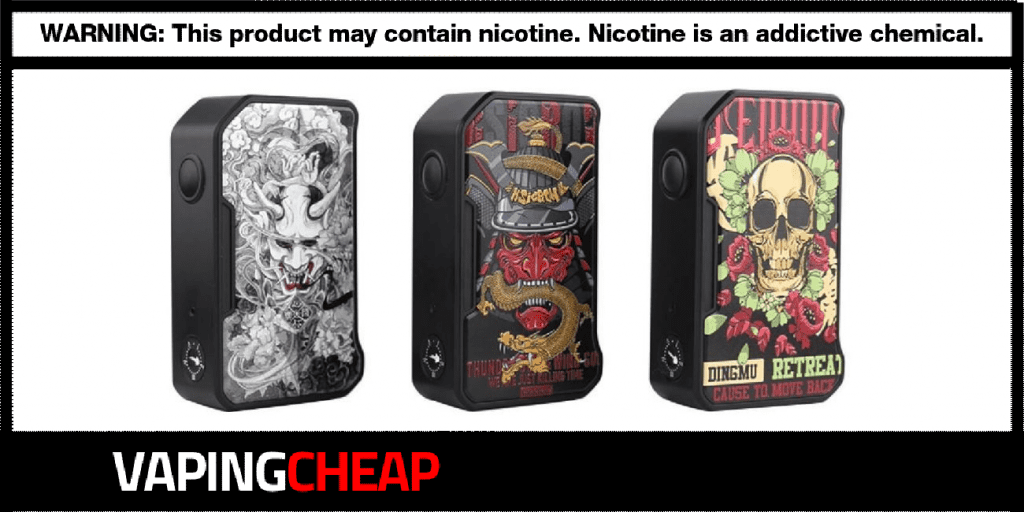 Dovpo is back with a version two of one of their most popular box mods! Grab the Dovpo MVV 2 Mod for cheap, only $22.44 using the coupon "NOV12". It's also on sale at a USA based warehouse for $25.99 with free shipping over $99 with code "DMVV". There are multiple unique colors to choose from which include Dragon Samurai, Hannya, and Skull, Roses, and more.
Dovpo's MVV 2 Box Mod operates similarly to the original, but boasts a few new features, and an updated exterior design. It's powered by two high drain 18650 batteries, and has a voltage range of 1v to 8v. Adjusting the voltage can be done by its potentiometer, so it's super easy to use. The MVV 2 vape mod is very much an adjust to taste type of device, so we recommend starting at a lower voltage, and increasing it until you find your own sweet spot.
Depending on the atomizer resistance, and voltage output setting, this beast can deliver up to 280w, more than enough to power any type of RDA you attach. A new USB Type C port is available for charging, but we do recommend an external vape battery charger.
What's great about the MVV 2 Mod by Dovpo is that it does have a few safety features built inside, which is always a good thing! A battery LED indicator light is also there as well, so even though it doesn't have a screen, you'll know when you need to swap out your set of batteries. Lastly, this box mod does have a minimum firing resistance of 0.08 ohm.
If you're looking for a high wattage mod and don't care for features like temperature control, then definitely jump on this sale on the Dovpo MVV 2 Vape Mod. You really can't go wrong for under 25 bucks.
Dovpo MVV 2 Mech Mod Features:
Zinc Alloy Construction
Voltage Output Range: 1v - 8v
Minimum Firing Resistance: 0.08 ohm
Maximum Wattage Output: 280w
Requires 2 High Drain 18650 Batteries (Not Included)
Various Safety Features

Overheat Protection
Reverse Battery Protection
Overtime Vaping Warning
Low Voltage Protection

USB Type C Port
Battery Indicator Light
3 Color Options
What's Included
Dovpo MVV II (2) Mod
USB Type C Cable For Charging
User Manual
Check Out The Dovpo MVV 2 Mod Review