BuyBest Clearance Sale!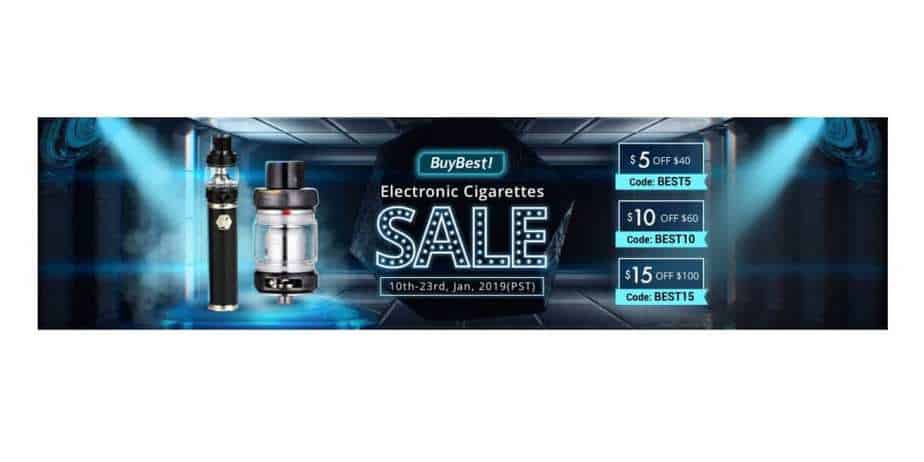 For a limited time only, BuyBest is having their Clearance Sale right here where you can save up to $15 off your purchase using coupon code "BEST15"! In addition, they're discounting tons of products and multiple flash sales daily! Free shipping applies to orders over $20! This sale ends 1/23/19!
During the BuyBest Clearance Sale, you can save up to $15 off orders over $100 purchase using the coupon code provided! You can also save $5 off orders over $40 or save $10 off orders over $60 using the other coupon codes provided at the bottom. In addition, they are also running multiple flash sales, where you can save up to 60% off items! They also have 3 different sale sections which are 5% Off, Low Price Package and Hot Sale Items.
This store sale includes Accessories, Pods, Box Mods, Atomizers and more! Some of the current deals are the OBS Cheetah 3 RDA for $21.26, the Joyetech Cuboid Tap Mod for $19.99, the Advken Manta MTL RTA for $22.92, a Resin 810 Drip Tip for $5.59, Eleaf iJust 3 Mod for $24 and tons more!
All in all, this is an excellent store sale! If you are looking to stock up on some new vape mods, atomizers or accessories for cheap, then this is a deal you cannot miss! Be sure to check this deal out at BuyBest, where you can save up to $15 off orders over $100 and up to 60% off hardware! Remember, this deal does end 1/23/19!
Coupon Codes: BEST15 ($15 Off Orders Over $100), BEST5 ($5 Off Orders Over $40), BEST10 ($10 Off Orders Over $60)
Some Of The Current Deals:
OBS Cheetah 3 RDA $21.26
Joyetech Cuboid Tap Mod $19.99
Advken Manta MTL RTA $22.92
Resin 810 Drip Tip $5.59
Eleaf iJust 3 Mod $24
Artery Pal 2 Coils $9.06
Kaees Solomon 3 RTA $22.11
Ijoy Shogun Univ Mod $39.89
Lost Vape Drone DNA250c Squonk Mod $110.67
Plus More!