CoilART Squonk Mod Review | Excellent Squonker!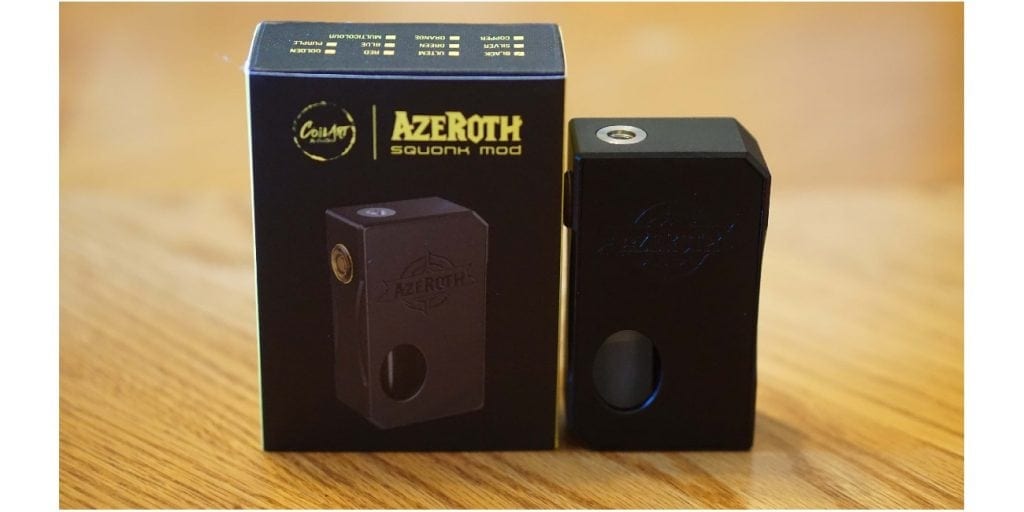 CoilArt Squonk Mod Review
Squonking is not new in the world of vaping, but has become mainstream this year, and more vapers are getting into this style of vaping. Since this is true, we've seen many Squonk mods being announced and eventually released. CoilArt is well known for their excellent performing atomizers, especially the Mage and Azeroth lines. They've now extended the Azeroth line, and have recently released the new CoilART Azeroth Squonk Mod. What's unique about this mod is that it's compatible with various battery sizes including 18650, 20700 and 27100.
Before getting any further into this review, we'd like to thank MyVpro for sending this device our way for the purposes of this review. We'll go over our first impressions, usage, performance, pros and cons, and conclude with whether or not we recommend the Azeroth Squonk Mod by CoilART!
First Impressions
This squonk mod comes in the familiar CoilART packaging boasting black and yellow colors. If you've purchase a CoilART product before, then you've seen this type of packaging before. This is definitely a good thing, as their packaging has always been top notch in our opinion and keeps whatever product inside safe and secure during transit.
Once you slide open the packaging, you're immediately met with the Azeroth Squonk Mod. Included, you also receive a user manual and an 18650 battery adapter. I do want to mention that only one squonk bottle is included, and this can be seen as a subjective con. I do wish they included an extra, but you can use other squonk bottles if you desire, which is something I'll get into later.
My first impressions of the mod itself is that it's not too large nor is it too small, it's just the right size in my opinion, especially when you consider it can house a 21700 battery. It does have a familiar "box mod" design we've seen in the past, but it does have some curves to give it its own look and feel. Speaking of curves, all of the edges are smooth, so there's no sharp edges with this one, which is a definite pro in my book. The back of the mod does have a carbon fiber design, which I do like as well.
Upon first holding it in my hands, I immediately noticed it's weight. This is a very lightweight Squonk Mod, and it is to be expected since it's constructed of anodized aluminum. I was still quite surprised even knowing this as many of my other squonk mods are much heavier. It does feel good in the hands, and it has a place to rest your thumb at the top, which is a nice touch.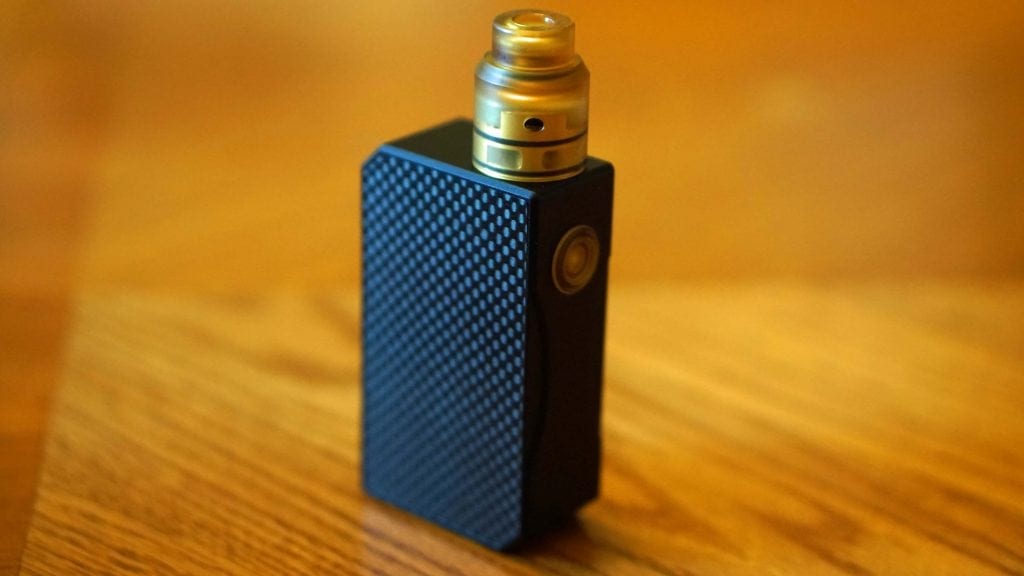 The cutout for the squonk bottle is not that large, so depending on your finger size will determine if you have issues pressing the squonk bottle. Personally, I had no issues when trying to squonk, and it felt natural to squonk with my thumb rather than index finger.
Something else I noticed right away is the Ultem firing button, this is something we don't see often. Depending on what you like will determine if this is a con or not, as I know there are some vapers who simply dislike the look of Ultem. I actually like the look of Ultem, and think the Ultem firing button looks great, especially when you attach an RDA with an Ultem drip tip or top cap such as the DPRO RDA. The button itself is on the smaller side, and it looks much bigger than it is since there's an outside Ultem ring surrounding the actual button.
The insides are done quite well, and it does feature a 24K gold plated firing connection. There really isn't much to say about the inside since it is a fully mechanical device. The only thing to note here is that it does feature a spring loaded contact for your battery which is nice, and makes it easy to insert your battery. Inside here is where you'll also find your 7ml food grade silicone squonk bottle, which is incredibly easy to press.
Overall, my first impressions of the CoilArt Azeroth Squonk Mod was great! The only negative point for me was the small firing button, as I knew this was something I had to get used to.
Usage
This squonk vape mod has been great to use, and I haven't really ran into any issues whatsoever. However, I do want to mention that there is no locking function with this device; therefore I wouldn't really recommend you carrying it in your pocket or purse with a battery installed. Although the firing button is on the smaller side, it still is quite easy to press, so for safety reasons I wouldn't recommend you putting this device in your pocket or purse.
This is a con for sure, as a locking feature does add a safety measure and gives vapers a peace of mind when taking it out with them. Even though this is the case, it still was a pleasure to use this squonk box mod. I did mostly keep it at home though.
As mentioned earlier, getting your battery in and out is incredibly easy, and I had no issues with it tearing my battery wrap or anything like that which is something many mechanical squonk mods suffer from. There is a battery strap there as well, making it even easier to take your battery out. You can use this mod with an 18650, 20700 or 21700 battery, but I've been primarily using it with a 20700 battery. It does work fine with a 21700 battery, but we don't really have a reliable battery of this size available as of my knowledge.
It also works great with an 18650 battery as well with the included adapter. This is a huge pro in my opinion, as there's not many mass produced and affordable squonk mods that's able to accommodate all three of these battery sizes.
After using this device for an entire day is when I really got used to the fire button. I do wish the fire button itself was larger as that'll make it easier to find and press. It's not a huge deal, but it's definitely worth mentioning. The throw itself is very short, so it doesn't take much effort to actually get it to fire, which is great.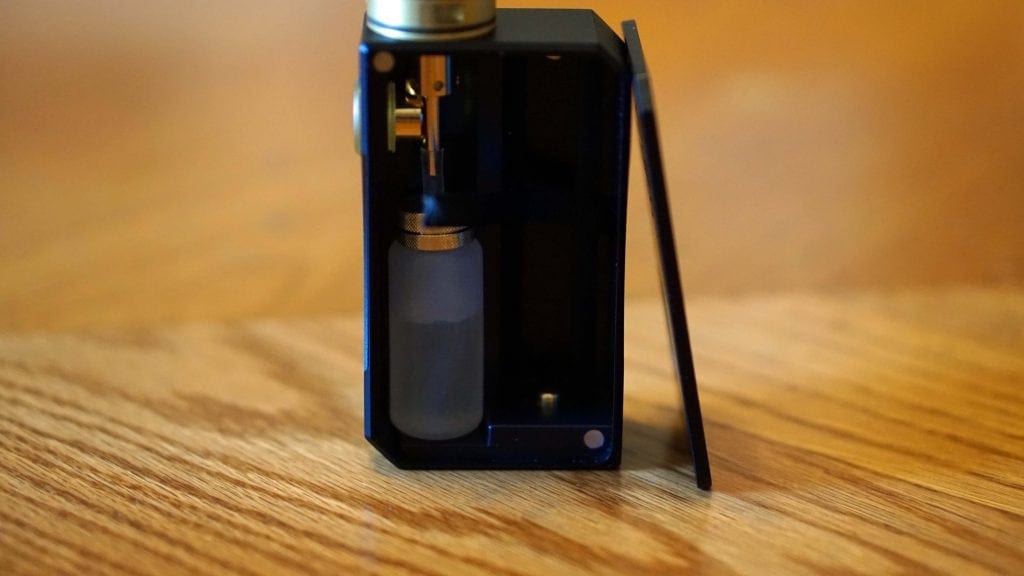 Since the squonk bottle is food grade silicone it is very easy to press, and it doesn't have that issue where it takes a long time to suck e-liquid back into the bottle. I've had some silicone squonk bottles before where they're way too soft, and take a long time before expanding after you've pressed it. Thankfully this is not the case with this bottle, so that's a pro for sure.
The Squonk Bottle does have a stainless steel cap, and the threading is smooth. It can easily be filled, but be sure that when you're done filling that you hold the bottle by the cap. If you hold it by the bottle, you'll easily push e-liquid right out of the tubing. This is the case with pretty much any silicone squonk bottle, but it's something to mention nonetheless.
The CoilArt Azeroth Squonk Mod is very comfortable to hold and use. Even with a battery installed and the squonk bottle filled, it still is quite lightweight, which is a good thing for sure.
Overall, using this device has been great. There were a con to be mentioned, but it doesn't take anything away from its actual performance, which we'll get into next.
Performance
The CoilART Azeroth Squonk Mod is fully mechanical; therefore it's incredibly important to understand battery safety, ohms law and coil building. We honestly can't stress this enough, so just be sure you understand these aspects of vaping before going out and actually purchasing this type of device.
With that being, since it is mechanical the actual wattage output would be determined by your coil build. My preferred coil build for this device was a dual Fused Clapton which had a resistance of 0.16 ohm. However, simple round wire builds would work great with these type of devices such as 22GA Kanthal, 24GA Ni80 and more. I found with my preferred coil build it would deliver the heat and vapor production I was looking for.
The CoilArt Azeroth Squonk Mod does "hit hard" in my opinion, and performs like a champ with my preferred coil build. Regardless if I was using an 18650 or 20700 battery, the performance was great. Just be sure you're using good batteries like a Sony VTC5A or the IJOY 20700 battery. The 20700 battery did last a bit longer in my experience than the 18650 battery, hence is why I preferred using this battery. Depending on how much I was vaping, I could get about a good 3 to 4 hours of vaping time. If I was chain vaping, then of course it wouldn't be nearly as long.
A pro to be mentioned with the Azeroth Squonk Mod is that it does feature a self adjusting 510 connection, so all of my atomizers sat flush with zero gaps. In addition, atomizers up to 25mm in diameter will have no overhang, which is surely another pro. Something else worth mentioning is that I didn't experience any misfiring whatsoever.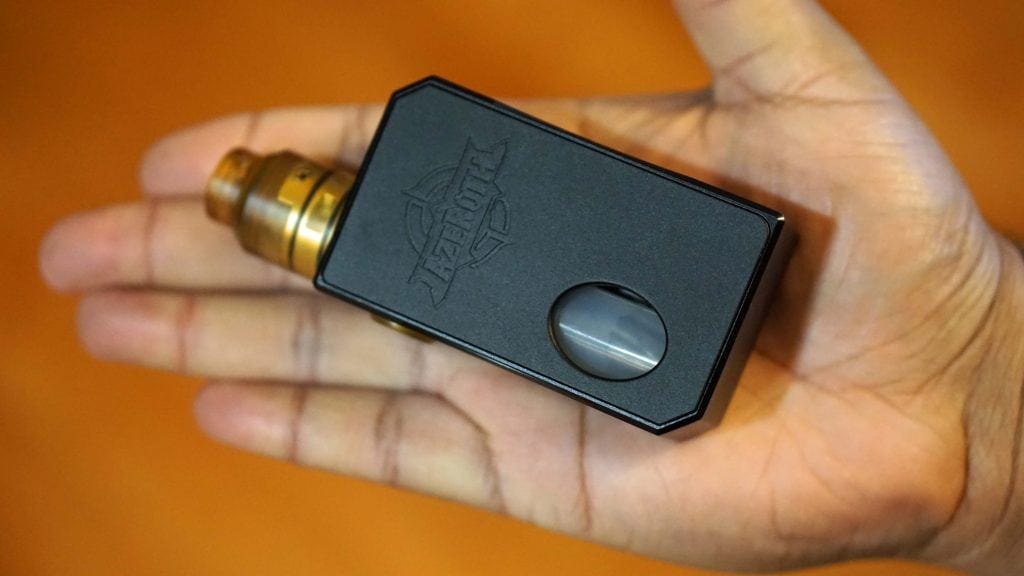 I did mention earlier that a subjective con is that it only comes with 1 squonk bottle. However, you can easily use many other squonk bottles, which some squonk mods cannot do. There is a good amount of room as well, so you'd probably be able to fit a larger capacity bottle with relative ease.
Another pro is that I didn't get any leaking, which is something that worries some vapers when it comes to squonk mods. Just be sure the silicone tube is attached properly, and you're good to go!
All in all, the performance of the CoilART Azeroth Squonk Mod was excellent! I had no issues whatsoever when it came to the performance of this vape mod.
Pros
Solid build quality
Lightweight
Self Adjusting 510 Connection
Atomizers up to 25mm sit flush with no overhang
7ml food grade silicone bottle (Compatible with other squonk bottles)
Compatible with 18650, 20700 and 21700 batteries
No sharp edges
Cons
No locking feature
Small firing button
Includes only 1 Squonk Bottle (Subjective)
Conclusion
All in all, the CoilART Azeroth Squonk Mod is an excellent performing mechanical squonker. It's incredibly lightweight and ergonomic, making it comfortable to hold and use for extended vaping sessions. In addition, the included silicone squonk bottle is a pleasure to use, and unlike some other softer silicone bottles, it doesn't suffer from the expanding issue.
Even though there are many pros to this device, there were some cons to it as well. Firstly, the lack of a locking feature, I do wish it CoilArt implemented one as this is something a lot of vapers desire with a mechanical squonk mod. For me, it's not the biggest issue since I mostly use mechanical devices at home. In addition, the small firing button was a slight annoyance, but I did get over it within a day of using it. Lastly, the fact that only 1 squonk bottle is included is kind of a con, as it's always a good thing to have 2 just in case there's an issue with one. Thankfully, you can use other bottles with this device.
So with all of that being said, do I recommend it? I most definitely recommend the CoilArt Azeroth Squonk Mod as it does offer excellent performance and is just easy to use. The pros simply outweigh the cons for me. Just be sure to understand ohms law and battery safety before using this type of device!
We hope this review helps you in picking the right squonk device that fits your vaping needs! Feel free to leave any questions or comments below! Thanks for reading!
Product Features:
Anodized Aluminum Construction
Compatible with 18650, 20700 & 21700 Batteries
18650 Battery Adapter Included
Fully Mechanical (Knowledge of Ohms Law & Battery Safety Recommended)
Spring Loaded Battery Contact
Self Adjusting 510 Connection
24K Gold Plated Fire Connection
7ml Food Grade Silicone Squonk Bottle
Intelligent Ultem Firing Button
Carbon Fiber Plate
Ergonomic & Lightweight Design
Includes User Manual
Colors Available: Black, Red, Silver, Golden, Blue, Purple