Augvape Intake Dual RTA $11.09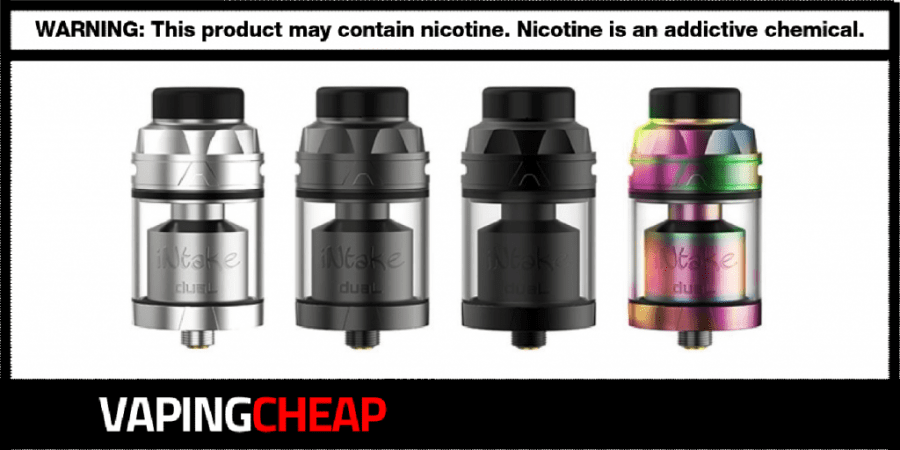 Here's a couple discounts on the new Augvape Intake Dual RTA in collaboration with Mike Vapes! Get yours for just $11.09. It's also available from a USA based shipper for $28.50 with free shipping over $50 when using code "NEW5". There's four color options you can choose from including Stainless Steel, Rainbow, Black and Gunmetal.
The Augvape and Mike Vapes Intake Dual RTA sports a familiar design, but differs quite a lot when comparing it to the original. As the name indicates, it is indeed a dual coil atomizer rather than a single coil. It has an overall diameter of 26mm, pairing great with your larger mods. As expected with the Intake Dual RTA, it does feature a top airflow design, so it'll not only provide excellent clouds and flavor, but prevent any leaking from occurring. Also, you can fully detach it, so when it comes to cleaning, it's very easy to do.
Back to the Intake Dual's airflow system, it does come in from the top, and you can fully adjust it. However, what makes it unique is that it goes in from the top, and travels to the side or bottom of your coils (depending on placement), and then back up through the drip tip. Moving onto the building deck, it features a post-less style deck. As seen with some of the best RTAs, this type of deck simply works well, and super easy to install coils in. To make life easier, the Augvape Intake Dual RTA will come with a coil cutting tool, making it that much easier for coil installs.
Since the Mike Vapes Intake Dual RTA sports an larger 26mm diameter, you can expect more e-juice capacity. It can hold either 4.2ml of e-liquid with the straight glass, and a whopping 5.8ml with the bubble glass tank section. When it comes to filling the Intake Dual, it's easy too since it can be filled using its top fill system. Lastly, you'll get a wide bore delrin drip tip.
If you were a fan of the original Intake RTA or simply looking for a new top airflow RTA designed for dual coils, then you'll definitely want to check out this atomizer deal. For under $20, you may be getting one of this year's best releases.
Augvape x Mike Vapes Intake Dual RTA Features:
Collaboration Project Between Mike Vapes & Augvape
Stainless Steel & Glass Construction
Overall Diameter: 26mm
Height: 46.4mm
E-Juice Capacity: 4.2ml or 5.8ml (With Bubble Tank Section)
Postless Style Build Deck
Unique Top Airflow System

Fully Adjustable
Top to Side Airflow
Leak-Proof

Fully Detachable Structure
Wide Bore Delrin Drip Tip
4 Color Options
What's Included
Intake Dual RTA by Augvape & Mike Vapes
Bubble Glass Tank Section
Replacement Allen Screws
Allen Key
Cotton
Pre-Built Coils
User Manual
Warranty Card
Coil Cutting Tool
Check Out The Augvape Intake Dual RTA Review