Villain Vapors EJuice Sale 120ml $19.95 (USA)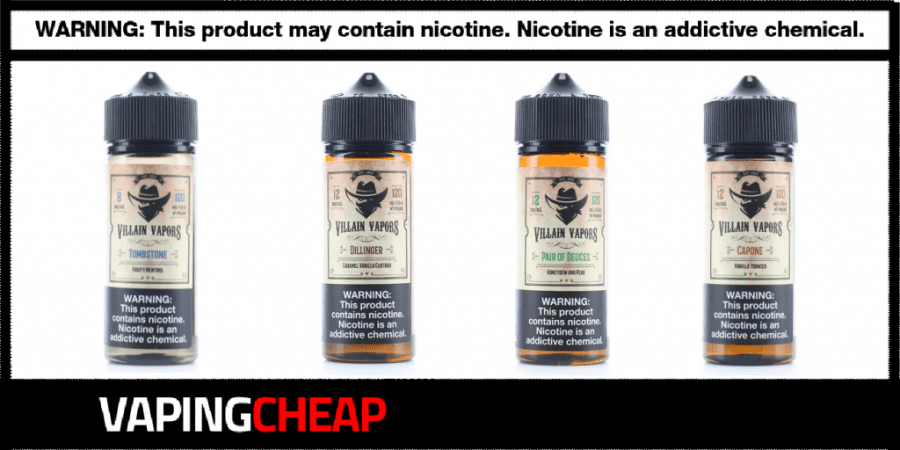 Here's a cheap deal and discount on Villain Vapors EJuice. Buy a large 120ml bottle for just $19.95. No code required for this sale price.
The Villain Vapors EJuice Line consists of various flavor options. This includes the popular Capone, Bonnie and Clyde, Dillinger, Doc Holiday, Pair Of Deuces, Queen of Hearts and Tombstone. When it comes to the actual flavor profile, you'll find dessert, fruit, Custard and Tobacco.
As you'd expect with this premium e-liquid, they do have a high VG blend, 70VG/30PG to be exact. That's an excellent blend for both clouds and flavor. Additionally, each Villain Vapors flavor are offered in freebase nicotine strengths 0mg, 3mg and 6mg.
Villain Vapors is known to have premium quality e-liquid, and their e-juices are a favorite among many vapers. We've never really seen their large 120ml bottles priced this low often, so definitely take advantage while the sale is still valid.
Villain Vapors Vape Juice Details:
Large 120ml Bottle Size $19.95
70VG/30PG Blends
Nicotine Strength Options (Freebase): 0mg, 3mg, 6mg
7 Flavors Available:

Capone - Vanilla Custard, Caramel, Tobacco
Bonnie & Clyde - Blackberry, Blueberry, Raspberry, Strawberry
Dillinger - Vanilla Custard, Ice Cream, Caramel
Doc Holiday - Mango, Guava
Pair of Deuces - Honeydew Melon, Pear
Queen of Hearts - Parfait, Strawberry, Graham Cracker, Whipped Cream
Tombstone - Mixed Berries, Menthol
More Great Vape Deals...
---
Mechlyfe Slatra RDA $8.91
The new Mechlyfe Slatra RDA in collaboration with AmbitionZ VaperR is now in stock and on sale for just $8.91. To get[...]
Uwell Caliburn Pod Vape Kit $11.99
For a limited time only, the Uwell Caliburn Kit is now available on sale right here for only $24.99! No coupon code required! Various color options[...]