Ehpro Raptor Mesh Replacement Coils 3 Pack $11.39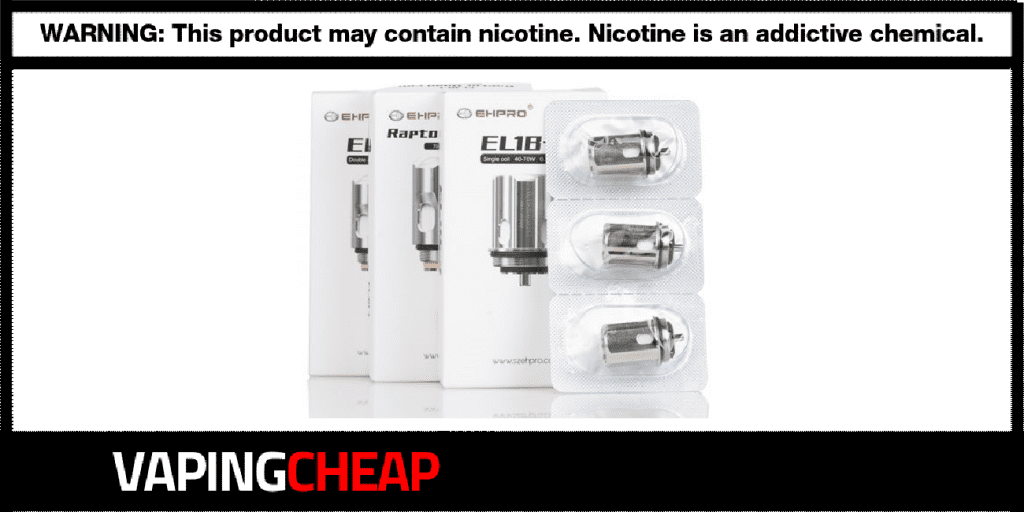 Here are cheap deals and discounts for the Ehpro Raptor Mesh Replacement Coils. Grab a pack of 3 for just $11.39 plus free shipping over $15 using code "2020CNY". It's also available from a USA based store for $12.95 plus free shipping over $50.
These replacement coil heads by Ehpro are designed for and compatible with the Raptor Tank. There's three different coil options available, and offer a unique feature setting them apart from other coils. The three Raptor EL Series coils include a 0.15 ohm single mesh, 0.25 ohm dual mesh and 0.15 ohm quad mesh.
What makes them unique is the actual wicking. Each Ehpro Raptor replacement coil features sea grass wicking, ensuring clean and pure flavor.
Additionally, they have a 360 degree coil airflow to provide dense cloud production. With mesh wire, they do last quite a bit longer too in comparison to traditional round wire coils. Lastly, coil installation is a breeze since they have a threaded design.
If you've been looking for cheap Ehpro Raptor coils, and looking to stock, then you've found the perfect vape accessory deal. With the design of these coils, they provide the best of both worlds, flavor and clouds.
Ehpro Raptor Replacement Mesh Coil Features:
Pack of 3 Coil Heads
Compatible with Ehpro Raptor Tank
Sea Grass Wicking
Threaded Coil Installation
360 Degree Coil Airflow Design
Three Raptor EL Coil Options

EL1B-3 0.15 ohm Single Mesh Coil (Best at 70w)
EL2B-1 0.25 ohm Dual Mesh Coil (Best at 80w)
EL4B-1 0.15 ohm Quad Mesh Coil (Best Between 70w - 100w)