Breazy MVP Sale! 40% Off E-Juice + Hardware Deals!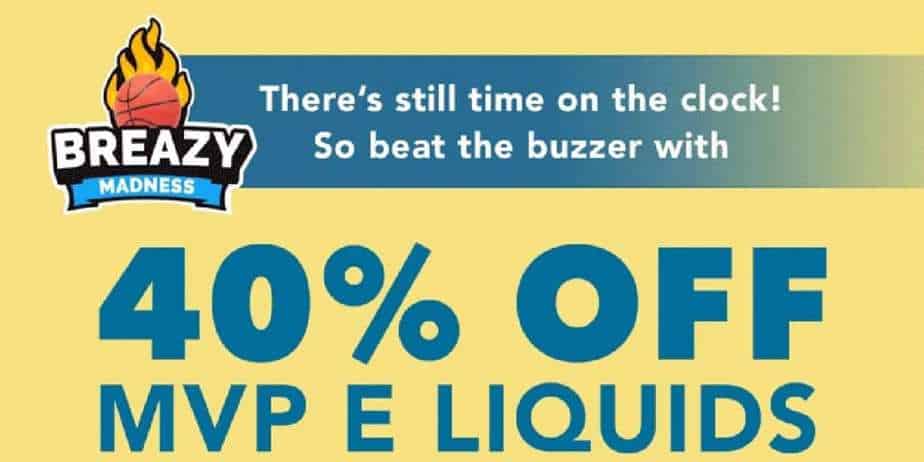 For a limited time only, Breazy is having their MVP Sale right here, where you can save 40% off e-liquid using coupon code "MADNESS"! Free shipping applies to US orders over $50. This sale does end 3/20/19.
During the Breazy MVP Sale, you can save 40% off e-juice using the coupon code provided. You can also find various hardware deals too. To make this deal even better, they are offering free shipping on US orders over $50. You can look through thousands of e-juice and hardware brands including Smok, ANML, Augvape, HQD, The Milkman and more.
This sale includes vape gear such as starter kits, pod systems, box mods, rtas, tanks and more. In addition, they have a wide selection of bottle sizes, nicotine strengths and flavors. Some of the current deals are Nitro's Cold Brew 100ml for $9.99, Loaded 120ml for $11.99, HQD Comma Pod System for $24.99, Augvape Templar RDA for $19.99 and tons more!
All in all, this is an incredible store sale! If you are looking for some quality vape gear or cheap premium e-juice, you can find it all at this sale! You can check this deal out at Breazy, where you can save 40% off e-liquids and more! Remember to act fast, this deal does end 3/20/19!
Some Of The Current Deals:
Nitro's Cold Brew 100ml $9.99
Nitro's Cold Brew Salt 30ml $9.99
Loaded 120ml $11.99
ANML Looper 60ml $9.99
Cloud Nurdz 100ml $11.99
The Milkman 60ml $9.99
The Milkman Salt 30ml $8.99
Juice Man Unicorn Frappe 100ml $11.99
Big Cheap Bottle 120ml $11.99
Savage E-Liquid 60ml $10.19
HQD Comma Pod System $24.99
Augvape Templar RDA $19.99
Smok T-Priv 300w Box Mod $29.99
Samsung INR 18650 2500mAh Battery $4.99
Sigelei Sobra 198w Starter Kit $29.99
Smoking Vapor Mi-Pod Kit $33.99
Smok GX 2/4 350 Starter Kit $49.99
Plus More!