Vandy Vape Mesh Coil Cotton Laces $2.54 + FS!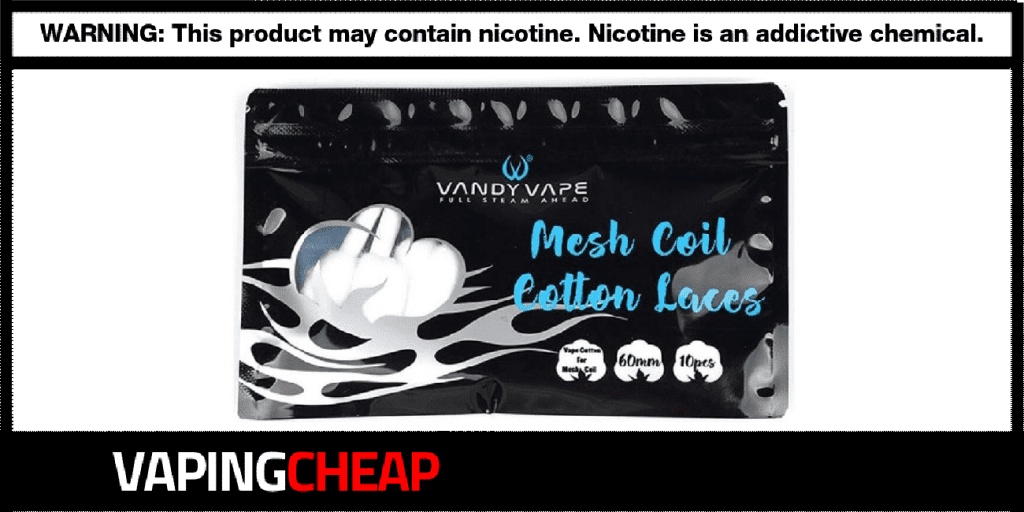 If you enjoy using mesh wire, then you'll definitely want to check out this deal. Get the Vandy Vape Mesh Coil Cotton Laces in a 10 pack for only $2.54 plus FREE worldwide shipping! It's also in stock at a US shipper for only $2.99 with free USA shipping on orders over $50.
Included in the Mesh Coil Cotton Laces by Vandy Vape, you'll get 10 pieces of cotton that's pre-cut specifically for mesh builds. These are perfect for atomizers like the Vandy Vape Kylin M RTA as it provides you with enough cotton to wick it perfectly, ensuring no dry hits and crisp flavor production. In addition, each cotton piece is 60mm in length, providing you with more than enough wick for any rebuildable atomizer using a mesh coil.
The Vandy Vape Mesh Coil Cotton Laces do come in a small carrying bag which you can reseal when not in use. Not to mention, it makes it much easier to carry with you and keep all of your cotton wick organized.
Like mentioned previously, if you enjoy vaping on mesh and looking for some cheap cotton that is designed to be used with this style of build, then this is the perfect deal for you!
Vandy Vape Mesh Cotton Features:
Includes 10 Pieces of Cotton
Resealable Packaging
Designed to be used with Mesh Coil Builds
60mm Length