Smok RPM40 Pod Mod Kit $20.39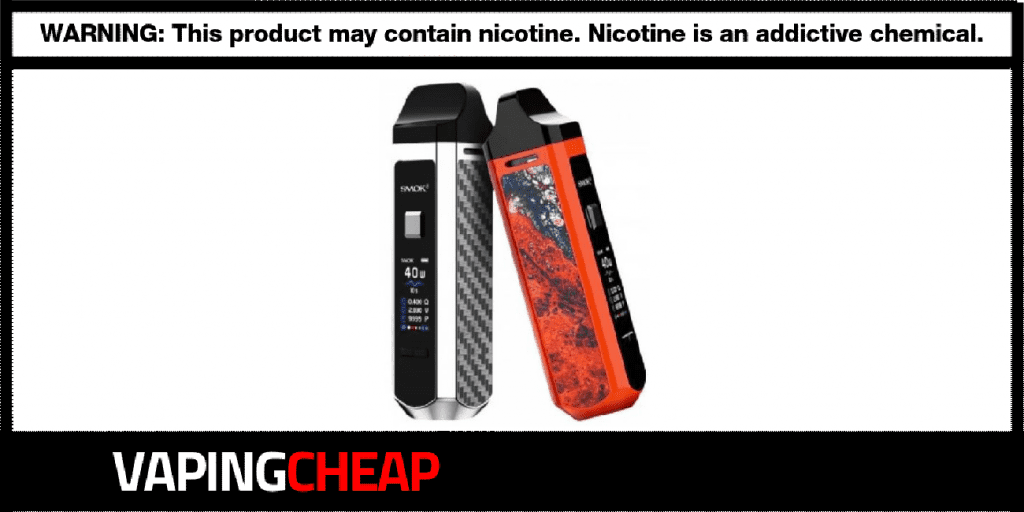 Smok is back with probably their most unique pod vape yet! Grab the Smok RPM40 Pod Mod Kit for only $20.39 using discount code "RPM40". This pod mod is in stock at a USA based store for just $22.50 using discount code "vapingcheap10"! There's a ton of different color options available for you to choose from including Prism Rainbow, Prism Chrome, Bright Black, Green and more.
The Smok RPM40 Pod Kit is easily their most powerful and unique pod system to date, and can certainly be one of the best pod vapes to come out this year. It features a massive output wattage of 40w, can be fully adjusted, so you'll be able to fine tune your vape experience. There's hardly any, if at all, pod kits that offer this type of wattage output. The actual chipset inside is Smok's new IQ-R chip, which not only allows a 40w max output, but offers nearly instant firing times, and only 2 hours to fully charge the battery. Speaking of, the RPM40 Pod Mod by Smok has a large 1,500mAh internal battery. On top of all of that, the RPM40 Pod Device sports a large 0.96 inch OLED display screen.
Another awesome feature this pod kit has is that it's compatible with two different types of coils, and includes both cartridges needed. The first is compatible with their new RPM coils, and you'll get a 0.4 ohm mesh coil installed. Now, the second one is compatible with the Smok Nord Replacement Coils, and installed is the popular 0.6 ohm mesh coil. The refillable pod cartridge has a maximum e-liquid capacity of 4.3ml or 4.5ml depending on which pod is being used.
If you're looking for a new vape pod that's not only packs a punch, but is able to house a wide range of coil options, then you'll definitely want to add the Smok RPM40 Pod Mod Kit to your vape collection. With the amount of power, and versatility this device offers, it's going to be hard to beat, especially at this price point. There's many reasons as to why Smok calls this one the Real Pod Mod!
Smok RPM40 Pod Kit Features:
Integrated 1,500mAh Battery

Micro USB Charging
2 Hour Charge Time

Powered By IQ-R Chip
Wattage Output Range: 1w - 40w
Maximum Voltage Output: 4.1v
0.001s Firing Time
Minimum Firing Resistance: 0.2 ohm
0.96 Inch TFT Display Screen
Multiple Safety Features
Ergonomic Design
Compatible with Smok RPM & Nord Coil Heads
RPM Standard Refillable Pod
RPM Nord Compatible Pod
5ml Capacity (Empty Pod)
8 Color Options
What's Included
Smok RPM40 Pod Device
RPM Standard Pod (0.4 ohm Mesh Coil Pre-Installed)
RPM Nord Pod (0.6 ohm Mesh Coil Pre-Installed)
USB Cable for Charging
User Manual
Check Out The Smok RPM40 Pod Mod Kit Review