Oumier Bulk RTA $9.61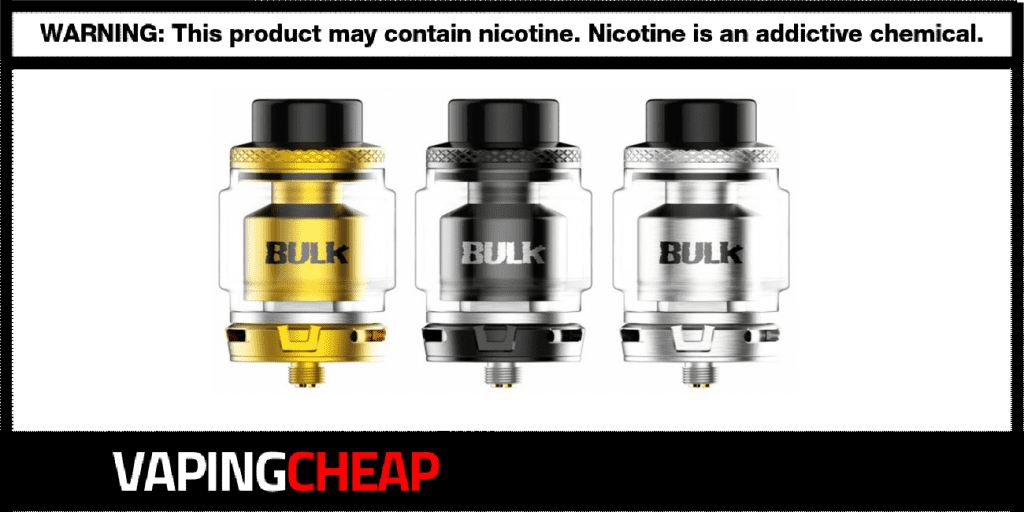 The Oumier Bulk RTA in collaboration with VapnFagan is now in stock and on sale for just $9.61. It's also available from a US based shipper for $26.95 using code "MFS10".Free shipping applies to US orders over $75. The colors available are Black, Stainless Steel, and Gold.
The Oumier and VapinFagan Bulk RTA sports a large overall diameter of 28mm, making it a great match for your larger devices. In addition, this tank has a maximum e-juice capacity of 6.5 alongside a top fill design. Filling can be done quickly, and with this much capacity, you won't be needing to fill up this tank often. As with many other RTAs, it's constructed out of durable stainless steel, and pyrex glass.
Another great feature to the Oumier Bulk RTA is the building deck. It's a postless style deck, so coil installs are pretty much effortless. Furthermore, this atomizer has adjustable bottom airflow, and with its familiar design, you'll get some top notch flavor. Not to mention, the draw is super smooth, and slightly restrictive, giving you a great draw. Lastly, the Oumier Bulk RTA has a gold plated 510 pin, and a wide bore drip tip up top.
If you're a fan of larger sized tanks, then you won't wanna miss out on this atomizer deal, especially at this price point. Oumier's and VapnFagan's Bulk RTA is a solid all around rebuildable tank that provides solid flavor, ease of building, and a huge capacity.
Oumier x VapnFagan Bulk RTA Features:
Collaboration Between Oumier and VapnFagan
Overall Diameter: 28mm
Postless Build Deck
Unique Bottom Airflow Design (Fully Adjustable)
Wide Bore Drip Tip
Maximum E-Liquid Capacity: 6.5ml
Easy to Use Top Filling System
Gold Plated 510 Contact
Stainless Steel & Glass Construction
3 Color Options
What's Included
Bulk RTA by Oumier & VapnFagan
Delrin 810 Drip Tip
Frosted 810 Drip Tip
3ml Glass Tank Section
Bubble Glass Tank Section
Agleted Cotton
Pre-Built Fused Clapton Coils
Spare Parts Bag
Check Out The Oumier Bulk RTA Review