Moti Piin Review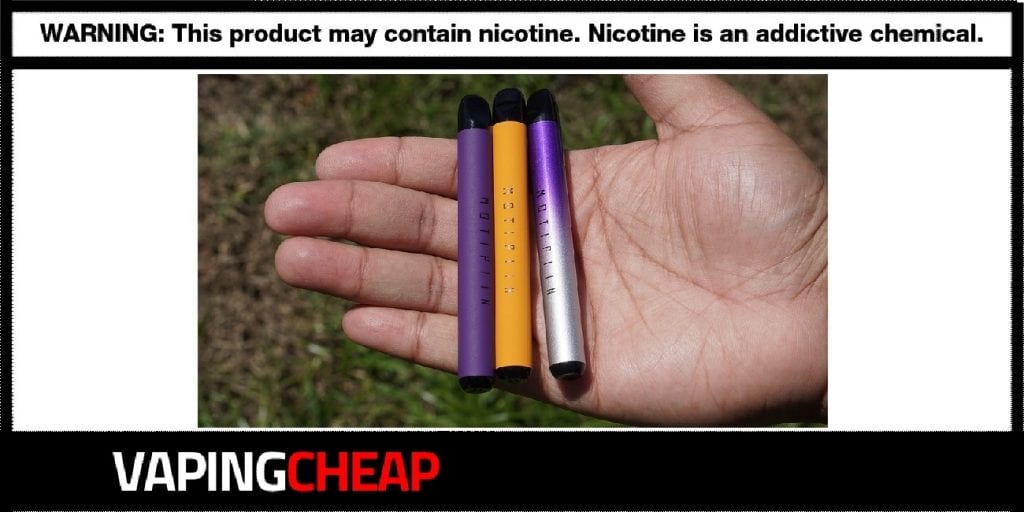 Moti is a brand that's not new to the vaping world, but has been delivering solid products for the past few years, satisfying the vast majority of vapers. They've now released their Piin device that looks to take the crown in the sea of disposable vapes. We'll go over everything you'll need to know about the Moti Piin, and let you know if it vapes as good as it looks.
Before getting into the actual Moti Piin review, let's go over some quick facts about the device:
Can You Use The Moti Piin To Quit Smoking?
The Moti Piin disposable vape pod comes packed with 1.6ml of nicotine salt vape juice, ensuring pure satisfaction with each vape you take. Additionally, with its 1.6 ohm resistance coil head, it provides a smooth, and authentic mouth to lung vape experience. It's overall size is quite compact, and can be easily taken with you anywhere you go, just like many other pod vapes. Whether you keep it in your bag, pocket or purse, you'll have no issues at all. What's even better is that each Moti Piin has a shelf life of up to 24 months, so you can indeed stock up and not worry about them going stale.

When it comes to the nicotine strengths, they are offered in both 2% (20mg) and 5% (50mg). In our review, we'll be covering specifically the 50mg, which is ideal for vapers looking to quit smoking or the new vaper who recently made the transition. With the capacity, you can certainly get through an entire week on a single device, but this will depend on how much you're vaping on a single pod. With it being disposable, it's perfect for the beginner. There's no need for charging or refilling. Once you're done, you can toss the old one, and grab a new flavor.

Now that we've covered some quick facts and features of the Moti Piin pod device, let's dive into the actual review of flavors!
Moti Piin Disposable Vape Review
Blueberry Parfait
Nicotine Strength Tested: 50mg
Inhale: Creamy blueberry

Exhale: Creamy blueberry flavor with a cooling sensation
When it comes to blueberry yogurt or parfait vape flavors, I absolutely enjoy them, so I was excited to give this flavor a try before any other. Honestly, I can say I was quite surprised by the vape experience. On the inhale, you'll get a creamy blueberry flavor with a subtle coolness. On the exhale, the coolness from the Koolada comes to life and is much more noticeable. You'll still get the delicious blueberry parfait, but it's complemented by the cooling sensation.

It's not overwhelming, but it is very noticeable, so if you're a vaper who does not enjoy a cooling sensation you may not enjoy it. Also, with this type of flavor you might not expect it, but it does bring together a unique vape experience. One that I enjoyed more and more as I vaped it.

When it comes to the throat hit, it's very smooth when considering it's 50mg. I immediately expected it to have a strong throat hit, but to my surprise it wasn't. However, I will say it's incredibly satisfying, and would certainly satisfy the former smoker.

All in all, if you enjoy blueberry and yogurt type flavors, you wouldn't be disappointed with Moti Piin Blueberry Parfait. Even if you didn't enjoy flavors with koolada or menthol, I still recommend giving it a shot. You might be just as pleasantly surprised as I was when I first tried this flavor. It's definitely an all day vape for me.
Menthol Tobacco
Nicotine Strength Tested: 50mg Salt

Inhale: Earthy tobacco with a subtle menthol note

Exhale: Earthy tobacco flavor blended with cooling menthol
The next flavor I went for is Moti Piin Menthol Tobacco. Many newer vapers, and smokers interested in vaping would go for this type of flavor, so I was glad to see they brought this one to the market. Also, mouth to lung vapers enjoy this flavor profile, including myself.

On the inhale, you get an earthy tobacco flavor, but with a subtle yet quite noticeable menthol flavor. As you exhale, you'll immediately notice the perfect blend of earthy tobacco and menthol. They did a great job blending the two, as menthol can certainly overpower any flavor. Thankfully, this isn't the case, and you can pull apart the two flavor notes as you exhale.

As expected from my previous experience, the throat hit was silky smooth at 50mg, and was satisfying. I'm still amazed by how smooth the vape was at 50mg! Vapor production is as expected as well, it's plenty enough for a mouth to lung vape, so no complaints there.

Moti did a wonderful job with this menthol tobacco flavor, and it's an absolute joy to vape. If you enjoy these kinds of flavors, this is a must try. While it's not something I would personally vape all day, it's definitely something I'd pick up when wanting to switch up flavors.
Pineapple Ice
Nicotine Strength Tested: 50mg Salt

Inhale: Authentic pineapple flavor with cooling

Exhale: Authentic pineapple with cooling background

This is yet another flavor I was pleasantly surprised by, and was honestly shocked by how authentic the taste was. When it comes to disposables, this is by far the best pineapple flavor I've ever tried. This literally tastes exactly like if you took a bite out of a freshly sliced pineapple. Honestly, you wouldn't believe it unless you tried it.

With that being said, on the inhale, you'll get the authentic pineapple flavor with a very subtle cooling effect. Once you exhale, the pineapple taste becomes even more authentic, and the cooling effect does come on a bit stronger. It's not overwhelming, but like with Blueberry Parfait, it's noticeable. I will say, as you vape it, the cooling sensation tends to calm down a bit.

The throat hit on this one is also very smooth, and just a touch stronger than the previous two. It's not by much, but you do notice a slightly stronger throat hit. For you vapers wanting a slightly stronger throat hit, you'd probably enjoy this one a bit more. Either way, it's still very satisfying just like the others.

Pineapple Ice by Moti Piin is easily one of the tastiest disposables I've tried, and one of my personal favorites. It's amazing how authentic the flavor really is, and makes the vape experience that much better. Do yourself a favor and buy one, you won't regret it.
Banana Frost
Nicotine Strength Tested: 50mg Salt

Inhale: Banana flavor with subtle cooling

Exhale: Authentic Banana vape flavor with cooling sensation
Banana Frost by Moti Piin was another flavor I was quite excited to try. I primarily enjoy banana dessert flavors, but I knew this one was going to be different than what I'm used to just by the name. With being said, on the inhale you get a banana flavor with a slight cooling sensation. Once you exhale, the cooling effect becomes stronger, but so does the banana flavor. With all of these flavors, the cooling sensation never becomes overwhelming or overpowering, which is definitely a good thing.

It's just strong enough so you get the cooling sensation, but allows you to still taste that primary flavor note in the description. Now, the banana flavor on this one leans more towards the authentic side, but has a slight candy note to it. It's very tasty though! Throat hit on this vape flavor is satisfying, and very smooth as well.

Overall, Moti Piin Banana Frost is a unique twist to traditional banana flavors, and the risk they took with the added cooling effect paid off. It's delicious, and another one in the lineup that I can consider an all day vape.
Grape Ice
Nicotine Strength Tested: 50mg Salt

Inhale: Candy grape flavor with subtle cooling effect

Exhale: Mostly candy grape with stronger cooling sensation
Grape flavors are quite popular as well in disposables, and going by the name of this Moti Piin flavor, you're expecting quite a bit of koolada or menthol. Although that's the case, just like all of the other Moti Piin flavors reviewed, it's not overpowering. At the front of both the inhale, and exhale, you're getting a candy grape flavor. Like the Banana Frost, it has both a candy and authentic flavor note, but this one definitely leans more towards candy.

This, by no means, is a bad thing. It's a great flavor, and works incredibly well when blended with a cooling effect. On the exhale, you will notice that the cooling sensation is much stronger and stays true to the name "ice", but it's enjoyable. The throat hit on this Moti Piin is just a bit stronger as well, but remains quite smooth throughout the entire vape experience. Additionally, you'll be left completely satisfied with each and every vape, especially at 50mg nic salt.

I will say, this isn't my absolute favorite flavor out of the bunch, but it is still pretty good overall.The vape you get is tasty, satisfying and smooth. If you're a vaper who enjoys grape flavor profiles, then this would probably be at the top of your list.
Moti Piin Disposable Vape Pod Review Conclusion
In conclusion, the Moti Piin is an absolute joy to use. Every flavor reviewed here exceeded our expectations, and that does say quite a lot. With its cheaper price point, and ease of use, it's perfect for both beginners and advanced vapers.

When it comes to these 5 flavors, our favorites were Blueberry Parfait and Pineapple Ice. These two were absolutely delicious, and we highly recommended at least trying these two if you're on the fence. The authenticity of the pineapple flavor was mind-blowing to say the least, and seriously one of the best pineapple flavors I've tried to date.

If you're still looking for more, and want to see what we think of other flavors, check out our Moti Piin video review below. We cover even more there, and you'll even get a first impression of some of the Moti Piin flavors!
Overall, we do recommend giving the Moti Piin a shot. They're perfect for picking up when on the go, and will provide you with immediate satisfaction so you'll never go back to combustibles. Check out our Moti Piin deal for the best prices.

Thanks for reading our Moti Piin review! If you've tried out this device, feel free to leave your comments below, and let us know what you think of it!