Moti Piin Disposable Vape BOGO Sale! $7.95 (USA)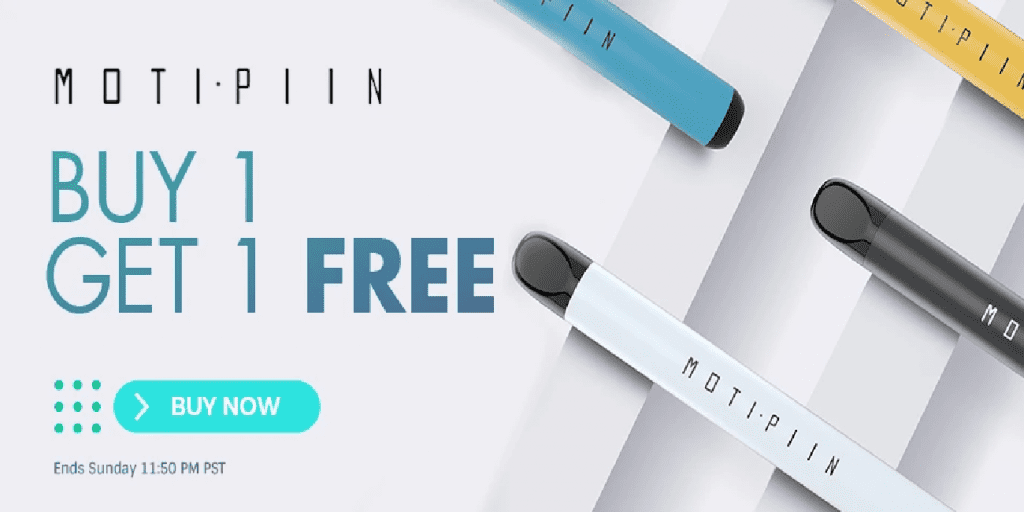 Here's a great sale and discount for the new Moti Piin Disposable Vape. Buy 1 Get 1 Free! No code required. Simply add two to your cart, and the price will adjust when checking out. That's two for just $7.95.
The Moti Piin Disposable Vape is available in a wide range of flavor options. Some of the flavors include Blueberry Parfait, Yogurt Drink, Pineapple Ice, Tropical Mango, Menthol Tobacco and much more. Additionally, the color of the Moti Piin will be determined by the flavor. It does have a super slim design as well, making it easy to carry with you. It'll fit in your pocket or bag with zero issues. The drip tip is ergonomic too, so it is comfortable to vape on.
Each disposable vape comes with 1.6ml of pre-filled nicotine salt e-juice. The actual strength is 50mg, so it's great for people looking for a vape to quit smoking or experienced vapers who prefer higher nic strengths. Lastly, the battery capacity of the Moti Piin Vape is 320mAh.
If you're looking for a cheap gift for a smoker, or simply want to grab some for yourself at a discount, then you won't wanna miss this sale. It does end soon, so don't miss out.
Moti Piin Disposable Pod Features:
320mAh Battery Capacity
1.6ml Pre-Filled Nic Salt E-Juice
50mg Nic Salt Strength
Wide Selection of Unique Flavor Options
Polymer Cotton for Smoother Flavor
1.6 ohm Coil Resistance
Comes In Various Colors (Determined By Flavor Option)