Overloaded E-Juice Review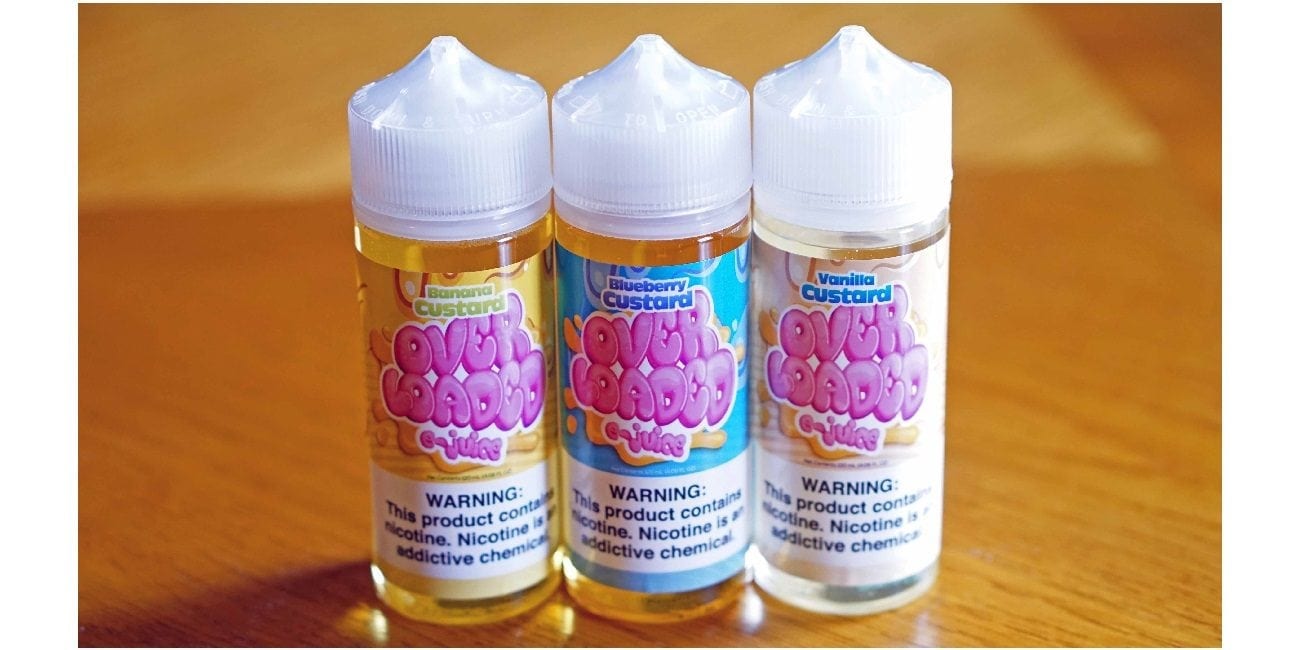 Overloaded E-Juice Review
In this e-liquid review, we'll be taking a look at three of the newest flavors to hit the market! Overloaded E-Juice is from the makers of Loaded E-Liquid, which is still one of most popular vape juice brands today. This new line currently consist of three flavors which are Banana Custard, Blueberry Custard and Vanilla Custard. In addition, all three vape flavors are available in large 120ml Chubby Gorilla Bottles and offered in 0mg, 3mg and 6mg nicotine strengths.
Before getting further into this review, we'd like to thank EJuice Plug for sending these flavors our way for the purposes of this review. We will provide you with our overall thoughts about these flavors and let you know whether or not we recommend them! Remember, taste is subjective, so what we may like you may dislike and what you like we may dislike. We will first go over the specific mods and atomizers used to test each of these flavors and then continue on to the review of Overloaded E-Juice!
Mods & Atomizers
First Setup
Smok X-Priv Baby 80w TC Box Mod with Smok Big Baby Prince Sub Ohm Tank
Coil Used: 0.4 ohm
Second Setup
Lost Vape Drone with Digiflavor Drop Solo RDA
Coil Build: Single Quad Core Fused Clapton
Resistance: 0.22 ohm
Flavor Review
Vanilla Custard
Flavor Description: The vanilla in the e-juice is extra-rich, and it adds a subtle sweetness to the overall flavor profile. As for the custard flavor, the custard has a perfect creamy egginess with a touch of spiciness as you exhale. If you like to experience an e-juice that is steeped to perfection, you're going to love how smooth the flavors are blended.
Nicotine Strength: 3mg
VG/PG Ratio: 70VG/30PG
Inhale: Creamy Vanilla
Exhale: Creamy Vanilla Custard with a slight egginess
Overall Thoughts
Just as the name states, this is a vanilla custard, and one that's well done. However, I will mention if you dislike any egginess in your custard vapes, then you might not enjoy this one. With that being said, this is one of the better vanilla custard vapes I've had in a while. On the inhale, you get a nice and creamy vanilla flavor. On the exhale is where you'll get the full bodied custard alongside the vanilla.
Now, in the flavor description it does mention spiciness, but I personally do not taste any spiciness right away. Maybe towards the absolute end of the exhale is where you'll get a hint of a cinnamon spicy note, but it's something you have to search for. Personally, I don't mind not tasting it, but that's subjective. On the exhale, you do get a tasty vanilla custard with a slight egginess. The egginess is not overwhelming and pretty light overall, which is a good thing in my opinion. The throat hit is silky smooth at 3mg and vapor production is solid.
Overall, this is a pretty straightforward vape experience, but it's done incredibly well. The entire inhale and exhale are well balanced with no flavor really overpowering any other. You get the vanilla, the custard and the light egginess and they all come together to bring a tasty all day vape. If you enjoy vanilla custards, definitely give this one a shot!
Banana Custard
Flavor Description: Banana pudding e-juice is a classic dessert transformed into a vape juice that is unmistakable from the real thing. The inhale from the banana pudding is silky smooth, and the beautiful depths of flavors come alive as the pudding melts away for your taste buds to devour.
Nicotine Strength: 3mg
VG/PG Ratio: 70VG/30PG
Inhale: Creamy banana
Exhale: Creamy banana pudding with wafers
Overall Thoughts
When I first received this e-liquid I was a bit confused since the bottle does say Banana Custard, but on the EJuice Plug website it mentions Banana Pudding, so I wasn't exactly sure what to expect. On the inhale, I get a nice creamy banana flavor. On the exhale is where this flavor truly shines, and becomes one of the most authentic banana pudding vapes I've ever tried.
As soon as you exhale, you'll get a creamy banana pudding flavor. It might have a little custard in there to round out the vape experience, but I must say it does taste exactly like banana pudding. However, as you exhale, you also get bits of wafer and that is what makes this e-liquid that much better. This is an absolutely fantastic banana vape and definitely one of the best I've ever tried. It literally is that good, and I was quite surprised by how authentic tasting it is. The throat hit is smooth as butter, and the vapor production is top notch.
All in all, this is easily an all day vape for me. They hit a home run with this one for sure! As of right now, this is probably my favorite banana flavor and if you enjoy banana dessert flavors, then Banana Custard by Overloaded E-Juice is one that I highly recommend! I doubt you'd be disappointed with this one!
Blueberry Custard
Flavor Description: Blueberry custard is a fantastic flavor that combines the best of both worlds. For the devoted fruit lover venturing into a world of custard flavors, there couldn't be more of a perfect e-juice to start off with. The freshly picked blueberry is a breath of fresh air that complements the rich mouthfeel that custards are known for.
Nicotine Strength: 3mg
VG/PG Ratio: 70VG/30PG
Inhale: Blueberry
Exhale: Candy blueberry with custard undertones
Overall Thoughts
The last flavor in the Overloaded E-Juice line is Blueberry Custard and this one is quite interesting and not at all what I expected when I first took a vape. On the inhale, you get a nice blueberry flavor with a slight candy note. On the exhale, you get a candy blueberry right up front and then the custard flavor follows. I honestly didn't expect this type of blueberry, but the more you vape this e-liquid the more the exhale blends together.
The exhale is very creamy, and is pretty tasty as well. As you continue vaping this flavor, you'll notice the blueberry and custard flavor blend more and more until they're balanced. At first, the blueberry was definitely the most dominant throughout the entire vape experience, but it started mellowing down the more I vaped it. This is when I really enjoyed this e-liquid, and it's very unique. I would agree with the description as well, you do get that rich mouthfeel that custards are known for. Just like the other flavors, the throat hit is nice and smooth.
Overall, Blueberry Custard by Overloaded E-Juice is not your ordinary blueberry custard flavor, which may be a good or bad thing depending on what you prefer. I did enjoy this one quite a bit and more than I expected. If you're looking for a blueberry custard that's different from the rest, then I do recommend checking out this e-juice!
Conclusion
In conclusion, Overloaded E-Juice offers 3 great custard flavors and I must say I'm yet again by the makers of Loaded E-Liquid. They did a wonderful job with this vape juice line and honestly I didn't expect less. If you've read previous reviews, you'd know we're big fans of Loaded E-Liquid and this new line does not disappoint whatsoever.
I will say that my favorite of the line was Banana Custard (or Pudding) and this is an e-liquid I see myself vaping for some time to come. It's just that good and vapes great in both tanks and drippers. It's easily an all day vape! The other two flavors were solid as well. The Blueberry Custard is certainly a unique flavor and the Vanilla Custard is well balanced and smooth e-liquid. The throat hit from all three flavors were silky smooth and the vapor production was great.
What's great about Overloaded E-Juice is that they're under $20 per bottle! So if you're a fan of the original flavors from Loaded E-Liquid or simply enjoy quality dessert flavors that won't break the bank, then I highly recommend the Overloaded E-Juice line!
We hope this article helps you find your next all day vape! Feel free to leave any questions or comments below! Thanks for reading our Overloaded E-Juice Review!