JustCBD Gummies Review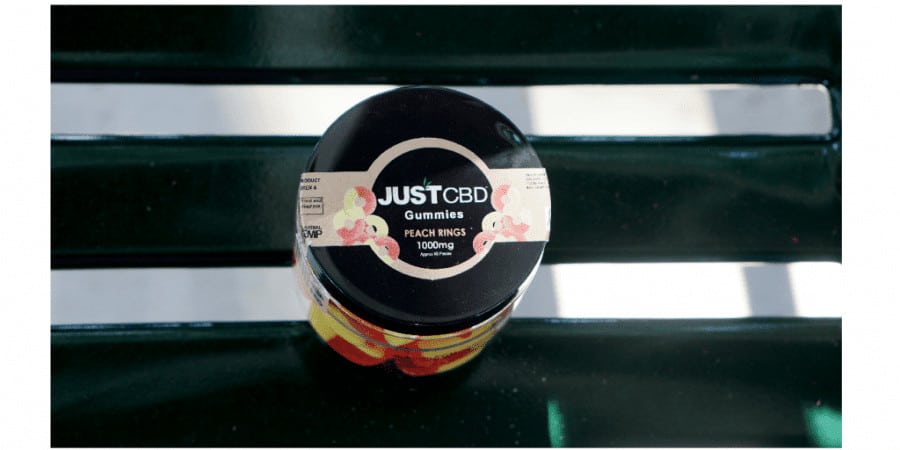 CBD Gummies have become increasingly popular in the CBD world for many different reasons. They're easy to consume, and can quickly provide you with the CBD desired. Additionally, they're offered in a wide variety of sizes, and strengths, so you can really determine your CBD dosage, and find the perfect amount for you. However, not all CBD gummies provide that quality you're looking for. With that being said, in our JustCBD Gummies review, we'll let you know all of the pros, and cons alongside letting you know if it's one of the better options available to you. Stay tuned for our full in depth CBD review.
Before getting any further, we'd like to cover some facts on what's available to you. JustCBD offers a wide variety of gummy flavors, and in different jar strengths. Whether you're looking for smaller strength pieces, or large gummies to provide you with maximum CBD, they've got you covered.
JustCBD Peach Ring Gummies Review
Flavor Description: If peach is more your flavor. Try our CBD peach rings take a bite of these perfectly peachy CBD rings.
CBD Strength Tested: 1,000mg Jar
Strength Of Each CBD Gummy: Approximately 21mg each Gummy
As mentioned in the start of this review, CBD gummies are rather popular for CBD users as they're just easy. Simply eat one, and reap on the benefits. When it comes to the JustCBD Gummies, specifically this Peach Rings flavor I'll go over the actual flavor accuracy, overall taste, and whether or not if it was effective.
So, when it comes to the actual flavor, you'd exactly know what it is as soon as you look at it or read the flavor name. It's a peach candy flavor, and tastes exactly as it should. There were no funny tastes, or anything off putting with the CBD gummies. It tasted pretty much as you'd expect any peach ring would taste, which is definitely a good thing. Sometimes in certain CBD products, you can taste the actual CBD, and you'll notice it as well since it has an earthy taste. I can safely say the taste on this was terrific, and easily earned five stars.
Moving onto to whether or not it actually helped me in what I'd need it for. Firstly, there's many reasons as to why someone may want to try out CBD, whether it's CBD Vape Juice, Gummies or anything else. I will say that mine specifically was the 1,000mg jar, and each single peach ring had roughly 21mg. That's slightly higher than the average gummy, as many do have either 5mg or 10mg. However, I will say in comparison to those, I was able to benefit from the CBD rather quickly. When it comes to the quality, I'd say it's top notch, and definitely well worth it. I was more than surprised by how fast I was able to feel relaxed with just a single gummy. Of course, this is subjective and can certainly vary between each person.
Something else worth mentioning is that they do have other strengths available ranging from 250mg all the way up to a 3,00mg jar. Also, you can choose between the different flavor options, and sizes. With each flavor, the CBD strength of each gummy will vary based on the specific flavor, and total jar strength. So, if you wanted a smaller dosage of CBD, say 5mg, the gummy bears would be ideal. However, if you wanted a larger amount of CBD per gummy, then these peach rings or sour worms would suit you best. Now, if you don't enjoy gummies, and prefer vape juice then definitely check out our JustCBD Blue Razz review.
All in all, the JustCBD Gummies are easily one of the best I've personally had the pleasure of trying. They work well, taste great, and are quite affordable. So, if you're looking for a great quality CBD gummy, then I'd highly recommend trying out what these guys have to offer. You can also check out our review video down below.
We hope you enjoyed our JustCBD Gummies Review. Let us know in the comments if you use currently use CBD or interested in trying it out. Also, let us know if CBD gummies are your perferred way of taking CBD. Thanks for reading!