Wotofo Ryujin Elder Dragon RDA Review | Unique Look & Design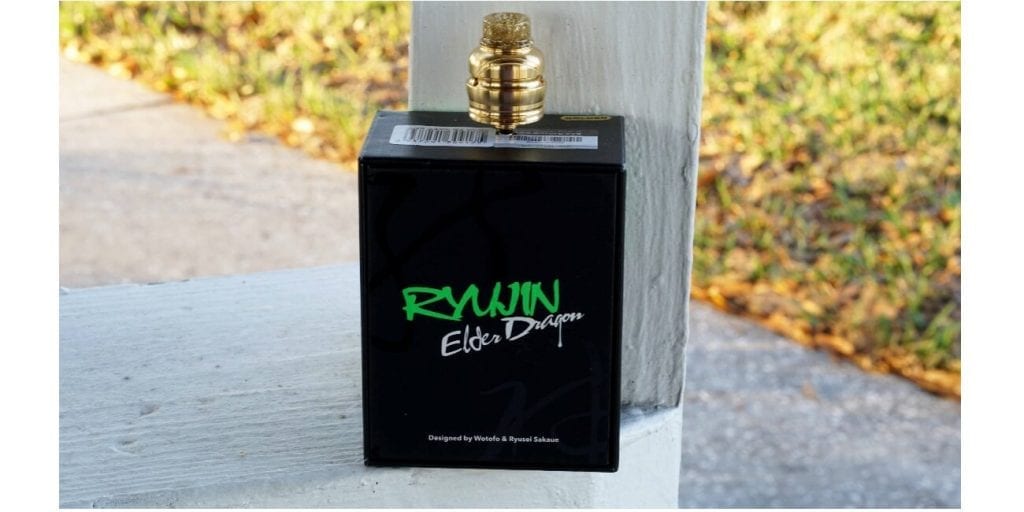 Smaller RDAs, especially 22mm have become more and more popular lately as they were a thing of the past only a few years ago with the rise of 24mm and 25mm atomizers. Wotofo has released a new product teaming up this time with YouTuber 阪上龍生. We'll cover everything you need to know about this new atty in our Wotofo Ryujin Elder Dragon RDA Review.
Wotofo Elder Dragon RDA Review
Elder Dragon RDA Features:
Wotofo Elder Dragon First Impressions
If you've seen some of our previous reviews or have bought recently released Wotofo products, then you know what to expect when it comes to their packaging. They have some of the best packaging and the same can be said with the Elder Dragon.

It comes in a large green and black box with the name slapped right on the front, and with specifications and what's included on the side. Like with all other Wotofo products, they include a ton of extras such as Cotton, Coils, extra drip tip, extra screws and o-rings, a 510 drip tip adapter and user manual. This is always a pro in our book!

I did receive the gold color, which does have a gold build deck as well. I know some vapers don't like the color gold, but I do like the finish. Thankfully it is available in multiple colors such as Black, Gunmetal, Blue, Rainbow and Stainless Steel.

The first thing you immediately notice about the Ryujin is the top cap design. It does feature a unique pagoda shaped top cap, and honestly, it's one that you either love or hate. I must say that the look did grow on me after some time and using it. I am glad they went a different direction though and created something unique.
Attached at the top is a matching resin 810 drip tip, which is proprietary. You cannot use just any 810 drip tip as it won't look nearly as good, and will probably have some overhang. A 510 drip tip is included though, so you can use those if preferred. I will say I didn't mind the included 810 drip tip as it did look good, and was very comfortable.

The deck is postless, but what stands out here is the airflow design. There's four airflow pipes that are directed to your coil (once installed), and these can be taken out to make the coil install easier and for cleaning purposes. The airflow is adjustable, and there is a locking design on the top cap, which is always a good thing as this makes it much easier to take off a mod.

The only issue I had with the top cap is that the designs were pretty sharp. They're not sharp enough to cut you, but it could be much smoother. You can see this design from the middle to the top portion of the cap.

Overall, I was quite impressed with the fit and finish, and was happy that they went a different direction when it came to the design both on the outside and inside.
How To Build & Wick Wotofo Elder Dragon
As mentioned previously, the Elder Dragon features a postless style deck with four individual post holes, similar to the Wotofo Serpent Elevate RTA and Recurve. However, there's not a ton of room for giant coils to fit in there and it can be quite a tight fit for some other exotic coil builds.

To make the coil installs easier, you can take out one of the airflow inlets, but I didn't find the need to do so. I managed to easily fit a single N90 Fused Clapton that had a diameter of 3mm. You do have to be very careful though as you don't want to the coil to touch anything, and it is a tight fit, but it can be done, especially if you're experienced with building. This was my preferred build and came in at 0.25 ohm.
Now when it comes to coil height, I like to lift the coil just a bit to that some of the air can travel underneath the coil. I found this to yield the best results when it comes to flavor. You can always mess with the coil height to find what works best for you.

Wicking is easy, simply cut your cotton long enough to that it touches the bottom of the build deck and gently stuff it into the wicking channel. If you're squonking with this, make sure you don't overstuff with too much cotton, you want to leave some room. Also, something I recommend, especially with coils like a Fused Clapton is to wick it just a bit tighter, which helps a bit with spitback.

Overall, building and wicking is quite easy, especially if you're experienced. I can see some new builders having trouble with installing a coil, but thankfully you can take the airflow block out, which does make it that much easier. Just take your time with this one and you'll get excellent results.
Wotofo Ryujin Elder Dragon RDA Performance
The Elder Dragon is designed around flavor, so how does it perform? Well, there's a few things to consider first such as the airflow design, how condensed the chamber is, even the drip tip. Let's start with the airflow.

The airflow design of the Elder Dragon is quite unique, but does make it a bit difficult to install coils. However, the air is aimed directly at your coil with four airflow holes in total. At first I thought it was going to be quite restrictive, but surprisingly there's a good amount of airflow and the draw is only slightly restricted.

It does sound like it wants to give a whistle noise, especially when taking slower drags, but it's not annoying or anything nor is it overly loud in my opinion. For me, the airflow is pretty much perfect wide open, especially with my preferred 0.25 ohm N90 Fused Clapton. It gave the perfect restriction, so it was a very enjoyable draw. The warmth was there too, and I was satisfied.

Now when you do close the airflow off a bit, it does become slightly more restrictive, but you do have to cut it about half way before you notice it. Honestly, I didn't notice much of a flavor difference when closing it or keeping it wide open, so I always vaped this RDA with the airflow open all the way. I will say the airflow is quite smooth as well, which is definitely a pro.
When it comes to flavor, the Elder Dragon shines. It does have some amazing flavor, and definitely better than some of the previous RDAs I've encountered recently. This isn't too surprising as it was built for flavor and just by looking at the design, you can tell the flavor is going to be great.

Moving onto squonking, which is how I primarily used the Ryujin. With any RDA you squonk with, you do have to learn exactly how much to squonk, and with this one, you can get leaking quite easily if you squonk too much. I found just one hard squonk and it was good to go. If you're new to this vape style, then you will for sure have a learning curve with this one, but if you've been squonking for some time, it may not be of an issue. You do have to be careful with this one as it can over-squonk quite easily. If you're new to squonking and looking for a good squonk device, then definitely check out our Best Squonk Mods.

All in all, when it comes down to performance, the Elder Dragon is great. The airflow is nice and smooth, and the flavor is stellar. I was more than happy with the performance of this RDA.
Elder Dragon Pros & Cons
Wotofo Elder Dragon Review Conclusion
In conclusion, the Wotofo Ryujin Elder Dragon RDA is an excellent performing RDA to flavor chase with. You get really good cloud production too, but it really shines when it comes to the flavor. As always, Wotofo includes a ton of extras, which is appreciated and the design is different, which does make it stand out above the rest. This one is so far one of the Best RDAs to come out recently, and I'm excited to see what's to come next from Wotofo.

However, there were some cons though such as the 810 drip tip being proprietary, the possibility of leaking, the lack of build space and the top cap design being quite sharp. The looks is completely subjective, it's either you're going to love it or simply hate it. It did grow on me as I used it, and was happy they went about the top cap and airflow differently.

If you're a flavor chaser who enjoys single coils and squonking, then I can highly recommend the Elder Dragon. It won't let you down when it comes to performance, but as mentioned previously, just be a bit careful when squonking.

We hope you enjoyed our Wotofo Ryujin Elder Dragon RDA review! Feel free to leave any questions or comments below! Thanks for reading!