JustCBD Blue Razz CBD Vape Juice Review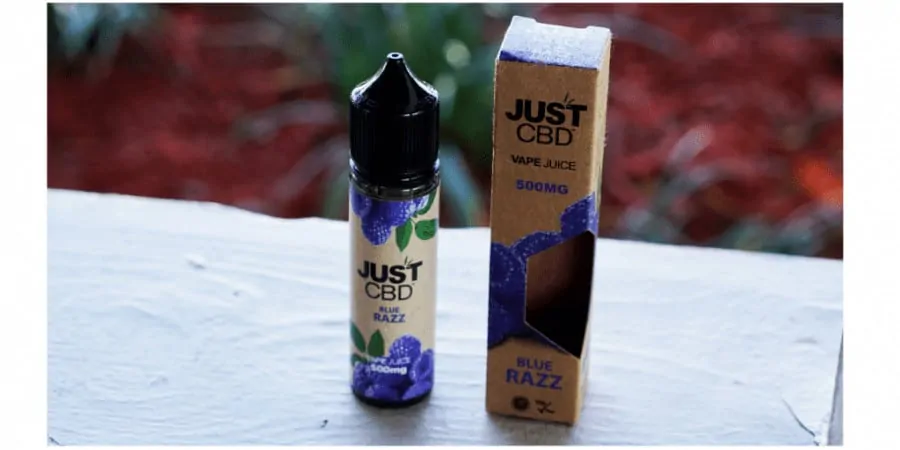 CBD Vape Juice has become increasingly popular over the past year or so, and while we've seen many be released, there's only a few that really provide the best value and taste. JustCBD aims at delivering a quality CBD vape at an affordable price point. They've also got a wide range of different flavors, but in this review, we're focused on one specifically, Blue Razz. With that being said, we'll give you our full thoughts, and opinion in our JustCBD Blue Razz CBD Vape Juice review.
JustCBD Blue Razz CBD Flavor Review
Flavor Description: Blue Razz

CBD Strength Tested: 500mg

Ingredients: USP grade (VG) vegetable glycerin, USP (PG) propylene glycol, natural and artificial flavoring, cannabinoids (CBD)
Overall Thoughts:
By reading the actual flavor name, you can expect what type of flavor this is, blue raspberry. Now, depending on the actual blend, it can taste either more natural, or a bit more on the candy side. I'd say for sure this CBD vape oil is much more on the candy side rather than being natural tasting. However, the blueberry notes do have a slight natural taste to it.
To start, there were two different vape setups used to test out this CBD flavor. Firstly, the Smok Mico Pod System with the 0.8 ohm mesh pod cartridge. Secondly, the Lost Vape Orion DNA Go with the 0.25 ohm coil pod cartridge.

With that being said, on both the inhale and exhale, you do get a wonderful blue raspberry taste. It's not too sweet, but sweet enough to satisfy a sweet tooth. There's not much sweetener, if any at all in this CBD vape juice. This can be a good or bad thing depending on your taste buds and what you enjoy. For me, it was just right when it comes to blue raspberry vapes. It's a pretty straightforward flavor too, which is a good thing for this type of e-liquid in my opinion.

Additionally, there was very little CBD taste while vaping on this e-liquid. I know there are some out there that will have a pretty heavy CBD taste, which for me, I don't like. So, you won't taste that earthy note when vaping on it. However, you do get very little CBD taste (the earthy taste) after you vape JustCBD Blue Razz. It's not very noticeable, but it does linger just a little after you take a vape. It wasn't to the point where I wasn't enjoying this flavor though, that's for sure. So, when it comes to the actual flavor, I definitely enjoyed it. The flavor description was completely accurate, and tasted as it should.

When it comes to the strength, I did get 500mg. This is slightly on the higher side, but they do also offer 100mg, 250mg, and 1,000mg. That's definitely a huge pro for this brand as it covers all the bases, and there's a strength for everyone. Whether you need a higher strength, or you're new and want a lower strength, they've got you covered. In addition, depending on your personal needs will determine what type of strength you'd desire. Personally, 500mg was perfect, and felt relaxed with just a few vapes. In regards to quality, JustCBD nails it. I was actually surprised by how great the quality was.

All in all, JustCBD Blue Razz CBD Vape Juice is stellar. It provides the satisfaction a vaper would want from their CBD plus it tastes good. If you're a fan of blue raspberry flavors, and in the market for some new CBD vape juice, I'd definitely recommend giving them a shot. You can also check out our video review down below as well to see our thoughts.
Overall rating : 4.75 / 5
Let me know in the comments whether or not you use CBD, and what type of CBD flavors you enjoy most. Thanks for reading our JustCBD Blue Razz CBD Vape Juice Review!