Smok Mico Pod System + Free Pods $5.99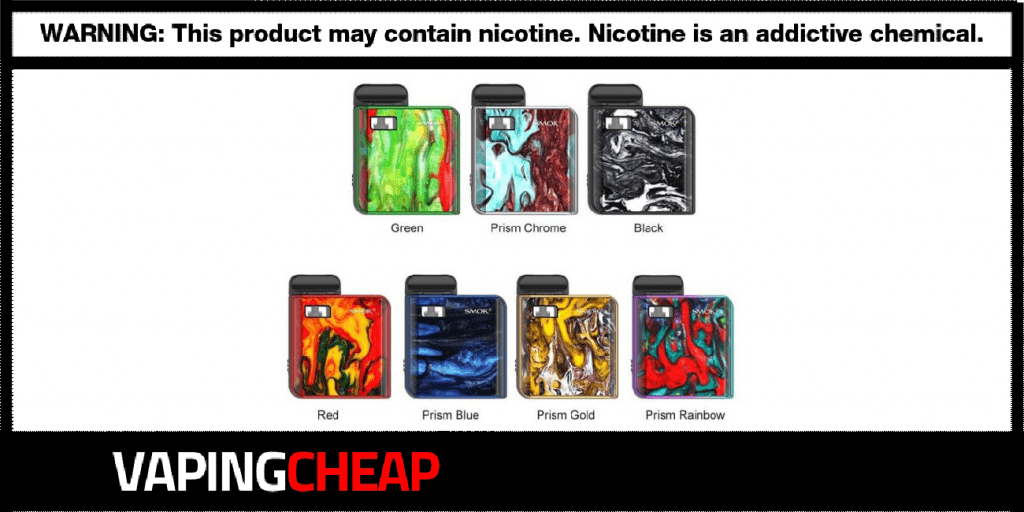 For a limited time only, buy the popular Smok Mico Pod System plus get a FREE pack of replacement cartridges for just $5.99 with coupon "MicoK". It's also on sale from a USA based store for only $10.99. There are many color options available for you to choose from.
The new Smok Mico Pod System has a built in 700mAh battery, that can be charged using a USB cable. In addition, this device has a maximum wattage output of 26w and a maximum voltage output of 4.0v. This pod system is primarily constructed out of zinc alloy and has a resin pattern, certainly making it eye appealing.
The new Smok Mico Pod kit has a maximum e-juice capacity of 1.7ml and includes 2 refillable pods. One of these pods uses a mesh coil system and the other uses a regular kanthal wire. The mesh pod has a resistance of 0.8 ohm and the other has a 1.0 ohm resistance. Lastly, there is a switch on the side to turn it on and off, making it perfect for on the go, and one of the best pod vapes for a lot of vapers.
All in all, this is a solid deal for the new Smok Mico Pod System Kit! If you are searching for a new inexpensive pod system that includes 2 refillable pods, then this is a deal for you! The flavor from these mesh pods are second to none and great for restricted direct lung vaping. It's something that a newer vaper can easily use as a vape to quit smoking.
Mico Device Features:
Internal 700mAh battery (Smok Mico Pod Mod)
Maximum wattage output: 26w
Maximum e-juice capacity: 1.7ml
​Refillable Pod Cartridges

1 x 0.8 ohm mesh coil pod
1 x 1.0 ohm kanthal coil pod

Toggle switch on the side
LED battery indicator light
Multiple Safety Features
Mico Kit Includes

Operation Instructions
1 x MICO Pod Device
lx MICO Pod (0.80 mesh coil) (1.7mI) (No a-liquid) * lx MICO pod (1.00 regular coil) (1.7mI) (No a-liquid)
1 x Lanyard
lx USB Cable
lx User Manual
Specifications
Material: Zinc Alloy . Size: 56.3mm x 46.5mm x 14.8mm
Weight: big
@ Batted Capacity: '​7oomAh @ Output Power; 10W-26W . Input Voltage: 3.3V..4.2V
@ Output Voltage: 3.OV..4.OV
@ Standby Current: <20uA (No Ioad)/<100uA (Load) . Charger Output: DC TV area
Charging Voltage: TV
Charging Current: 0.50|0.05A
Resistance Range: 0.60-2.00
E-liquid Capacity: 1.7mI
Check Out This Smok Mico Review