Fuggin EJuice Popped Cherry Review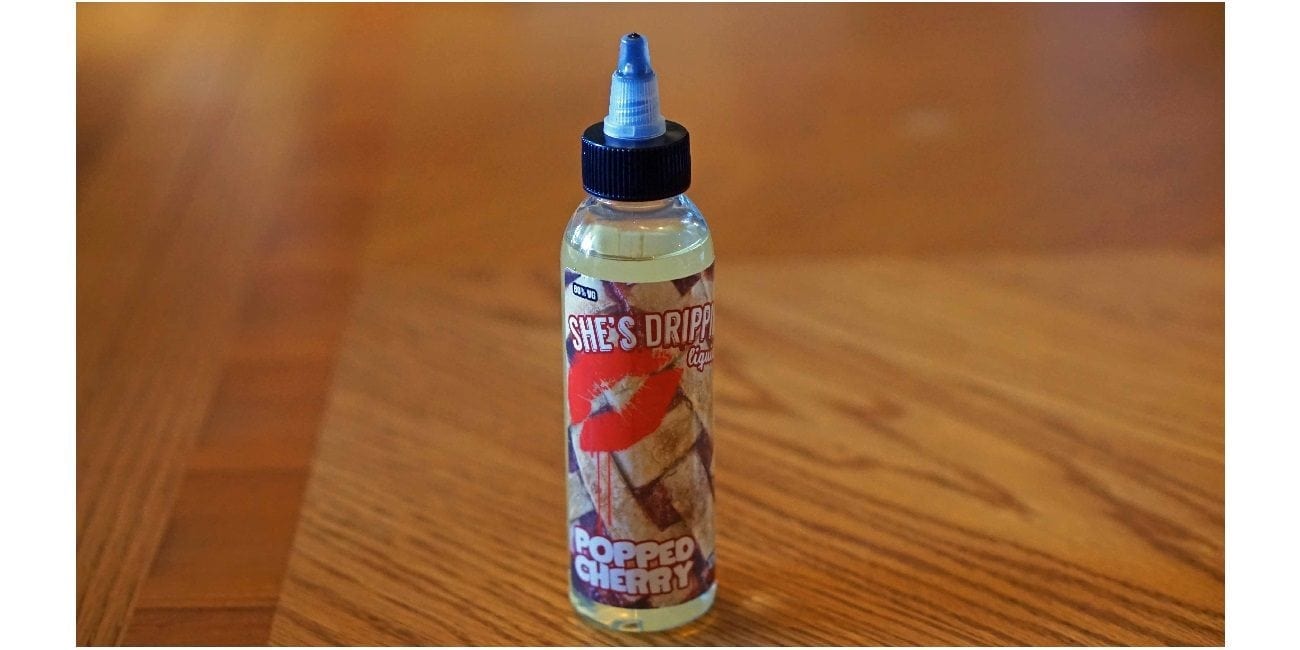 Fuggin EJuice Popped Cherry Review
In this vape review, we'll be taking a look at Fuggin's newest flavor, Popped Cherry! This is the newest flavor in their She's Drippin Liquids line, which currently has a total of three different flavors. This one specifically is taking on one of the hardest flavors to nail down which is cherry. Like all other Fuggin Liquids, Popped Cherry does have a VG/PG ratio of 80VG/20PG, so it'll vape great in both sub ohm tanks and drippers. Not to mention, it's offered up to 18mg nicotine strength, and comes in a large 120ml bottle.
Before getting any further into this e-liquid review, we'd like to thank Fuggin Vapor for sending this ejuice our way for the purposes of this review. We'll cover our overall thoughts on Fuggin E-Juice Popped Cherry and conclude with whether or not we recommend it! Remember, taste is subjective so what we may like you may not like and what you like we may not like. Next, we will go over the specific atomizers and mods used to test this vape juice.
Mods & Atomizers
First Setup
Eleaf iStick Pico 21700 with Kaees Aladdin RDA
Build: Single Fused Clapton
Resistance: 0.47 ohm
Second Setup
Lost Vape Paranormal DNA166 with GeekVape Ammit Dual RTA
Build: Dual Fused Clapton
Resistance: 0.21 ohm
Flavor Review
Flavor Description: A sweet cherry and cheese swirl on top of a flaky pastry danish that all comes together to make this delicious creation come to life.
Nicotine Strength: 3mg
VG/PG Ratio: 80VG/20PG
Inhale: Slightly sweet cherry
Exhale: Slightly sweet cherry with background notes of pastry and "cheese swirl"
Throat Hit: Very Smooth
Overall Thoughts
Like mentioned earlier, Popped Cherry by Fuggin EJuice is taking on one of the most difficult flavors to nail down, which is cherry. Most cherry flavors do come off either tasting like medicine or just overpowering. I'm happy to say this one doesn't fall into either category, and I'm certainly impressed with this one by Fuggin.
With that being said, on the inhale, you get a slightly sweet cherry flavor. On the exhale, you get the same cherry note, but with background notes of a flaky pasty and "cheese swirl". It literally tastes exactly like the dessert, and it's absolutely delicious. I will say that the cherry flavor is the most dominant throughout the entire vape, but it's done right. It is a bit on the sweet side, but not overly sweet by any means. I do think it's sweet enough to satisfy any sweet tooth, and just enough to mimic the actual dessert.
This is by far one of the best cherry vapes I've had and this is an e-liquid I can easily vape all day. The throat hit is silky smooth like all other ejuices from Fuggin and the vapor production is pretty much as you'd expect with an 80VG/20PG blend.
All in all, I'm very impressed by this flavor, and it shows that a cherry vape can be really good if done right. If you're a fan of dessert flavored e-liquids or simply looking for a good cherry e-juice, then I definitely recommend picking up a bottle of Fuggin EJuice Popped Cherry.
We hope this review helps you find your next all day vape! Feel free to leave any questions or comments below! Thanks for reading!