Vandy Vape Mesh RDA Review: For a Warm and Flavorful Vaping Experience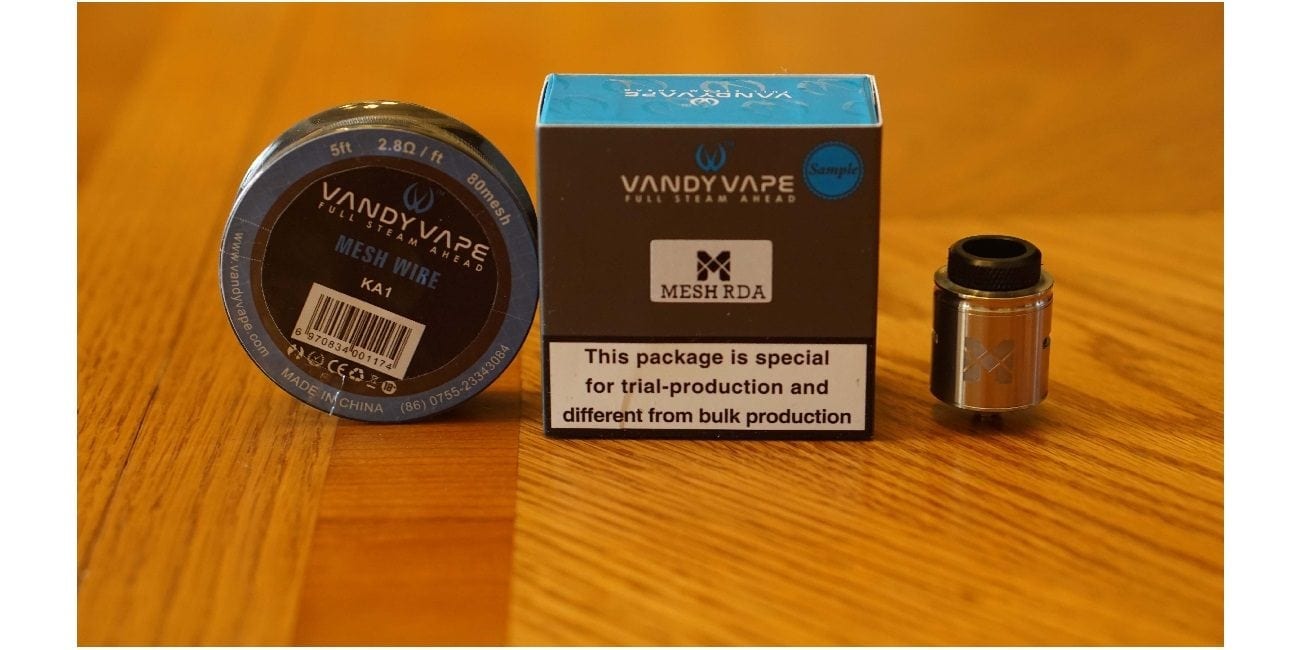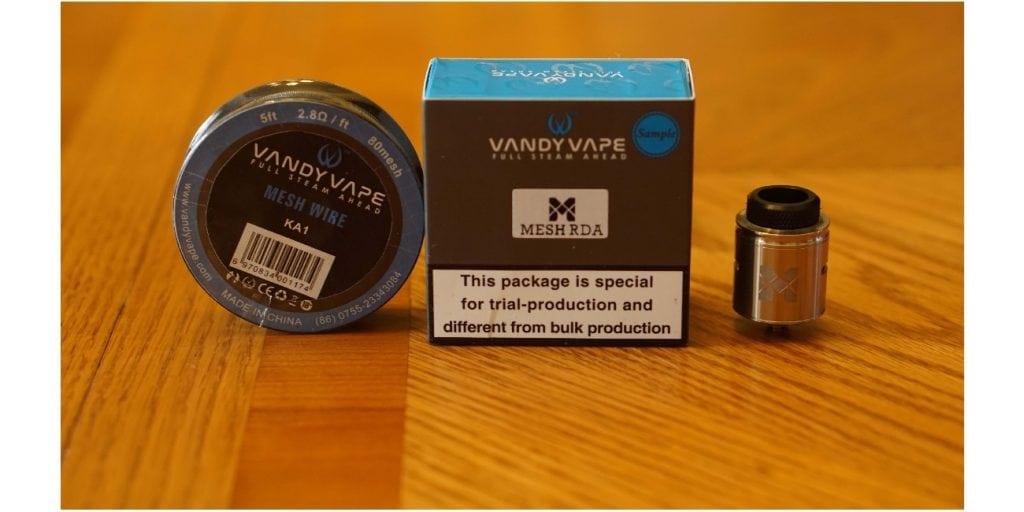 If you've read our previous reviews, you know we've been quite impressed with what Vandy Vape releases especially the Gvoad RTA and Pulse 24 RDA. Now they're back with their newest addition, the Mesh RDA. Mesh wire has been seeing somewhat of a comeback recently, and while most vapers use traditional coils, it's great to see something different for a change. Even though this is true, what's great about this atomizer is that you can use either Mesh Wire or your traditional coils!
Before getting any further, we'd like to thank Vandy Vape for sending this RDA our way for the purposes of this review. We'll go over our first impressions, building and wicking, performance, pros and cons, and conclude with whether or not we recommend it!
Vandy Vape Mesh RDA Review
First Impressions
The Vandy Vape Mesh RDA comes in a familiar packaging that we've come to know from Vandy Vape, and this is not a bad thing. It's simplistic yet gives you all of the important information that you need to know simply by looking at it. Do keep in mind that this is the sample packaging, but I'm sure the retail packaging will be quite similar.
What's included in the packaging is the Mesh RDA, a pre-installed Ultem 810 drip tip, an additional Doc 810 Drip Tip, an accessory bag which includes all of your spare parts plus a squonk 510 pin, 510 drip tip adapter, and 3 different packs of pre-cut mesh wire (Kanthal, Ni80, SS316L). Definitely, a huge pro that they give you all of these extras, and I do love to see when companies do this as it certainly adds to the overall value.
What I found different is the included Doc drip tip. We've been seeing this style of drip tip quite often now on social media and on some other atomizers. I did like the look of it right away and installed it onto the Mesh RDA. Even if you didn't like either drip tip, you can use your preferred 510 or 810 drip tip! In addition, it's great that they give you multiple mesh wire, so you can see which you like the best. They did send along a spool of Kanthal mesh wire, but this is a separate purchase.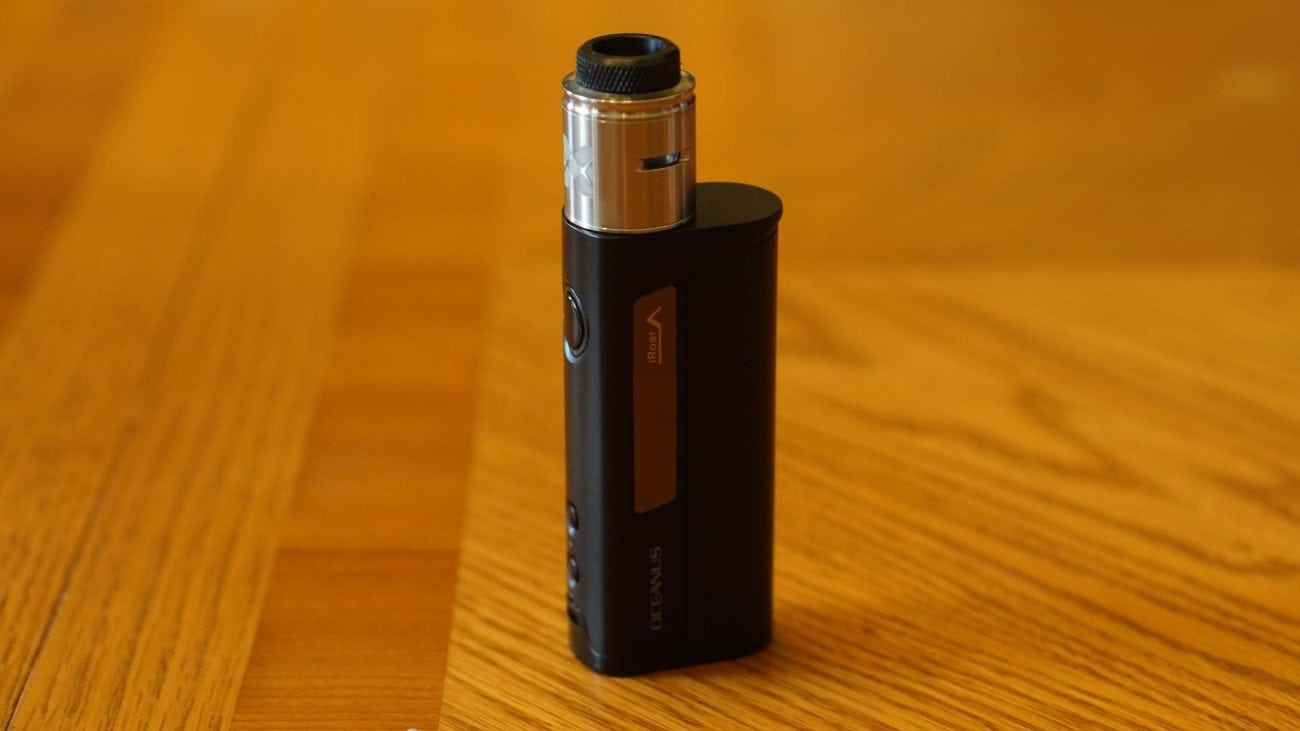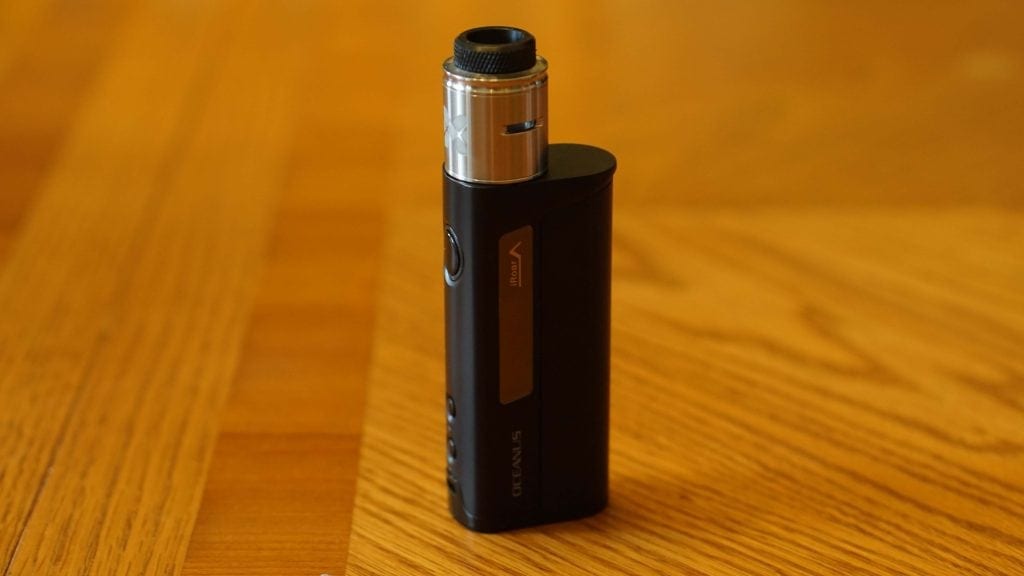 When first taking a look at the Vandy Vape Mesh RDA up close, I thought it was a good looking atomizer for sure. The overall design is sleek and it does have somewhat of a short profile especially with the Doc drip tip installed, making it look even better in my opinion. The airflow is slightly angled in the corners in a way that reminds me of the iCon RDA or CSMNT RDA. I do like this style of airflow, as I found it gives pretty good flavor. The top cap is also domed which would help in the flavor department.
The build quality of this RDA is excellent and is what we've come to expect with Vandy Vape, which is yet again another pro. In addition, this atomizer came clean with no scent of machine oil, so one wash with warm water and this RDA was good to go!
All in all, my first impressions of the Vandy Vape Mesh RDA was positive! I didn't find any cons whatsoever in my first impressions.
Building & Wicking
The Mesh RDA features a pretty unique build deck and I haven't really seen any other atomizer with this style of a deck. It has a postless clamp styled build deck, so it brings the best of both worlds. Many people love postless build decks, because of how easy it is to install your coils and the same can be said with clamp styled decks. It's great to see this RDA implement both, and I'm sure we'll probably see it in future atomizers in my opinion.
Now building on the Mesh RDA is incredibly easy, just be sure whatever coil you're installing whether it be Mesh or traditional coils, pre-clip the leads just like with any other postless deck. With a Mesh build, I do recommend first installing one side then fold it over onto the other post hole. This makes the process much easier in my opinion in comparison to trying and install and tightening down both at the same time. With traditional coils, simply install them like you would with any other postless deck and you're good to go.
Also, when installing coils, be sure to have them sit a little higher. This will allow the airflow to travel underneath your coils then up, which will ensure better flavor. You can easily fit larger coil builds as well with no issues such as Fused Claptons, Staggered Fused Claptons, Aliens and more.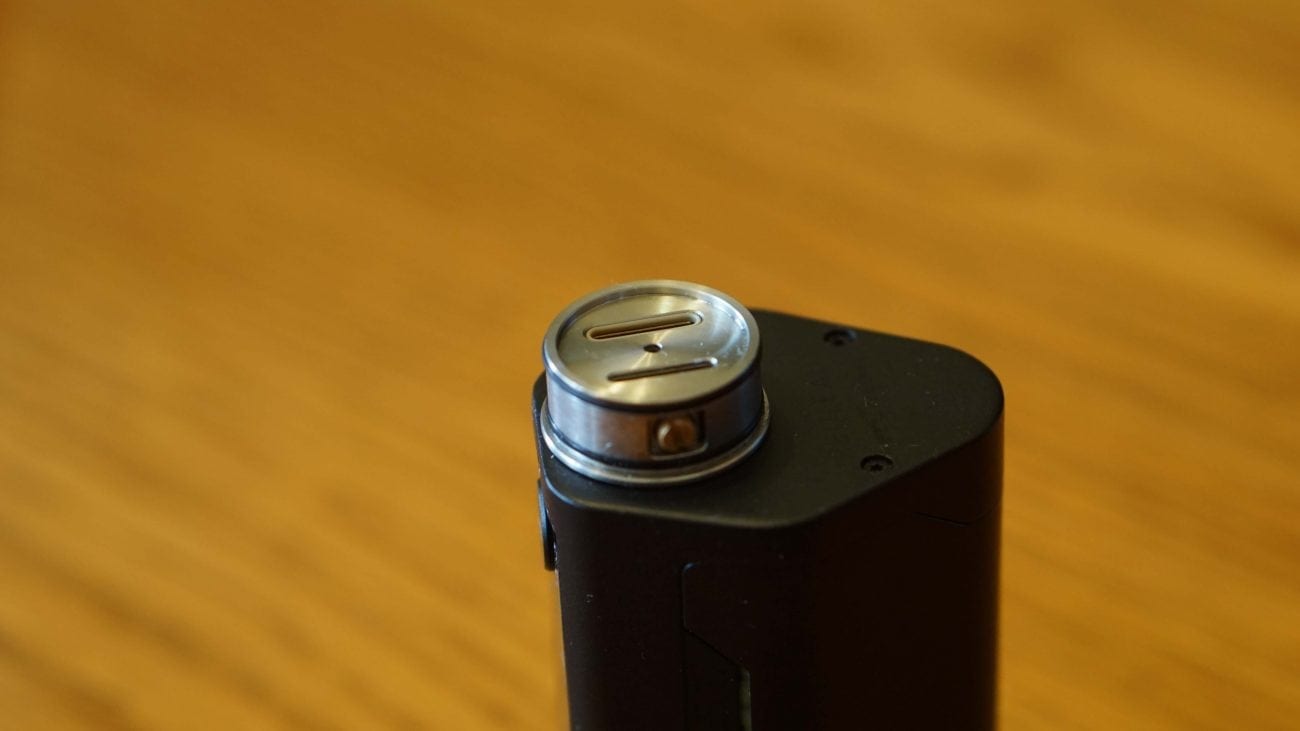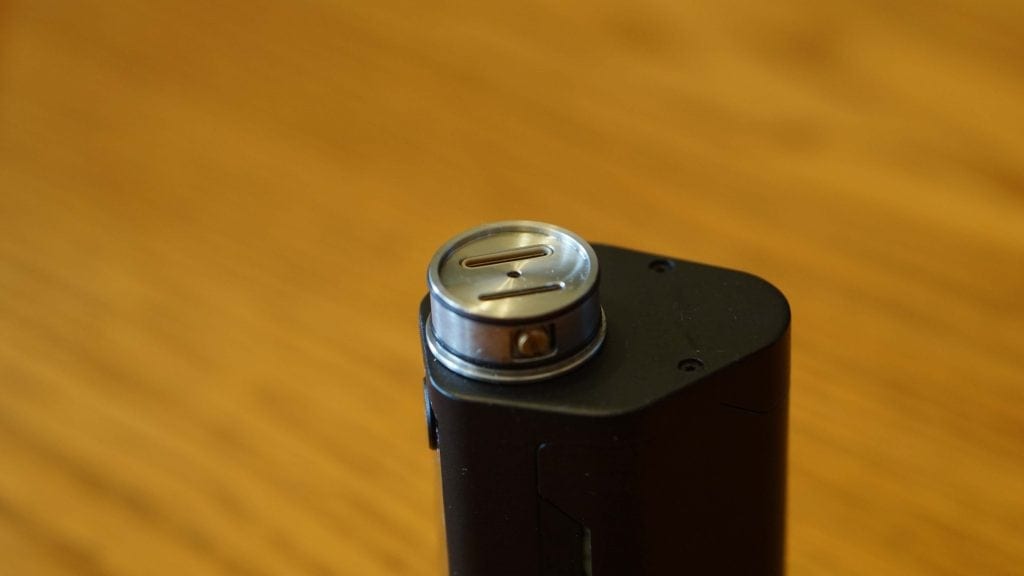 What you'll notice with the Vandy Vape Mesh RDA is that it doesn't have that deep of a juice well at all, and this is definitely a con to be mentioned. This leads me to wicking, whether you're wicking traditional coils or a Mesh build, simply cut your cotton to the edge of the build deck. You can have a little more cotton with a normal coil build, but not too much since you don't want to block the airflow holes.
With a Mesh build, you want to make sure you have a lot of cotton installed. Just make sure that the entire center is covered with cotton, or you run the risk of having a dry hit, which you want to really avoid with mesh wire, as a dry or burnt hit is way worse in comparison to a standard coil build. Wicking a mesh build may take some time to get used to, but it's not too bad and you'll get the hang of it rather quickly.
Overall, building and wicking the Mesh RDA is pretty straightforward and easy. Like mentioned previously, wicking a mesh build might take some time to get used to, but the learning curve isn't steep by any means.
Performance
Now the biggest question of this review is how does the Vandy Vape Mesh RDA perform? I'll first cover a mesh coil build. I did install a few different mesh builds to get the hang of it and see which type I like best whether it be Kanthal, Ni80 or SS316L. To answer this simply, I do like the SS316L mesh wire the best since you can vape it in temperature control mode, and it negates the issue of running into a dry hit.
With Mesh, you want to make sure that the cotton and coil is completely saturated, and while it does hold a fair amount of e-liquid due to the surface area and the amount of cotton, you really want to avoid a dry hit so you're going to be wanting to drip often. Now you can get a decent amount of vaping time before needing to drip again, but I found myself dripping every 4 vapes or so. This would also depend on the wattage your vaping and the diameter of the mesh build (which determines the amount of cotton).
What's great is that you can drip right down through the drip tip and it'll go where it needs to, but do be careful since the juice well is not that deep. When you install your top cap it does create somewhat of a juice well, but if you over drip and tilt the RDA, it will leak out the sides.
With that being said, the flavor from mesh wire is a bit different than what you're used to with traditional coils. It's honestly hard to explain it if you haven't tried it, but the best I can explain it is that it's a bit more crisp and lighter tasting. The flavor and vapor production is good with mesh wire, but I found myself wanting to go back to a normal coil build, which is what I'll cover next.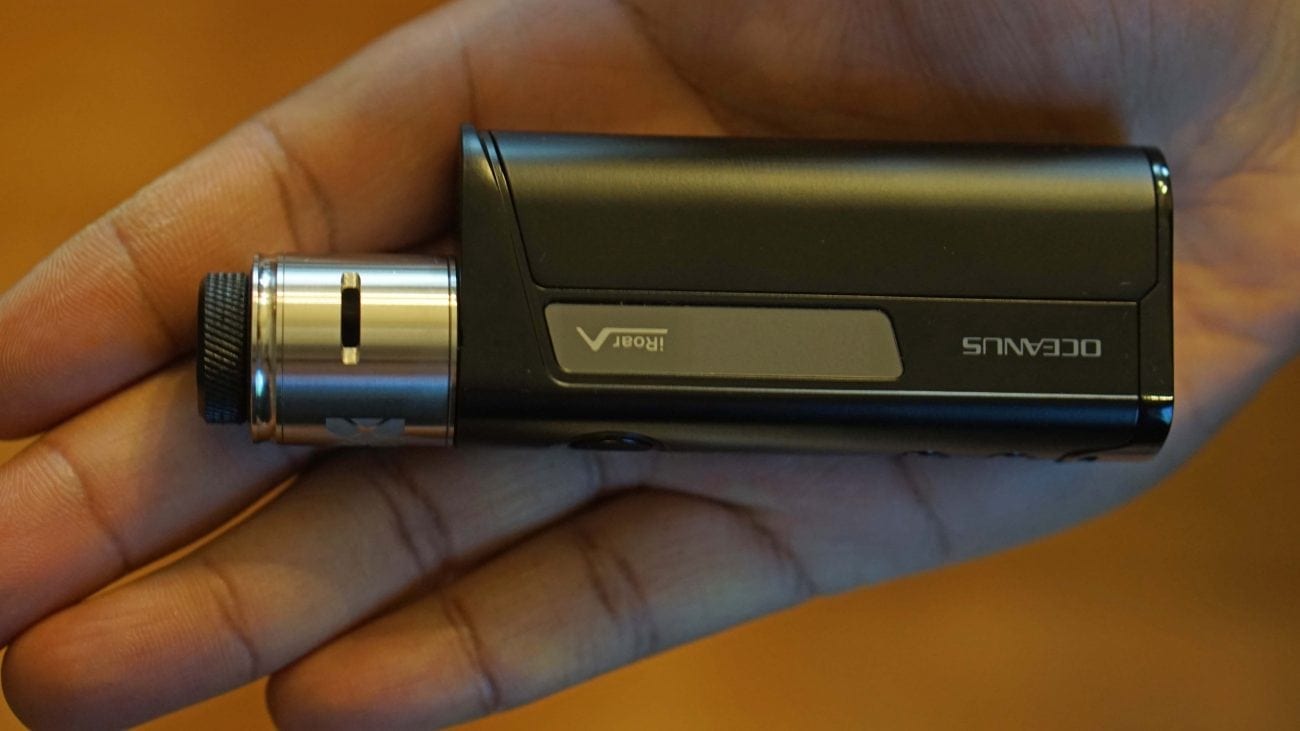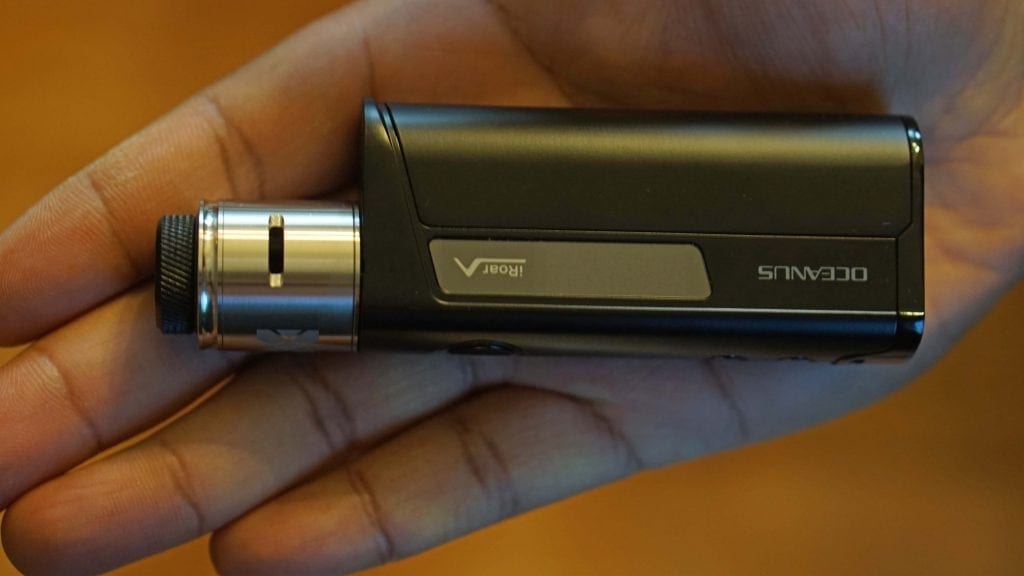 My preferred coil build for the Vandy Vape Mesh RDA was a dual Fused Clapton, which had a resistance of around 0.18 ohm. You can see my preferred build in my first impressions video. I would vape this coil build between 65w and 85w. With this coil build and wattage setting, I would get a warm and flavorful vape experience.
The flavor is actually a bit better than what I'd expected, especially after optimizing my coil build. One con to be mentioned though is that the bottom o-ring on mine was a bit too tight where I sometimes struggled to get the top cap off. Not the biggest issue, but it's worth mentioning for sure.
The airflow is incredibly smooth, which is a huge pro for me. With the airflow wide open, it is quite airy, so I preferred to close off the airflow about one quarter and this provided me with a bit more restriction and did increase the flavor as well. With standard coils like this, you can also drip down the center of the drip tip since your coils will be right underneath. Also, it's worth noting this RDA does come with a squonk pin, so if you hate dripping so often, simply attach it to a squonk mod and you're good to go! Just like with dripping though, try not to over-squonk as this can potentially lead to leaking.
All in all, the performance of the Vandy Vape Mesh RDA was great! Even though the juice well is pretty shallow, you can drip down the center of the drip tip or simply use the included bottom-feeding 510 pin.
Pros
Excellent build quality
Can install both mesh wire and traditional coil builds
Great flavor
Smooth airflow
Tons of extras included
Cons
Shallow juice well
O-rings could be a little better
Product Features:
24mm Diameter
Stainless Steel Construction
Postless Clamp Styled Build Deck
Adjustable Side Airflow
Compatible with Mesh wire builds & Traditional coil builds
Includes Doc & Ultem 810 Drip Tips & 510 Drip Tip Adapter
Squonk 510 Pin Included
3x KA1 Mesh Wire, 3x Ni80 Mesh Wire & 3x SS316L Mesh Wire Included
Colors Available: Black & Stainless Steel
Conclusion
In conclusion, the Vandy Vape Mesh RDA is an incredibly versatile atomizer that allows you to install both traditional coil builds and mesh wire builds. The airflow is silky smooth, and the flavor was surprisingly good. In addition, you get a ton of extras such as a squonk 510 pin, Doc 810 drip tip, 510 drip tip adapter, multiple mesh wire, and more!
The major con to this RDA was the shallow juice well, and I can see this as a big issue for some vapers. Personally, it wasn't a big deal for me since I could easily drip e-liquid right down through the center of the drip tip or use the included squonk pin. I do wish the juice well was deeper, but due to how this RDA was designed, I could see why the juice well is as such.
All in all, the Mesh RDA is a solid performing atomizer, and with its unique build deck, it makes coil installs a breeze. If you're interested in trying out mesh wire, I do recommend giving this RDA a shot! Even if you end up not liking how mesh wire performs, you can still install your traditional coils such as Claptons and round wire, which is the beauty of the Mesh RDA.
I hope this review helps you with choosing the best atomizer to fit your vaping needs! If you have any questions or comments, feel free to leave them down below! Thanks for reading!