Hana Modz DNA40 Clone Review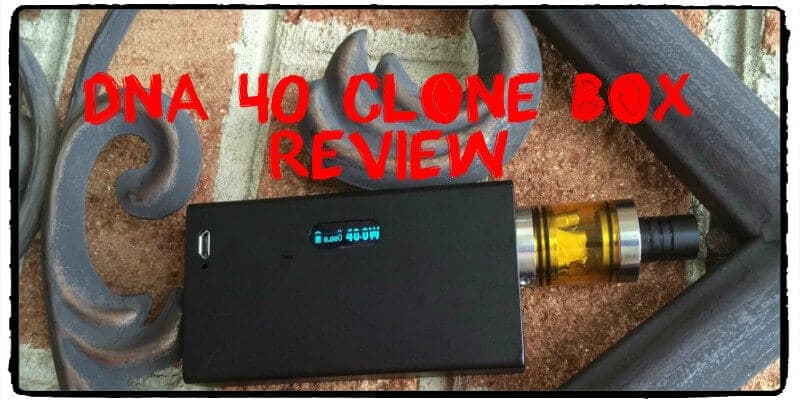 Temperature protection is all the rage these days. Evolv pioneered the movement with their DNA 40 board and Yihi quickly responded with a temperature protected version of their venerable SX350 Mini board, the SX350J. I'll not be discussing the underlying fundamentals of temperature limiting in this review, only how the subject of this review performs relative to temperature protection. For some excellent reading on temperature protection, please do yourself a favor and hit up the temperature limiting device reviews by Nicole Lea. I see no reason to cover the same ground (nor do I think I could cover that ground nearly as well).
The subject of this review is a DNA40 clone box mod, styled after the Hana Modz Pack V3. I'll refrain from referring to this device as a Hana Modz clone as it bears no markings or logos.
The DNA 40 clone box mod used for this review was provided by Electhinker. It is referred to as the "MODZ Pack D-NA 40 Mod" on their site and is available in green, silver, blue, black, and red.
Where to buy the Hana Modz DNA40 Clone:
The Packaging and Included Stuff
The DNA 40 clone box mod arrives in packaging reminiscent of the packaging provided by Hana Modz with their authentic devices. Included in the box are the device itself, an instruction manual, USB charging cable, screwdriver, and a length of wire. I'm not sure of the composition of the wire or the gauge. I opted not to use it.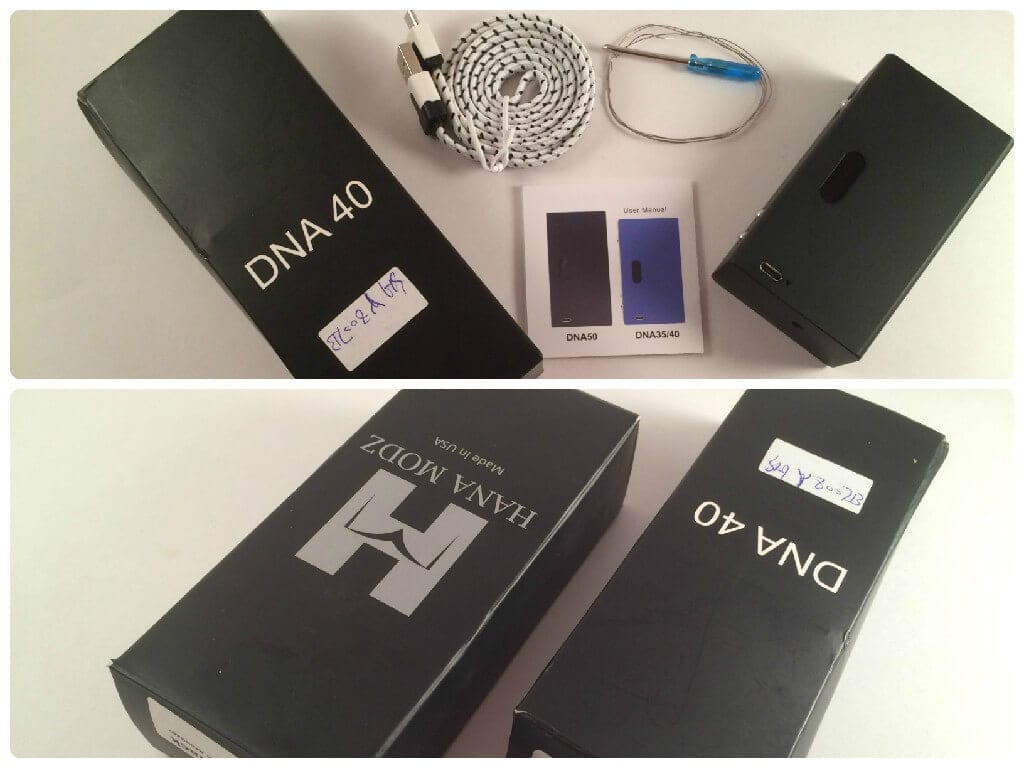 MODZ Pack D-NA 40 Mod Specifications:
Power output: 1-40Watts
Temperature range: 200-600 °F
Standard resistance: 0.16-3.3ohm
Temperature protection resistance: 0.1-1.0ohm
Input voltage: 3.1-4.3v
Output voltage: 1.0-11.5v
Single 18650 battery
Size: 88*50*25mm
Features
Temperature protection technology using Ni200 wire
Integrated USB charging
OLED screen
Single 18650 battery
Aluminum construction
Build Quality
The MODZ Pack D-NA 40 is very nicely built. The aluminum enclosure is sturdy and the finish is uniform with no apparent blemishes. The screen, micro USB port, charge indicator, and buttons are all aligned properly and well secured. The buttons exhibit a nice click and no button rattle is present. The 510 seems to be spring loaded – it's definitely not fixed but also doesn't have a lot of movement. The three atomizers I used with the device sat flush.
The internals are very nicely done. The battery sled battery connections appear to be well soldered and the board is installed without the seemingly ever-present hot glue disaster of previous China produced Hana type clones. As a matter of fact, the board installation appears to be very tidy under the blue translucent cover. My only real gripe? The battery sled has a tendency to catch battery wrappers. So, if you buy one of these, be careful removing your battery.
All things considered, the MODZ Pack DNA 40 is very well constructed.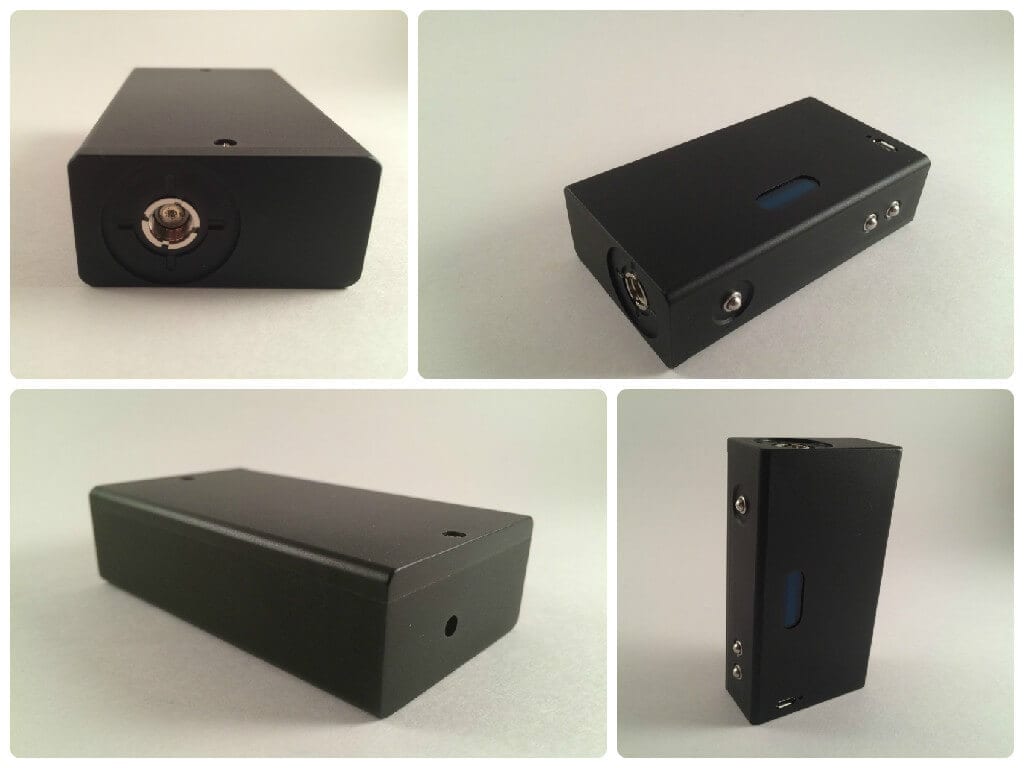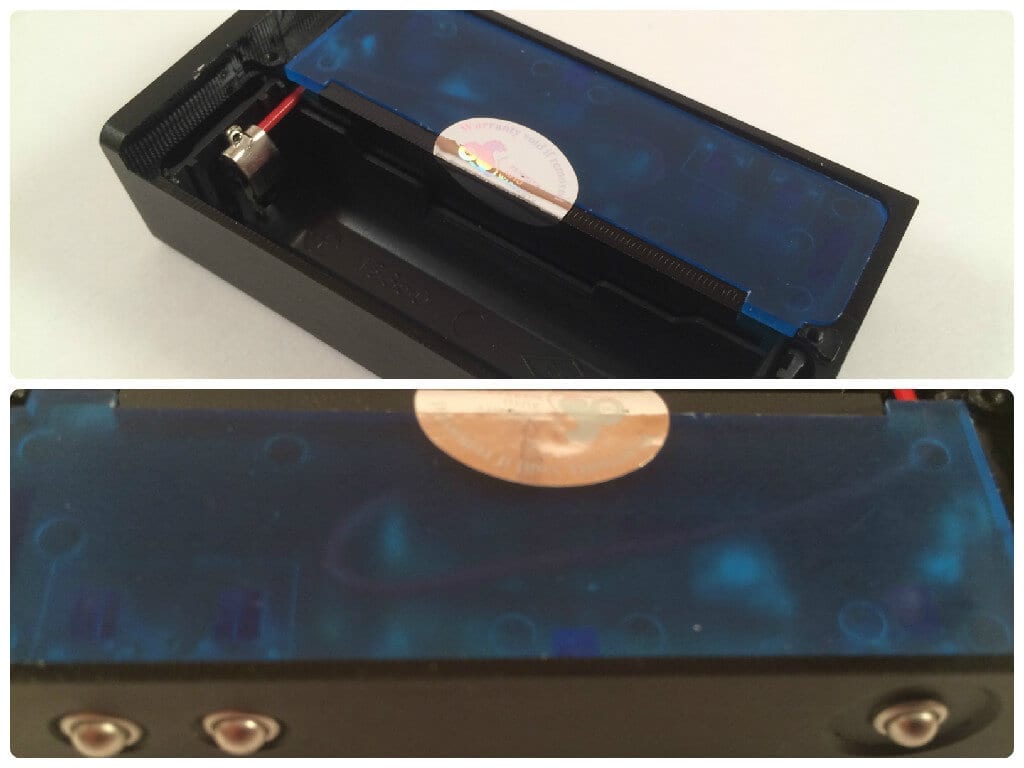 Performance and Usage
Okay, let's start with an admission – I'm pretty much a temperature protection newbie. When I was asked to review this device, I had no prior experience with temperature limiting devices. So, I did what came naturally – used this as an excuse to buy an authentic Hana Modz DNA 40 V4d. I didn't feel like I could give the MODZ Pack D-NA 40 a fair shake without first knowing how a real Evolv DNA40 board behaves. To that end, I bought the Hana and used it for a week or so before breaking out the DNA 40 clone box.  I'm still far from being a subject matter expert but I do think I've learned enough from using both devices to at least comparatively evaluate the MODZ Pack DNA40.
Let's start with the temperature protection mode – as it is the defining feature. Again, let it be known that I'm a bit of a neophyte relative to temperature limiting devices. With that said, I'll only compare the MODZ Pack D-NA 40 against my authentic Hana Modz V4d in terms of performance.
I primarily used my Arra Mods Lancia for testing. I built the Lancia with tempered 30ga Ni200; single coil, 8 spaced wraps at 3mm resulting in 0.15Ω resistance, according to my USA Ohmeters resistance meter. The MODZ Pack D-NA 40 read this coil at 0.16Ω as did my authentic Hana. The meter readings and MODZ Pack D-NA 40 readings are shown below. Pretty close for a baseline.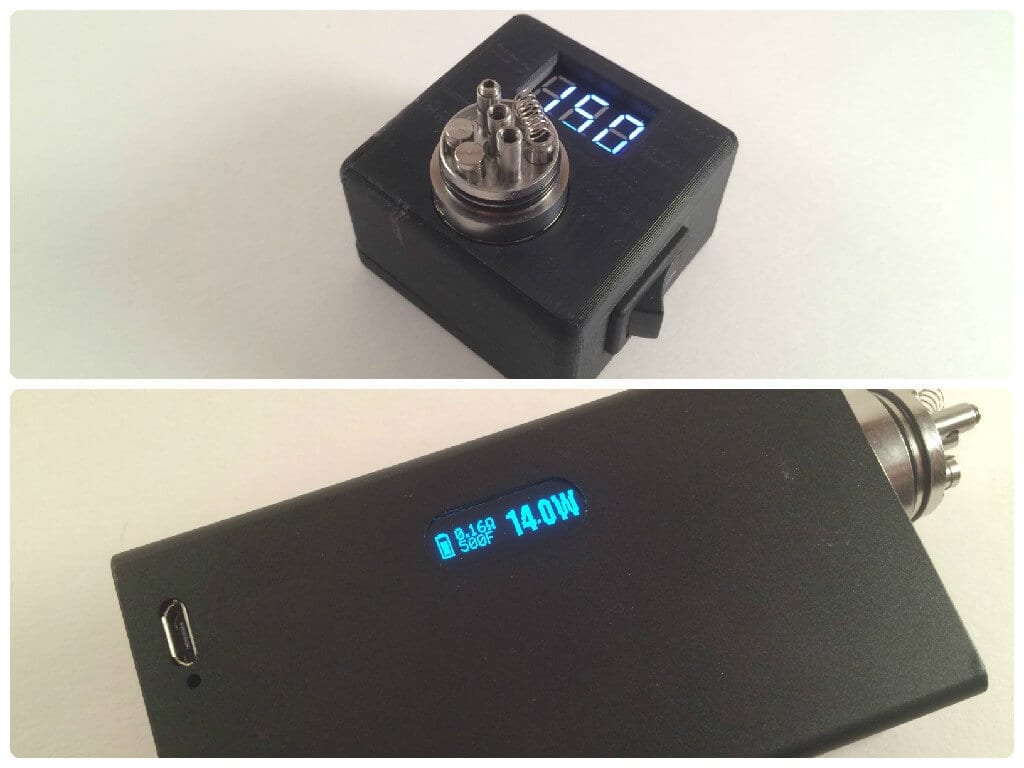 This is where the similarities between the MODZ Pack D-NA 40's board and the genuine Evolv board end.
I used the same atomizer with the same Ni200 build to compare the clone and authentic, with time between switching mods to allow for each device and atomizer to achieve ambient temperatures. I have no instrumented data to offer, only my subjective observations.
Let's cut to the chase – the MODZ Pack D-NA 40 does not have a 1:1 clone of the Evolv DNA 40 board. Temperature protection, when compared to the real deal, is erratic. At any temperature settings below the maximum 600F, temperature protection kicks in all too often. Even at the maximum temperature setting with a fairly airy Lancia build, the MODZ Pack D-NA 40 hits temperature protection after only a few times vaping the Lancia. In contrast, the authentic Hana never hit temperature protection using the same Lancia build with temperature set to 450F. Both mods were set to run at 20W.
Here is the silver lining, I guess – I put a fresh, dry cotton wick in the Lancia and fired the MODZ Pack D-NA 40 with a setting of 40W and 600F. Temperature protection kicked instantly and protected the wick. So, it's hard for me to believe the MODZ Pack D-NA 40 will ever burn the wick, even if the temperature/resistance calibration appears to not be very accurate. I'm not sure who made the board in the MODZ Pack D-NA 40 but it's not terribly accurate when reading resistances for the purpose of limiting temperature. It will, however, likely not produce a burnt wick or dry hit. When I fire the authentic Evolv DNA 40 an observable wattage variance is seen on the display; not so much with the DNA 40 clone box. As a result, and without testing gear, it is difficult to tell exactly how the  MODZ Pack D-NA 40 is limiting temperature.
How does it run as a convential VW 40W box mod with Kanthal builds? Okay, I suppose. It seems to step down voltage well but for some curious reason, still prompts for new/same coil as it does for Ni200 coil builds. Apart from that slight annoyance, it does vape very well with conventional Kanthal builds.
Here is a quick run down of how to operate the MODZ Pack D-NA 40, which is pretty much the same as the authentic Evolve DNA 40:
Five clicks of the fire button locks the device, five clicks to unlock.
When locked, press the up and down buttons simultaneously for five seconds to allow adjusting of the temperature; use the up or down buttons to set the desired temperature. Press the up button in this mode all the way to 600F and then one click past to enter "normal" VW mod.
When unlocked, press the up or down buttons to adjust wattage.
When unlocked, press the up and down buttons simultaneously to lock the power setting.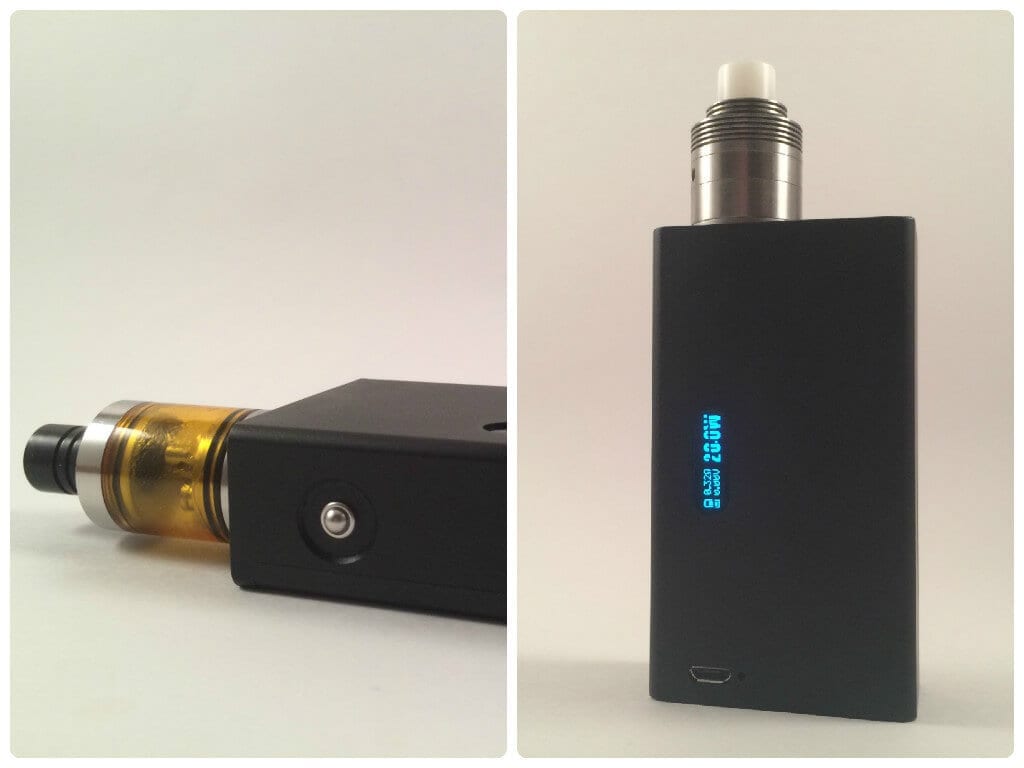 The onboard USB charging works well. I'm not sure of the charging rate, but I'm guessing it is 500mAH. I only put the unit on the charge cable a few times. But, it seemed to charge with no problem.
Conclusion
Again, let's be clear – I'm no temperature control expert. But, what I have learned over the first few weeks of using this technology is that the MODZ Pack D-NA 40 is most certainly not rocking a 1:1 clone board of the authentic Evolv DNA 40. While it does seem to prevent dry or burnt hits, the performance isn't exactly predictable, nor is it properly calibrated, at least when compared to an authentic Evolv DNA 40 device.
I'm still a little perplexed as to why it prompts for a new/same coil when not in temperature protection mode. It does vape very well in this mode though after responding to its curious queries.
Build quality is actually quite good. The device is comfortable to hold and use and imparts a sense of quality. It is unfortunate the performance doesn't match the build quality.
For reference purposes, I used a Squape Reloaded and Arra Mods Lancia for temperature limiting testing and a Norbert Origen Dripper V3 for the "normal" Kanthal testing portion.
Bottom line, this device is not a fully formed temperature limiting mod. It works, yes, but it doesn't function as an authentic Evolv DNA 40 device. Additionally, the MODZ Pack D-NA 40 has some strange behaviors even when performing in a standard VW mode with Kanthal builds. It vapes well in standard mode and in an almost acceptable manner in temperature control mode.
If you are looking for your first foray into temperature protection using an Evolv type device, I'd advise looking towards the devices reviewed by Nicole Lea or perhaps the Hcigar HB40 which uses a genuine Evolv DNA 40 board. If you want a simple, small, well built 40W mod to use for conventional Kanthal builds, the MODZ Pack D-NA 40 may just do the trick.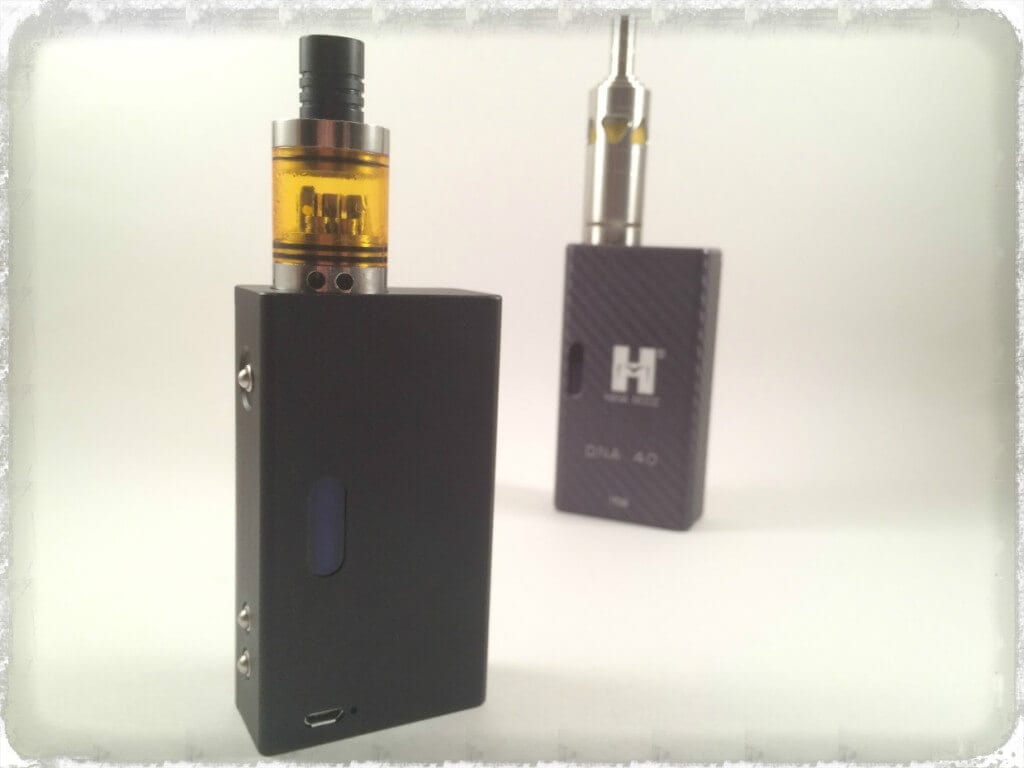 Where to buy the Hana Modz DNA40 Clone