Joyetech eGo One Kit Review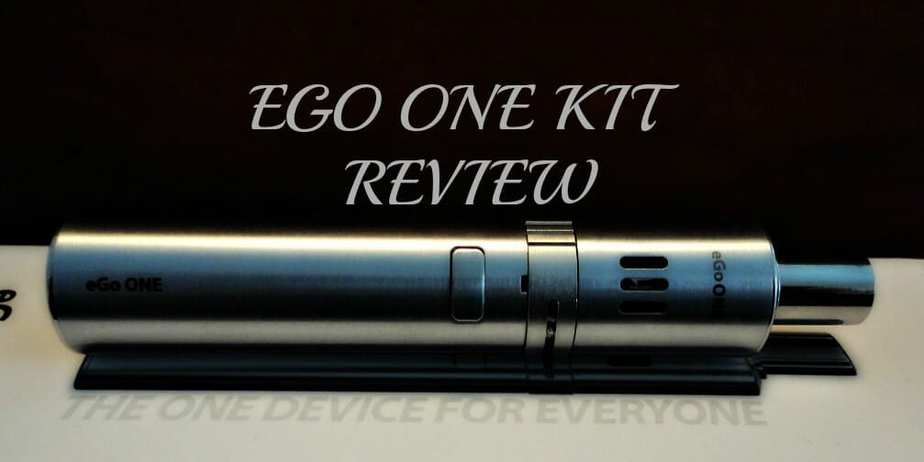 Amidst the current Ecig market climate where "sub ohm vaping" has become the new next best thing, Joyetech has managed to cleverly merge the old school Ego style set up, with the new worlds booming sub ohm-ing culture. And they managed to do it with a little style too. The new Ego One 1100 mAh kit is a portable personal vaporizing kit which boasts a high drain battery capable of handling sub ohm atomizer resistances, and a "plug n play" style clearomizer with pre-built and replaceable atomizer heads. In the words of Joyetech, this is "the one device for everyone".
The Joyetech Ego One 110mah kit featured in this review was provided by a Joyetech authorized agent for the purpose of conducting this product review.
The Joyetech Ego One 1100mah kit comes packaged in a rectangular white gift box bearing the Ego One image, product name, and the brand message "The one device for everyone". The Ego One itself sits neatly inside of the white foam insert, with the remainder of the package contents situated neatly underneath the insert.
Ego One Specifications:
Brand: Joyetech
Type: personal vaporizer kit
Material: Stainless Steel
Connection threading: 510
Ego One 1100mah dimensions:
Diameter 19mm
Height 108mm (including Drip Tip)
E-liquid Volume 1.8ml
Weight: 75g
Features:
1100 Mah Rechargeable Battery
2x Atomizer Heads (0.5 / 1.0 ohm)
Atomizer Base
1 x 510 drip tip (Metal)
1 x 510 drip tip (Organic glass)
USB Cable
US or EU plug adapter (depends on Region)
Warranty card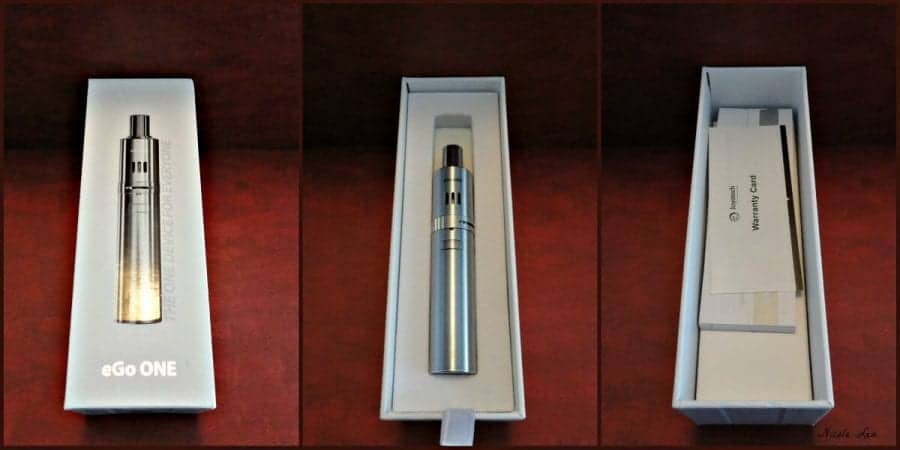 Build Quality
The Ego One is a very small, yet smart looking personal vaporizer which is composed of a tank styled clearomizer with adjustable air flow, and a rechargeable battery. The entire set up is constructed from stainless steel with a brushed finish.
The overall aesthetic makes me feel as though Joyetech took a few design cues from the world of high end personal vaporizers with its clean lines and refined arrangement. Quite honestly I never thought of Ego style devices as "attractive" however, I find this tiny set up to be a little sexy.
The brushed stainless finish is even, smooth to the touch, and free of any course or rough spots. Although the Ego One is small and lightweight, the device still manages to feel solid in the hand, and of good quality. Joyetech is known for making good quality e-cig products, so I really didn't expect anything less.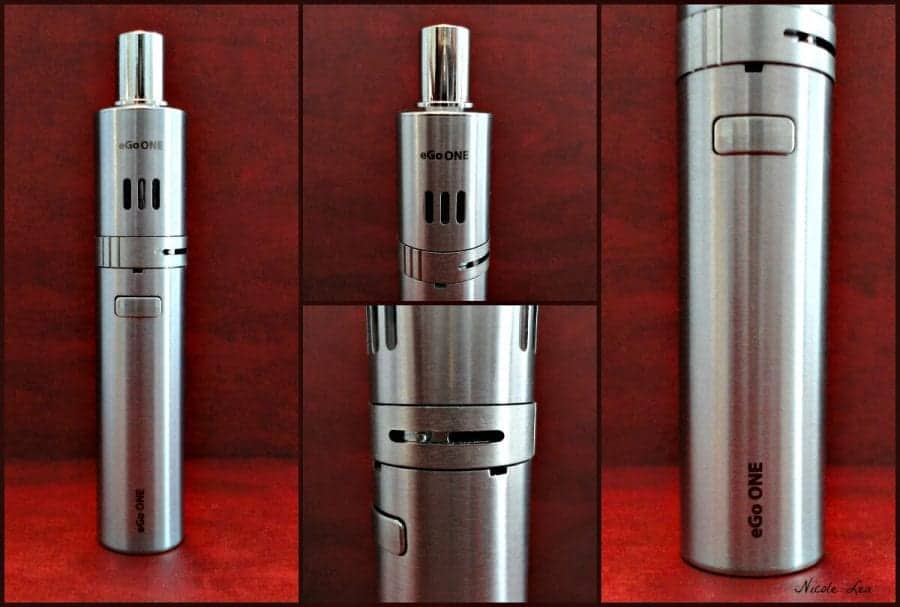 The Ego One kit is available with an 1100mah battery and clearomizer with a 1.8ml e-liquid capacity, or with a 2200mah battery and clearomizer with a 2.5ml e-liquid capacity. Aside from a difference in size, battery life, and e-liquid capacity, both the 1100mah and 2200mah battery kits are otherwise identical in terms of parts and packaging.
Ego One 2200mah dimensions:
Diameter 19 mm
Height 136 mm (including Drip Tip)
E-liquid Volume 2.5 ml
Weight 104g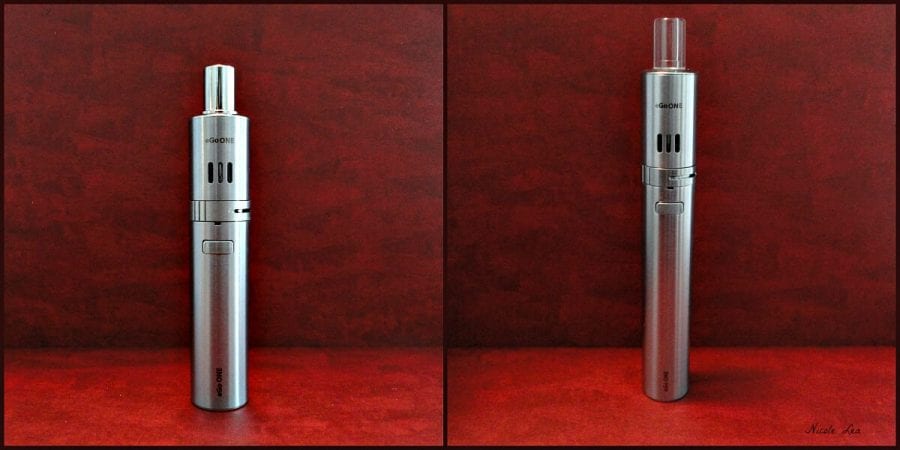 The Ego One kit includes a usb charging cord and a wall adapter (US or EU depending on region). This kit also includes two pre-built atomizer heads with one .5 sub ohm, and one 1.0 low resistance atomizer head. With the Ego One kit you will also receive two removable 510 drip tips, one stainless steel, and one clear pyrex glass.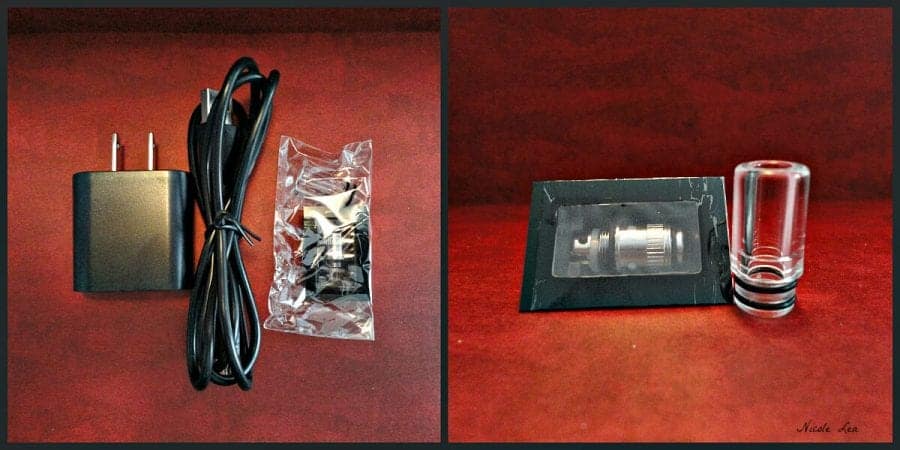 The Ego One set up breaks down in to three basic parts which are the rechargeable battery with a built in usb charging port, tank /atomizer, and the removable 510 drip tip.
The tank/atomizer further breaks down into three parts as well, the base, pre-built atomizer, and the tank section. The tank has three small vertical cut outs on either of the tank so that you can view the level of your e-liquid. It is important to mention that the clear inner tank is made from polycarbonate, and therefore it is susceptible to damage with "tank cracking" e-liquids.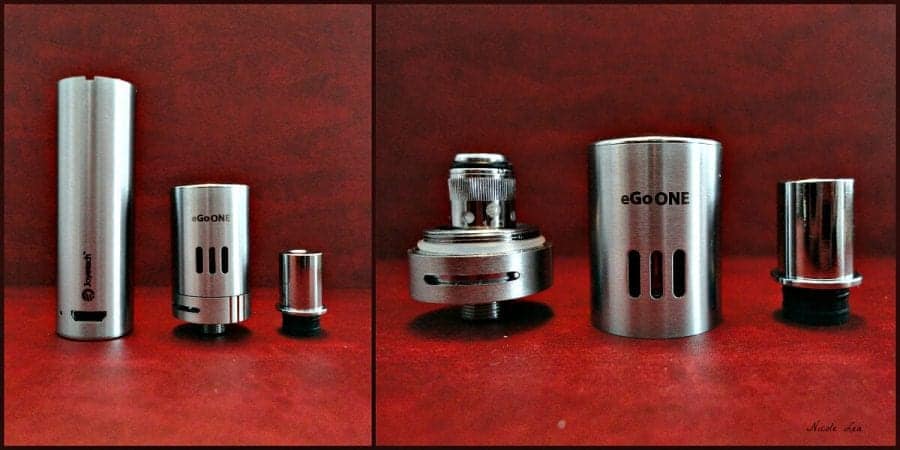 The atomizer base has an adjustable airflow control ring with two cyclops style adjustable air slots on either side. The air draw can be adjusted to the wide open position for sub ohm style vapers, or it can be adjusted to a more modest air flow setting for "mouth to lung" style vaping.
Like most other clearomizer style tanks, the pre-built atomizer heads thread in and out of the tank atomizers base. Each pre-built atomizer head is clearly marked with the coils resistance.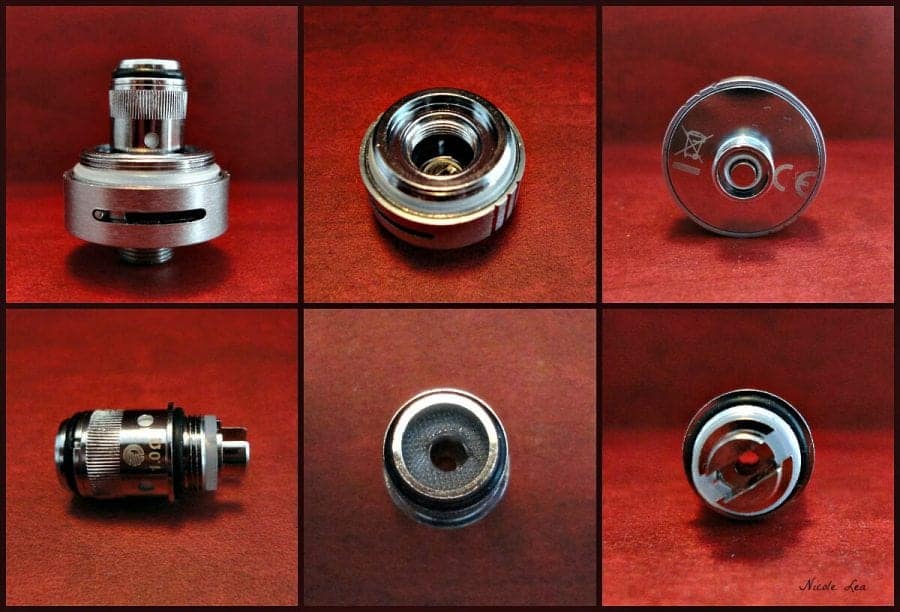 Function
The Ego One battery has been restyled to resemble a hybrid style device, and so gone are the 510/Ego threads traditionally found on Ego style batteries. The flat top battery now has a standard 510 connection which really helps to streamline the overall appearance of the Ego One. This would also be a good time to mention that both the Ego One 1100/2200mah batteries are 19mm in diameter, and are compatible with the Kanger Subtank Nano.
The Ego One still uses a 4.2 volt battery however, it is has been upgraded to a high drain battery that is capable of handling the high current draw of sub ohms builds as low as .5 ohms. Just like the old style of Ego batteries, the Ego One is power activated by 5 clicks of the power button. It is also 5 clicks to power the battery off, which I would recommend prior to putting this device in a pocket or purse.
The Ego One battery has the following safety features built into the device:
Short circuit protection — the battery will power itself off if there a short circuit is detected
15 second run time protection — will not fire for longer than 15 seconds at a time
Low Voltage protection — when the battery voltage is less than 3v
The status of battery life is represented by the light condition around the fire button. When the battery is fully charged the power button will remain illuminated without flashing. Once battery life falls below 60%, the light will flash slowly when the battery is fired. When battery life falls below 30% the light will flash at a faster rate. When the battery is near the 3v cut off the light will flash in high frequency.
With regard to battery charging, there is a red charge indicator light which appears when the battery is in the process of recharging. When charging is complete the red light will go out.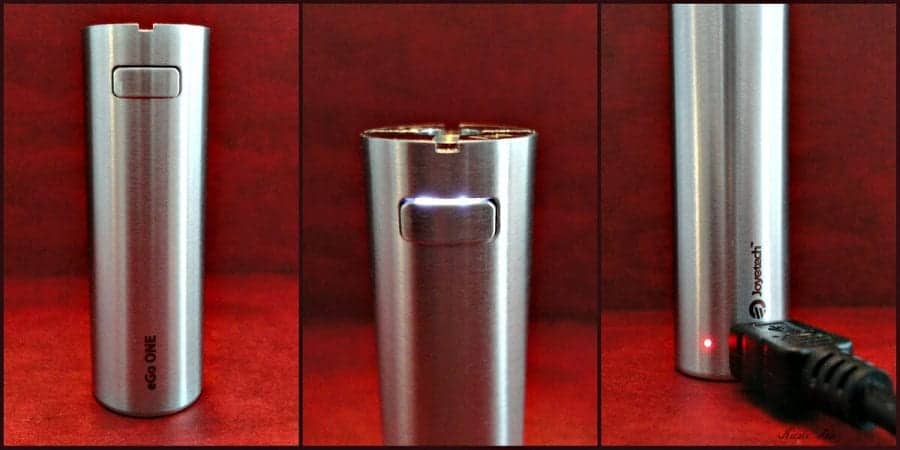 Performance
The clearomizer tank is filled with e-liquid in the same manner as most other clearomizers, e-liquid is inserted within the space between the inner tank and center post. When filling the tank and using an atomizer head for the first time, I would recommend allowing the atomizer to sit 10 minutes or so in order to fully absorb the e-liquid before you begin vaping.
In terms of flavor production I would definitely rate the Ego One as being better than the clearomizer styles of yesteryear. However, I do not feel that the flavor produced is quite as sharp, or clear as what I have experienced with the full size Kanger Subtank. That being said, overall I was still content with what the Ego One offered in this area. My only real complaint about the clearomizer would be that it does become a little bit gurgly once the e-liquid level gets very low (less than .8ml).
With regards to vapor production I was kind of blown away by how much vapor this tiny set up was capable of putting out, especially when the air flow is at or near max open. However, for my style of vaping I preferred the air flow and draw at about 3/4 open.
One of the things that I liked the most about this set up is how well the battery performed from full charge, until the time that the little light indicator started flashing frantically to let me know that it was time for a recharge. I did not feel any significant drop in performance as the battery level went down. But most of all I really enjoy the form factor of the new Ego One. It is very comfortable to handle, it offers an enjoyable vape, and it is easy to pocket and transport.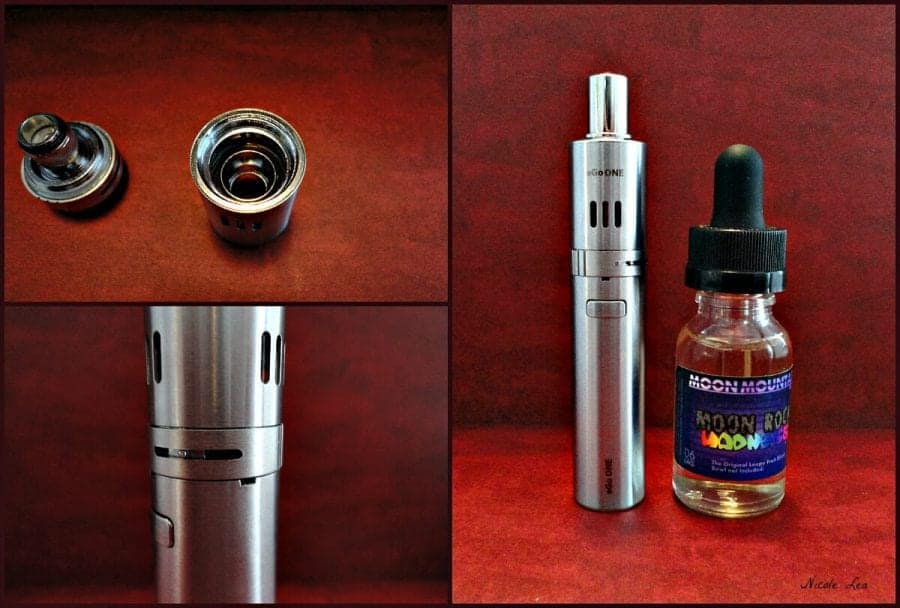 Overall
Is the Joyetech Ego One really "one device for everyone"? For me, the answer is "almost". What Joyetech has brought to the table is a better looking, more powerful, and versatile personal vaporizer that can surely find a spot in most vape gear arsenals. This is a really great, easy to use kit for a beginner/intermediate vapers, as well as a strong candidate for a work day companion regardless of your experience level.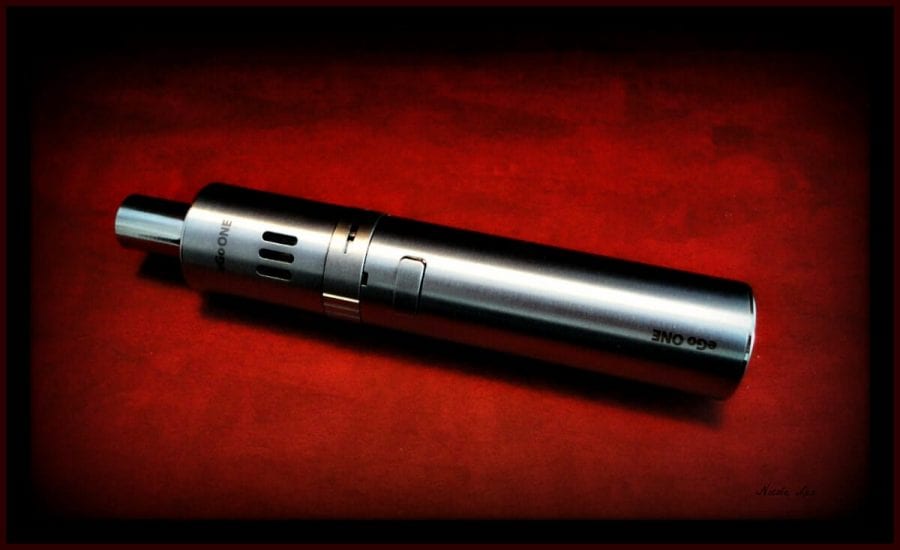 Where to buy an Ego One Kit