Green Smart Living E-Cig Review: An Eco-Conscious E-Cig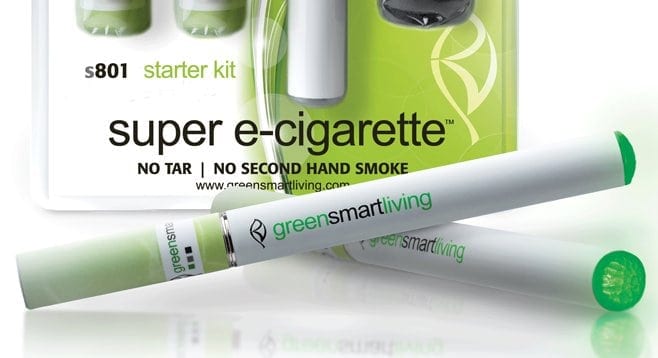 I wanted to do a Green Smart Living E-Cig review because these days, it's all about saving the planet and being able to make a difference in the world. Smart Living has brought this E-cig to the market which aims to please everyone who cares about the environment and craves the flavor from an e-cigarette.
The Green Smart Living E-Cig comes with a variety of flavors to suit all wants and needs and has a long battery life, saving you from charging it constantly. You can guarantee that you will receive a well designed, built, and ethical piece of equipment that will give you peace of mind that you're doing the right thing for the planet.
Green Smart Living E-Cig Ratings
Green Smart Living E-Cigarette Review
Don't take this one lightly, it's not often that I give a product full marks; but hang fire and you will be sure to find out why I rate this product so highly.
This Green Smart Living E-Cig review will cover all the basics as well as diving into the details on why this product could possibly be the one for you.
The Green E-Cig is very focused on providing an excellent quality product with the same abilities of its rivals, whilst maintaining a lower carbon footprint and overall helping out the environment. Yes I know, it may not be the BEST piece of equipment in the world but it does have some great little features that could make you sway in either direction.
Excellent Battery Life – This pack comes with the battery already charged so you are good to go as soon as you open the package! You won't have to guess when the battery is running out as you will be warned with flashing lights – however, with a capacity to take 300 puffs in each refill, I'm pretty sure you won't have to worry about charging the Green Smart Living E-cig too often.
Recyclable Materials – With the focuses being on 'Green' it's excellent to see that Smart Living have also focused on ensuring that their cartridges are recyclable too. Doing your bit for the environment couldn't be simpler.
Worldwide Shipping – Smart Living had made it even easier to get your hands on this starter pack. With worldwide shipping and excellent customer service, you can rest easy, knowing your order is in safe hands.
Lack Of Nicotine Levels Available – There are only two levels of nicotine available, 6mg and 18mg, leaving not a lot of room in between for people to choose from.
Cartridges Are Expensive – The recyclable replacement cartridges are expensive to buy and cost just about $14, not great for those who are looking for a cheap e-cigarette product.
About GreenSmartLiving
GreenSmartLiving was found in 2010 and their main focus is to create products which are sustainable and healthy for the environment, whilst at the same time creating a unique product for their consumers. Take a look at some of their best selling products below:
Menthol Starter Pack – The ideal was to start your vaping life. This product is cheap and reliable, providing those who are new to the vaping scene with a flavorful experience that they will remember.
Strawberry Refill Pack – Get the taste of strawberries with this refill cartridge. A great way to get your favorite flavor, in a smooth and crisp puff.
Car Charger – Vape on the go with this GreenSmartLiving Car Charger, you'll never have to go without ever again.
Conclusion
For this Green Cigarettes review I found that this e-cig is a great starter pack for those who are looking to get into vaping and for those who want to make sure it doesn't affect the environment. It is well built and reliable and with a long battery life, it out rivals many of its competitors.
The thing I like about GreenSmartLiving, is the fact that they are different and that they are trying to make a genuine difference to the world. However, the e-cig doesn't quite come out top, as its lack of nicotine levels may not be suitable for every one of its users. The price that is required to get yourself one of these is not to be sniffed at. Thinking about the quality, service and ethical practices, it is definitely something to consider.