eGo-C Upgrade Review: The Next Generation eGo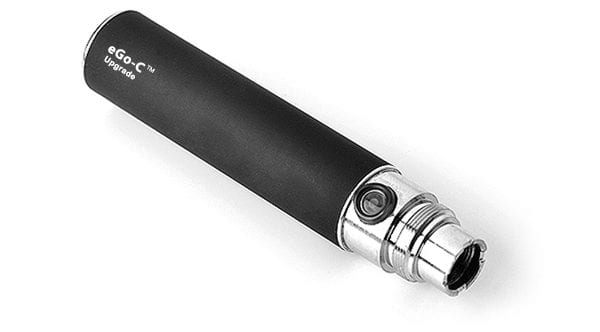 This eGo-C Upgrade review is here to help you make the best decision to suit your own personal needs, so sit back and listen to what we have to say about this product. The eGo-C created and manufactured by Joyetech is a well-known brand throughout the vaping community – if you don't have one of these yourself, you're bound to know someone who has.
This little thing packs a punch and comes with a multitude of goodies inside the box, including atomizer heads and holders, replacement cartridge tips as well as a USB adapter. This upgrade comes with everything you need to get going and this little tank comes in at a reasonable price, meaning you don't need to worry about bursting the bank for this one.
eGo-C Upgrade Ratings
eGo-C Upgrade Review
The eGo-C Upgrade is a nifty little piece of equipment and with a much bigger capacity just overall better performance, this is definitely something that those who are used to mini e-cigs should consider first.
Joyetech have managed to add some neat little additions to the eGo-C which includes the atomizer heads which help boost the performance you receive.
Pros
Overall Good Performance – you really won't have to worry about carrying this around with you, its battery exerts a nice 3.5v, better than some other, more expensive models. The flavor you get when vaping with the eGo-C Upgrade is fantastic, as it releases a decent amount of vape each time, which is once again better than some other models.
Sturdy And Reliable – One thing you can depend on is the reliability of this tank. Made from stainless steel you can tell straight away that there will be no issues at all, as the tank is made from the sturdy material. The reliability comes into play with its 1ml tank that holds enough e-liquid to see you through.
Easy To Use Design – The design on the eGo-C Upgrade tank is more-or-less flawless. If this is your first upgrade then you need not to worry as this design is straight forward. The tank is split into three segments, being the cone, the atomizer head and the atomizer base, all are easy to assemble and disassemble when required.
Excellent Battery Life –For the eGo-C Upgrade Battery review, I found that the tank comes with the standard 650mAh and means that you can enjoy hours of vaping without worrying about running out. Those who are upgrading from a smaller device will soon realize the potential from the battery life.
Cons
eGo-C Upgrade Battery Life – Okay, I know what you're saying, I just said that the battery life is a good thing. Yes that's correct, but with the battery life being the standard 650mAh, there is the potential there to upgrade further and give users an even better and elongated vaping life – just a little thought.
USB Issues – Surely nowadays we should be seeing USB capabilities that means that the charging of the tanks should be quicker and more efficient. However, the vaping world seems to be lacking in this department and the eGo-C Upgrade doesn't hit the mark with this I'm afraid.
Difficult To Fill Tank – Another minor detail, but this could get slightly annoying if you need to do this on a regular basis. Unscrewing the top isn't the easiest of tasks as it is made from hard plastic and this can get pretty painful on the fingers after a while.
Leakages – Although rare, there have been some problems with the tank leaking. Obviously this isn't an ideal situation as it is wasting costly e-liquid and causing an awful mess as it does so. As I said, this isn't exactly a common fault, but definitely something you should consider before looking into this tank.
Price – This eGo-C Upgrade Tank comes in at $80. I would say that this tank is more suited at those who are looking to go from smaller e-cig products into the big time and therefore $80 may be quite steep for those you are just taking a chance on it. Once again, this is depending on your current situation but things like this is always important to think about when buying a product.
About Joyetech
Joyetech has been producing high quality e-cigarette products since 2007, and is considered to be one of the front runners in this ever growing consumer market. I have compiled a few of their products that I think you will find useful for the future.
Wismec Motiv E-cig Kit and E-Liquid – This kit is portable and very easy to use, featuring a unique elliptical shape to show off the attention to detail that has been put into this tank.
Ornate Tank – This tank has a massive e-liquid capacity and is perfect for those who crave high levels of liquid on a constant basis. It has specially designed atomizers and features a sturdy and durable design.
eGo AIO Mouthpiece – This comfortable mouthpiece has a 510 connection which is perfect for use with other e-cigarette products.
Conclusion
Overall, this eGo-C Upgrade Tank has great technological features and a sturdy and durable design that will fit in well with anyone, ranging from beginners to those with an expert taste. The atomizers offers the chance to delve into something which some higher priced models do not have. The tank is easy to use, with a screw on base and easy to assemble parts, offering a stress free experience. This product also offers users the chance to experience great flavors in a decent quantity.