Freemax Twister Kit 80w $28.25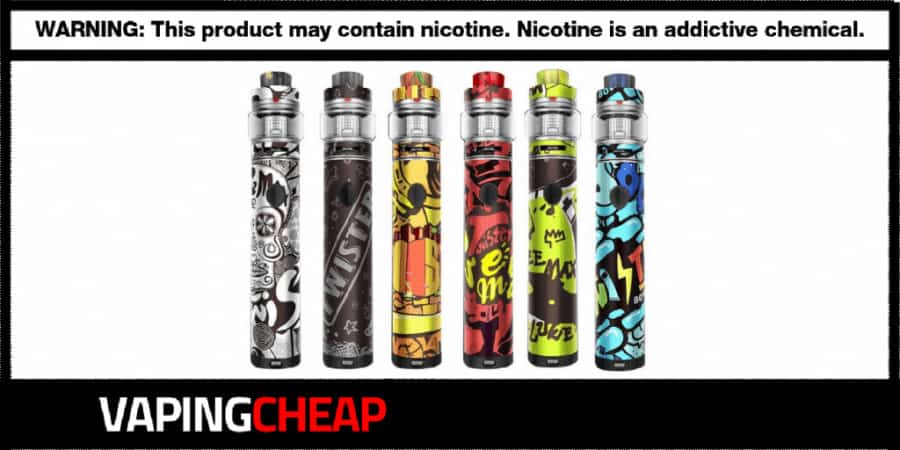 For a limited time only, the Freemax Twister Kit 80w is now on sale for as cheap as just $28.25 using code "SPRING". It's also available from a USA based store from only $39.37 after applying the discount code "VC15". There's a bunch of unique color options available.
The new Freemax Twister Kit includes the new Freemax Twister Mod and the Freemax Fireluke 2 Sub Ohm Tank! The Twister Mod has an ergonomic tube design and sports a unique graffiti finish. In addition, this device has a built in 2300mAh battery, which can be charged via USB cable. The Twister Mod has a maximum wattage output of 80w and has a minimum firing resistance of 0.1 ohm. You can easily adjust the wattage output by turning the dial at the bottom of the device!
This is unlike most other vape pens, and gives you complete control of your vape. Whether you like a cooler or warmer vape, you'll be able to adjust it based on your preferences. We do recommend starting low first, then working your way up to find your desired vape experience.
Freemax's new Fireluke 2 Sub Ohm Tank has is primarily constructed out of stainless steel material and has a matching graffiti finish. In addition, this tank has a maximum e-juice capacity of 5ml and sports an easy to use fill system. The Fireluke 2 Tank uses the new X2 and X3 mesh coils and includes 2 replacement coil heads. Lastly, this tank has an overall diameter of 24mm and features adjustable bottom airflow.
All in all, this is a solid deal for the new Freemax Twister Kit 80w! If you are in the market for a new easy to use starter kit, or just a cheap vape pen, then you'll definitely want to check out the Twister 80w Kit by Freemax.
Freemax Twister 80w Kit Features:
Freemax Twister 80w Mod

Internal 2300mAh battery
Micro USB Charging Port
Maximum wattage output: 80w
Minimum firing resistance: 0.1 ohm
Adjust the wattage using the dial at the bottom
Graffiti & Ergonomic Design

Freemax Fireluke 2 Sub Ohm Tank

Overall diameter: 24mm
Maximum e-juice capacity: 5ml
Easy fill design
Uses the new X2 and X 3 Mesh Coils
Adjustable bottom airflow
What's Included
Freemax Twister 80w Mod
Freemax Fireluke 2 Tank
TX2 Mesh Coil (0.2 ohm)
Spare TX1 Mesh Coil (0.15 ohm)
Replacement O-Rings
User Manual & Warranty Card
Warning Card
Check Out The Freemax Twister Kit Review