Vapor Storm Trip Mod 200w $29.80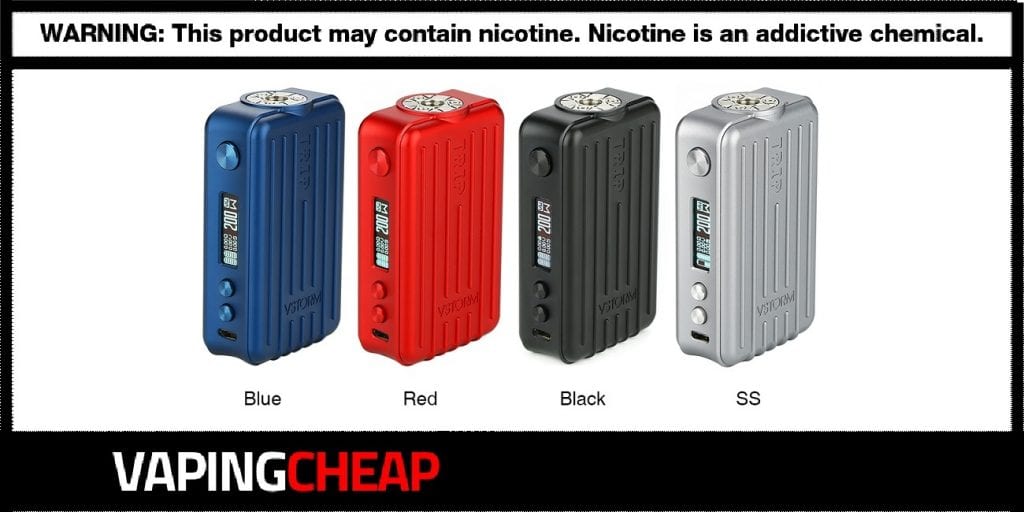 Here's a few cheap deals and discounts for the Vapor Storm Trip 200w Mod. Get yours for only $29.80 after using code "VSTM". It's also available at another China based store for only $36.44 when using our exclusive VapeSourcing code "vapingcheap". There are four color options available which are Red, Black, Blue and Grey.
Vapor Storm's Trip Mod is primarily constructed of Aerometal and PC materials, and feature a complete CNC manufacturing process. In addition, it is powered by two high drain 18650 batteries, and offers a maximum of 200w.
It does have a minimum firing resistance of 0.06 ohm, and has a 0.91 inch OLED display screen. Also, they do claim it's one of the world's smallest 200w high powered mod, and by the looks of it, it may certainly be.
The Vapor Storm Trip Mod does have 5 different operating modes. Firstly, it has temperature control for Ni200, Ti01 and SS316 wire materials. Secondly, it has a TCR mode, which does allow you to customize your TC vape to your preferences. Thirdly, it does have a bypass mode, so it'll work similarly to a mech mod. The last two features are a Curve Mode, and your standard wattage or power mode.
All in all, this is a great deal for the new Vapor Storm Trip 200w TC Box Mod. If you're in the market for a smaller dual battery mod with tons of different vaping features, then this is a deal definitely worth checking out.
Vapor Storm Trip 200w Mod Features:
Requires 2 High Drain 18650 Batteries (Not Included)
Maximum Wattage Output: 200w
Maximum Voltage Output: 8.4v
Minimum Coil Resistance: 0.06 ohm
0.91 Inch OLED Display Screen
Aerometal + PC Material Construction
CNC Manufacturing Process
5 Different Modes

Power/Wattage
Temperature Control (Ni200, Ti01, SS316)
TCR (M1, M2)
Bypass
Curve

4 Color Options Available