Geekvape Aegis Boost Replacement Coils 5 Pack $8.27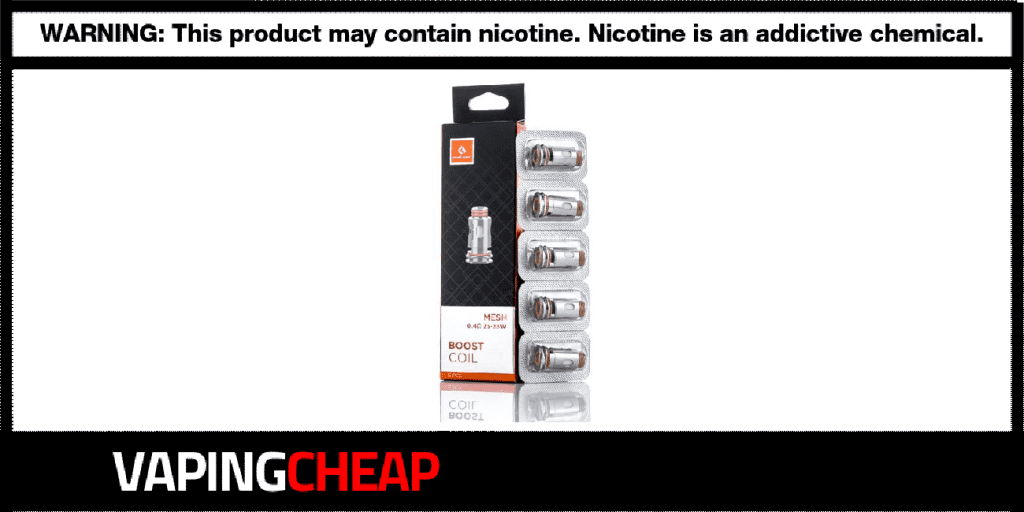 The Geekvape Aegis Boost Replacement Coils are now in stock and on sale. Get a 5 pack of coil heads for just $8.27 when using the coupon "vapingcheap". It's also in stock at a USA based shipper for $8.69 with discount code "VAPOR25"
These replacement coil heads by Geekvape are designed specifically for, and compatible with the Aegis Boost Pod Mod. There's two different coil options available for this device which include a 0.4 ohm, and a 0.6 ohm option.
Depending on your vaping style will determine which you'd want to get. However, both feature a mesh design, so not only do they last longer than traditional coils, but offer top notch flavor production.
The first 0.4 ohm Geekvape Aegis Boost Coil is definitely better for a direct to lung vape. Geekvape's 0.6 ohm Aegis Boost Coil is more catered to a tighter draw, more ideal for a mouth to lung vape experience. Both coil options do feature a plug and play installation design as well, so they are user friendly. Remember to prime these coils with e-juice before use!
If you've been looking for some cheap Geekvape Aegis Boost Replacement Coils, then you've come across the right vape accessory deal. Remember, each option does come in a pack of 5, so you can stock up on either coil at a discount.
Geekvape Aegis Boost Coils Features:
Designed For Geekvape Aegis Boost Pod System
Pack of 5 Replacement Coil Heads
Two Options Available:

0.4 ohm

Wattage Range: 25w - 33w
Mesh Wire
DTL

0.6 ohm

Wattage Range: 15w - 25w
Mesh Coil
MTL

Plug and Play Installation
Organic Cotton